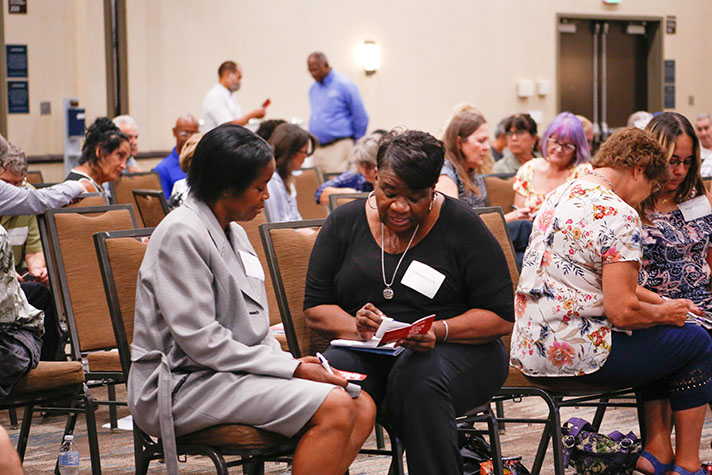 Sheilah Anderson was in her early 20s when she first raised her hand to volunteer at a Billy Graham Crusade.
Last week, she attended the Christian Life and Witness Course (CLWC) in San Bernardino, California. This time, to be a volunteer counselor for Franklin Graham's God Loves You Tour.
Starting September 19, the God Loves You Tour—free one-night events that feature live music and a Gospel message from Franklin Graham—will make its way through eight cities along historic Route 66.
In the meantime, volunteers like Anderson are receiving CLWC training on how to talk about Jesus and pray with others to receive Christ, both in their personal lives and on the tour.
>> Get details about the God Loves You Tour.
Although Anderson has shared the Good News many times throughout her life, she still finds it worth sharing. She's traveled the world as a counselor for the Billy Graham Evangelistic Association (BGEA) in places like China and Amsterdam.
For decades, Anderson volunteered for BGEA's prayer line in response to Billy Graham Crusades. More recently, she's served on the Billy Graham Prayer Line, which started in the onslaught of the pandemic, to help those calling to receive Christ.
"All I did was raise my hand and say, 'Yes, I will do it.' … It's just that simple," said Anderson.
The simplicity of the Gospel enables CLWC to be a free course designed for anyone—no matter their level of experience. 
For Sharon Clark, last Tuesday's training was her first-ever BGEA event.
"I'm just following my spirit to where God is leading me and He led me here," Clark said. "So, [there] must be something … for me to do after this."
Ken Ramey, who helped lead the training, told Sharon, "My goal is to have you ready."
>> Check out the upcoming tour stops.
He continued, "When you feel prepared, then you're not as ill at ease. But I'll promise you this, you're still going to be scared. … And it's ok, because fear makes you say, 'O God, help me.'" 
Many are like Clark, desiring to boldly share about Jesus but don't know how. The CLWC equips people from all walks of life, from fear-filled believers to those most experienced in sharing their faith.
In ministry for 37 years, Pastor Urias Mendoza sat across the room with a pile of notes in hand, reflecting on the training.
"It seems simple to share the Gospel, but I know it is powerful. That is the way all of us started—with a prayer of faith," the pastor said. "God does the rest."
He looks forward to sharing what he learned at the training with his church members nearby in Ontario, California.