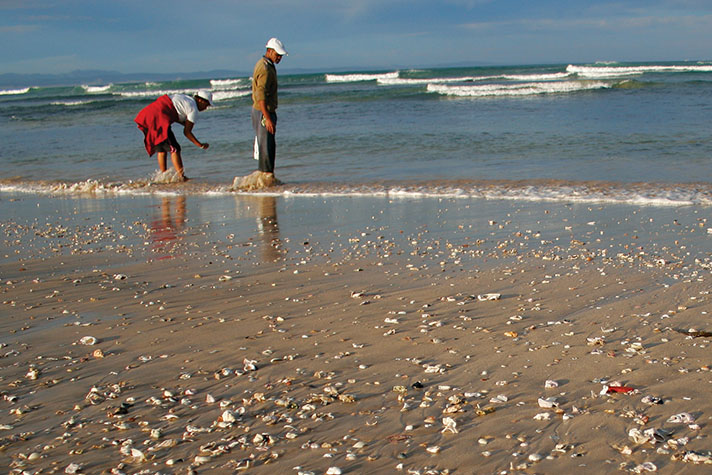 How two seashore finds pointed straight to Christ and other unique ways people are experiencing the Gospel.
"The sea is his, for he made it." —Psalm 95:5
In early January, Clarence Munden was walking on the beach as he does most mornings. But that morning was different.
"I pick up several seashells every day. I walk past millions of shells," he said from his home in the Outer Banks of North Carolina.
That day, he saw a large shell lying face down, and he bent down to pick it up. Inside was written this message: "Amazing Grace, Jesus Loves You." Below that, someone had written "PeaceWithGod.net," a BGEA site that explains the Gospel.
Munden visited the PeaceWithGod.net Facebook page and wrote a message about his discovery. He calls it his "best find ever."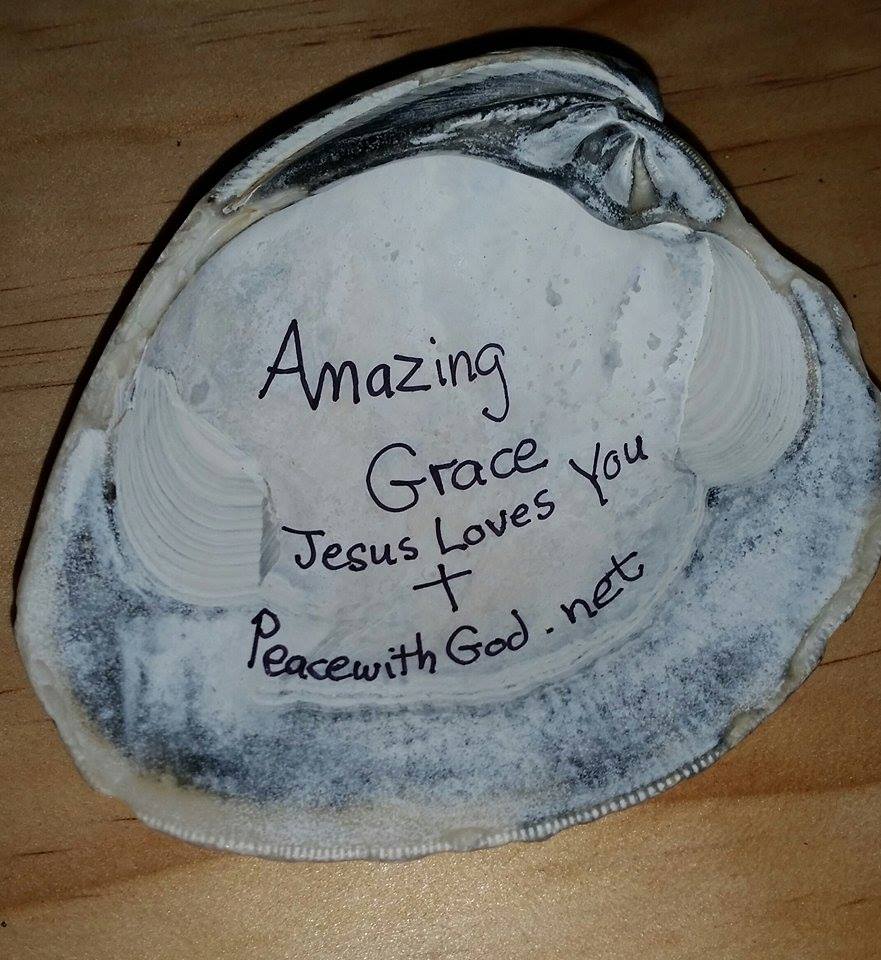 Munden kept the shell and said he's curious how many more may be out there. As it turns out, at least one.
On Feb. 18, Dahl Evartt shared a similar story to Munden's when she visited PeaceWithGod.net and left a comment on the site, saying she'd found a shell on the beach with "Jesus loves you" written inside—along with the URL for the site.
"When I found that, I was at the lowest point as a parent," she said later over the phone.
Evartt lives in Virginia Beach and has a condo in Kitty Hawk, a town in the Outer Banks. That's where she found the shell that February morning. She and her daughter had taken a trip there for the weekend.
"That morning, I got her up early so we could catch the sunrise," she said, explaining how her daughter wanted to snag some photos for her photography class. "While she was walking on the beach, I waited on a little crossway over the sand dune."
Sitting there on the walkway, she said a prayer about her sometimes choppy relationship with her daughter.
"As soon as I finished saying the prayer, I looked down and saw the shell," she said. "It's an indescribable experience. … I just felt like I should not keep it to myself. I need to let somebody know."
Evartt said it was "perfect timing"—an answer to prayer and great encouragement during a time of self-doubt as a mother.
Once the pair got back inside, Evartt went online and visited PeaceWithGod.net.
"It was very touching. … It strengthened my faith, and it truly is God's work."
Initially "shook up" by the experience, Evartt took some time to process everything and decided right there in her condo to renew her commitment to Jesus Christ.
There's no telling how many others may have picked up this sort of Gospel seashell—or who put them there in the first place—but BGEA's internet evangelism ministry, Search for Jesus, does know that hundreds of others have come across PeaceWithGod.net in equally unique ways.
An article about Alice Cooper, known as "The Godfather of Shock Rock," is just one example.
The article came on BGEA's radar at the end of December when the Search for Jesus team noticed significant traffic to PeaceWithGod.net, stemming from the story on Cooper.
It can be traced back to Duke Taber, senior pastor of a church in the San Francisco Bay Area. Taber manages a site called Viral Believer where he had published an excerpt about Alice Cooper from Assist News Service and God Reports. The article talks about Cooper's faith—from growing up in the church to becoming, in his words, "rock's ultimate villain" to eventually reevaluating his faith. He reconciled with his estranged wife, got back into church and said he serves Christ now.
At the end of the article is a link to PeaceWithGod.net, which has led to thousands of people visiting the site and nearly 600 of them indicating commitments to Christ.
"It touched my heart to hear that so many people made a commitment," Taber said after hearing the news.
Taber remembers seeing a Billy Graham Crusade on TV over 30 years ago and watching people respond to Jesus at Mr. Graham's invitation.
"I have always respected the integrity of the ministry," Taber said about BGEA. He added that he wants to do the same thing with his website that Mr. Graham did at Crusades—give people a chance to respond when the Gospel is presented.
Hence the PeaceWithGod.net link on a story about Alice Cooper's return to faith.
As a pastor, Taber knows that sharing the Gospel may challenge or even offend people sometimes, but he hopes that whatever the outcome, it eventually leads people to a deeper relationship with God.
Like Taber and the anonymous seashell evangelist, others unaffiliated with BGEA continue to find ways to incorporate PeaceWithGod.net in what they do.
Among those linking to PeaceWithGod.net on their websites: a Georgia college student studying design, a Spanish-language suicide prevention group, an app vendor in the U.K., a Mexican women's volleyball blog and an Iowa-based magician who shares the Gospel during his magic show.