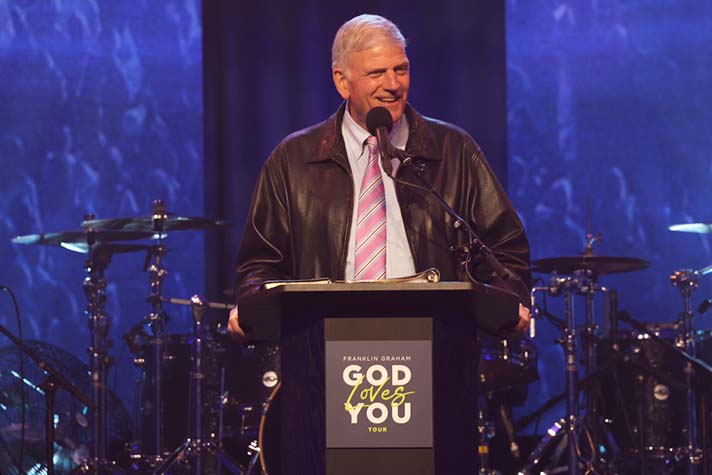 Glasgow's Sheriff Court issued a strong defense of Christians on Monday, ruling that Franklin Graham and the Billy Graham Evangelistic Association (BGEA) were wrongfully discriminated against when the Scottish Event Campus cancelled BGEA's contract to hold an evangelistic outreach at the SSE Hydro in 2020.
The Glasgow ruling stems from an outreach in 2020 when Franklin Graham planned to share a message of God's love across eight cities in the United Kingdom. The God Loves You Tour was postponed after seven venues cancelled their legally-binding contracts with BGEA. (The eighth venue was not yet under contract.) To date, five of those cases have been resolved in BGEA's favor.
At the time, opponents criticized BGEA and Franklin Graham for uncompromisingly standing by their traditional Biblical beliefs about human sexuality, though the aim of the tour was to share the message that God loves the people of the U.K., and anyone who puts their faith and trust in Jesus Christ can be forgiven of their sins, be reconciled to God, and have hope for eternity.
In January 2020, Franklin Graham posted an open letter to the U.K.'s LGBTQ community on Facebook. It read, in part:
It is said by some that I am coming to the UK to bring hateful speech to your community. This is just not true. I am coming to share the Gospel, which is the Good News that God loves the people of the UK, and that Jesus Christ came to this earth to save us from our sins. …

I'm not coming to the UK to speak against anybody, I'm coming to speak for everybody. The Gospel is inclusive. I'm not coming out of hate, I'm coming out of love.
In a strongly worded ruling Monday, Sheriff John McCormick said, "The concern is expressed that there is the potential for Mr. [Franklin] Graham to make homophobic and Islamophobic comments. I found no evidence to that effect."
Instead, Judge McCormick said, "The defender's true problem with the pursuer arises as a result of the religious views of Franklin Graham, which it has sought to categorise by wrenching selected comments made in the past whilst conveniently ignoring contrary comments also made by Franklin Graham."
Sheriff McCormick called this a "thinly veiled exercise in virtue signaling" by the Scottish Event Campus (SEC). He went on to say the exhibition center "bowed to public pressure, spurred on and whipped up by political leaders online."
Judge McCormick ruled the SEC violated the U.K.'s 2010 Equality Act when it favored the opinions of the people who were protesting BGEA's event and silenced those who supported it.
"The law cannot endorse an outcome whereby a mainstream Christian religious gathering cannot be held because some members of the community, however vehemently, disagree with religiously based beliefs to which they take objection. Such objectors in a democratic society undoubtedly have a right to freedom of expression and of assembly to protest against other's religious views. What they do not have is a right to silence them or to stop religious assemblies from being held and from making welcome all who would come and hear the Good News preached by Franklin Graham at the Glasgow SSE Hydro Event," the judge wrote in his 280-page opinion.
"God didn't give us this victory because … He's on our side. He did it for His purposes, for the sake of His Name," said BGEA's General Counsel Justin Arnot, adding that God is "bound and determined to draw people to His Son Jesus Christ."
"This decision is out of His sovereignty, His omnipotence, His good will … and we are just simply playing a part of what He's doing to draw this world to Himself," he said.
In response to Monday's ruling, Franklin Graham said, "I am grateful to God for this decision—it is a clear victory for freedom of speech and religion in the U.K." He said the core of the case is about "the preservation of religious freedom in the U.K.—particularly the right for Christians to share the Gospel in the public square."
He added, "I want to thank Sheriff John McCormick for upholding the law and affirming that Christians must be treated fairly and equally. This ruling will be a great encouragement for Christians and people of all faiths across the U.K. and many other parts of the world."
The rescheduled God Loves You Tour with Franklin Graham took place in May and July this year, with stops in Liverpool, South Wales, Sheffield, and London. Christians from more than 2,000 churches across the U.K. partnered with the tour, and nearly 20,000 people attended the events across all four cities.