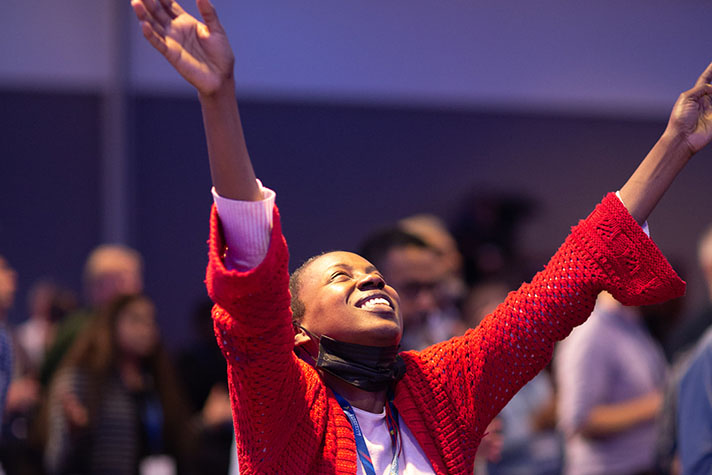 It was a room filled with some of the finest pastors in Scotland and other parts of the United Kingdom, yet the roles were reversed.
They were the ones being encouraged at Tuesday's Evangelism Summit in Glasgow, Scotland, hosted by the Billy Graham Evangelistic Association. This was the first of four free meetings to be held in the U.K. from October 12–November 15.
Bibles open, hundreds of men and women eagerly listened as speakers encouraged, challenged and prompted them to share the Gospel in their churches and communities.
Encouraging Pastors
"I am convinced that with the preaching of the cross we're preaching power, not just ideas and concepts," said Dr. Andrew Owen, co-pastor at Destiny Church Glasgow.
Reading from Romans 1:16, he continued, "'I am not ashamed of the Gospel.' That's an understatement. [Apostle] Paul was of course enthralled with it, pleased with it, delighted with it, found great joy in it and gave his life for it and so should we."
After a while, Owen directed his message to each pastor at the summit, speaking tenderly to his brothers and sisters in Christ.
"Pastors, preachers. We spend our lives telling people God loves them, don't we? Do you know God loves you? And Jesus made a promise He'd never leave you. And regardless of our faults and our failings, the highs and the many lows, crises we experience from time to time, the challenges … there's great comfort in the cross."
"Every day I need to know God loves me," Owen continued. "Every day I take comfort in the fact that He'll never leave me."
"I would leave myself half the time," he joked. "But God said He'd never leave me, good days or bad," reminding the pastors, "You're ministering to an audience of One."
The Need for Change
Rev. Banjo Oluwatula traveled four hours from Newcastle, England, to attend. Eighteen years ago, he started preaching on the streets. With no church building, he met with people interested in hearing more at a nearby Starbucks.
Originally from Nigeria, Oluwatula now pastors The King's Castle, a multicultural church with several locations.
Pastoring in the U.K. is not for the faint of heart, he explained. Many churches are half-empty, with no new people coming in.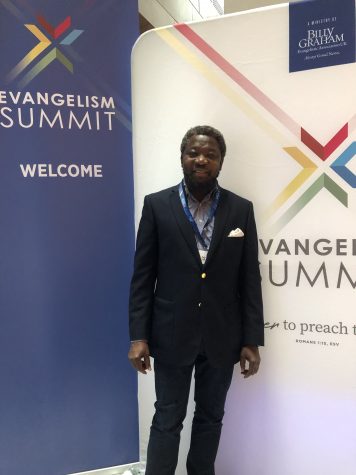 Oluwatula said he came to be reenergized, reinvigorated and encouraged. "It's been an especially tough few years for U.K. church leaders as it is increasingly secular."
Calling Britain "post-Christian," Oluwatula is passionate about pastors engaging unbelievers in different ways than the past.
"People won't just walk in a church," he said. There are many atheists and others who think the Bible is a relic—and that God is ignoring our hurting world.
Pastors also need to be courageous and address what the Bible says about homosexuality, Oluwatula explained, along with other controversial issues.
And prayer needs to be a priority.
"Churches aren't praying enough to release the power of God. Pastors don't pray enough. They talk about it but they don't pray."
Judging people for sin isn't the answer either, he said, referring to some street pastors he's heard.
"They're not offering a solution. We are light of the world, we are salt of the earth."
Billy Graham in Scotland
In 1955, Billy Graham preached around Scotland for six weeks. His message at Glasgow's Kelvin Hall focused on the meaning of the cross and was the second-highest-rated TV audience in history—second only to the coronation of Queen Elizabeth II two years earlier. The queen and Prince Philip listened to Graham's message and invited him to preach at Windsor Castle.
In his autobiography Just As I Am, Billy Graham wrote about delivering a sermon to the Queen and the Duke of Edinburgh in their private chapel at the Royal Lodge that Easter Sunday.
In that sermon, it was the message of the cross that touched people's hearts, said Dr. Charles Price, a summit speaker and pastor at large with The Peoples Church in Toronto, Canada.
>>Watch Billy Graham's 1955 All Scotland Crusade.
As Dr. Price—who surrendered his life to Christ at age 16 after watching a Billy Graham film at a theater in Hereford, England—explained that the cross is "What reconciles people to God."
Especially in hard times, like the world is experiencing today.
"Difficult times are the best times for the Gospel," Price said. "Certainly the world is insecure at the moment. And insecurity means people look for security and Christ is a way to find that."
'Like a Fueling Station'
After more than 18 months of trying to minister amid COVID, the summit was "like a fueling station," said Oluwatula. "I got to refuel my car," he laughed.
Not only from the messages but also the music. "The worship was electric, powerful. It's so encouraging."
If it wasn't for his four-hour trek from Newcastle, he wouldn't have even eaten lunch. "I've got enough spiritual energy to make me keep going on," he said.
"That's why I wasn't hungry."