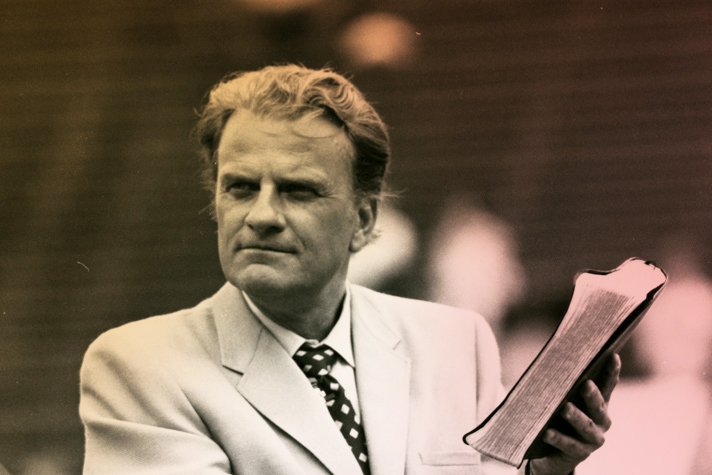 B.J. Rogers, not unlike countless other seminary students, doesn't recall much from his evangelism course.
Sure, it's been three decades, but he's pretty sure he didn't sleep through class.
"We really didn't cover some of these things," Rogers said, "like how to prepare an evangelistic message or how do you follow up with a new believer who has given their life to Christ."
Rogers is the Assistant Dean for the Billy Graham Schools of Evangelism program, which offers time-tested and refined strategies from more than 60 years of evangelism proclamation.
All within a few clicks of your fingertips.
"A number of years ago, we did Schools of Evangelism across the country, but it was expensive," said Gary Cobb, director of training at the Billy Graham Evangelistic Association. "And it was limited by time, location and finances to get this to everyone."
Without the constraints of geography and the high cost of travel and lodging, the four-session online course is far more accessible to pastors who want to sharpen their evangelistic messages—all four courses cost just $99. But it's also for believers who want to better equip themselves to share their faith.
"Before, you would have two, three or four days of travel plus hotels," Rogers said. "Here I can do things at my own pace, in the comfort of my own office or my own home. And still have the top speakers and training on evangelism."
"It's $99 — which is a great deal for people. It's almost like sitting at the feet of Billy Graham," Cobb said. "How many people would love to get his counsel or sit at his feet? I'm one of those."
Included in the training is access to a video vault of more than 20 well-respected evangelism teachers, including Billy Graham, Franklin Graham, Will Graham, Anne Graham Lotz, John Stott, J.I. Packer, Bill and Vonette Bright and many others (see full list below).
"Anyone can get something from the course, but it's specifically targeted for pastors and preachers to give them inspiration and passion to preach evangelistically from the pulpit," Rogers said. "Quite frankly, I've attended many churches where I've never heard an evangelistic message. This is giving pastors and preachers tools for evangelistic preaching."
Rogers, however, emphasizes the course is not just for clergy.
"The course is set up on a seminary level as far as its content," he said. "But I don't want to say this is solely about preaching an evangelistic message. It's about understanding evangelism."
Another benefit of the online Schools of Evangelism training is the ability to go at your own pace. Registrants are given 180 days to complete the four courses. Each course also contains transcripts of the audio and video recordings available for printing.
"We cover four topics — preparation, proclamation, power and preservation," Cobb said. "There's quizzes as you go, other assignments and discussion posts that only students can see. It's like getting a seminary education in this area. There's a certificate for each of the four sections, and at the close they get a diploma."
"For the pastor that has not had either a lot of formal training or maybe they're bi-vocational, I really see it beneficial for them," Rogers said. "It's set up like an accredited course."
One other unique feature is the real-life application. Students prepare four evangelistic messages and deliver them in front of their mentor, who then gives them valuable feedback through provided evaluation forms. One student decided to deliver some of his four sermons live in front of several different congregations, "and two people came to Christ each time he spoke," Cobb said.
"We do want people to feel that they're not out there on their own," Rogers said. "We're offering them an opportunity to apply what they're learning."
An outline of the four courses can be found here. But the bulk of the training happens via video, which Cobb spent countless hours scouring.
"I personally dug through the archives for months, finding examples of Billy Graham's preaching that illustrates points being made," Cobb said. "There's also rare, unseen videos of Billy Graham about these topics.
"You'll get counsel and advice and some standards he set as a young man. In my view, it's priceless. I went to seminary and I didn't get this in seminary."
Schools of Evangelism Teachers
Billy Graham
Franklin Graham
Will Graham
Anne Graham Lotz
Michael Baughen
John Stott
Gottfried Osei-Mensah
J.I. Packer
Robert E. Coleman
Ross Rhoads
George Sweeting
Ron Hutchcraft
Greg Laurie
Bill Newman
Ralph Bell
Cliff Barrows
K.P. Yohannan
Bill and Vonette Bright
Stephen Olford
Michael Songyemba
Have more questions about Billy Graham's Schools of Evangelism? Check out the FAQ section.
Did you know you can gift your pastor the 4-course Billy Graham's Schools of Evangelism training? Click here to find out more.