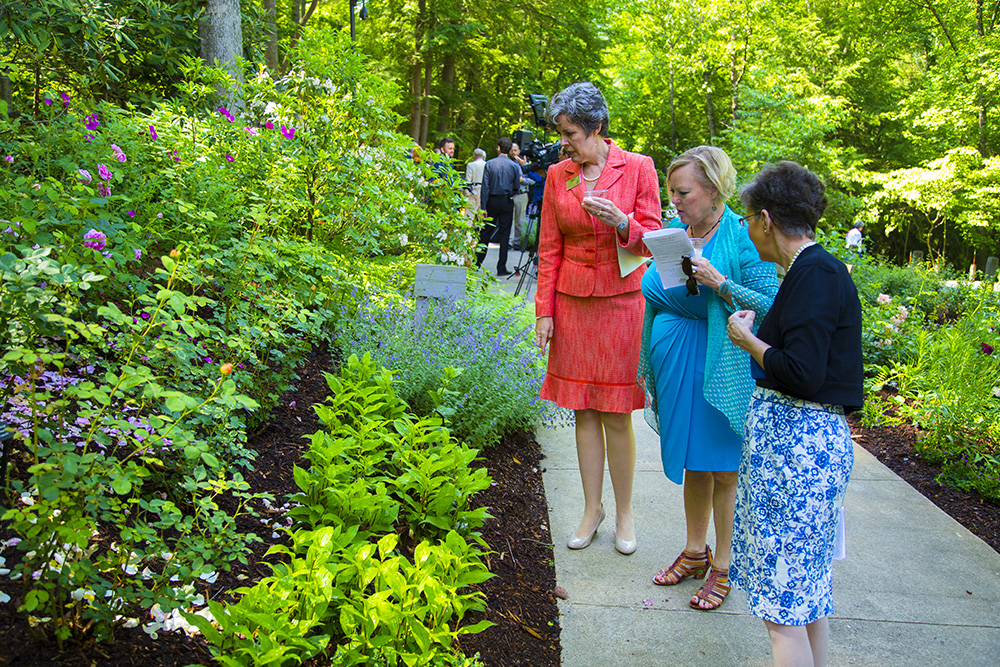 As we come to this garden of prayer, we come being reminded that we come to acknowledge our Father. As we come into His presence, we come being anxious or worried about nothing. We come to worship Him in everything.
Ruth Bell Graham wrote those words several years ago as a reflection on how we should pray.
"If you read her poems, many of [them] are prayers," said Gigi Graham, the oldest daughter of Billy Graham and the late Ruth Graham, who went to be with the Lord in 2007. "Mother was a woman of prayer."
So it seems only fitting that Ruth's Prayer Garden, a space in honor of Mrs. Graham and her prayer life, be located just outside the Chatlos Memorial Chapel at the Billy Graham Training Center at The Cove.
"She prayed without ceasing," Gigi continued, adding that her mother would pray while doing everyday tasks like driving and washing the dishes.
Ruth's Prayer Garden at The Cove was officially dedicated on Wednesday with a special ceremony led by her grandson, Will Graham.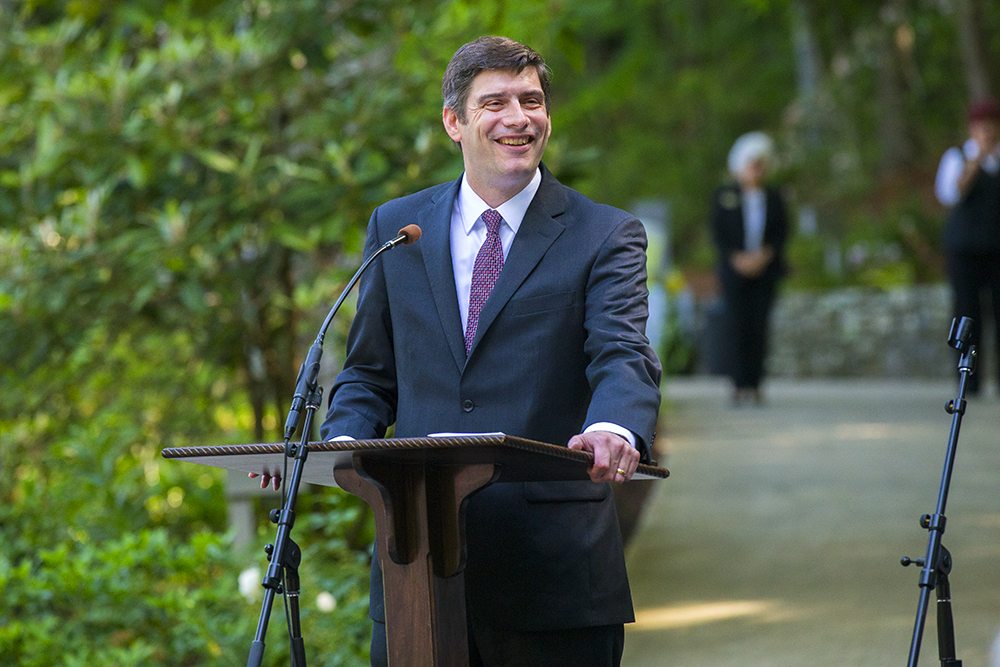 "Prayer is our umbilical cord to our Heavenly Father," Will said. "This is going to be a place of spiritual life and vitality."
Will talked about his grandmother's love for gardening and some of her favorite plants.
"Daylilies, tiger lilies, azaleas, ferns—she loved ferns," all of which are planted in Ruth's Prayer Garden.
"What she liked most were geraniums. I hate geraniums," Will said with a chuckle, adding that his grandmother "had them everywhere."
"I just remember they were always dried out looking, but she loved them."
As her sight began to fail, groundskeepers made sure bright flowers were planted around the Graham home. Even if she couldn't fully see them, she would recognize the vibrant colors.
Finding Hope in the Garden
When The Cove was first dedicated, the Grahams each expressed their vision for the ministry. Billy Graham prayed it would be a place of impact, intercession, instruction and inspiration; Ruth Graham prayed for it to be a place of retreat, rest, relaxation, and renewal.
Ruth's Prayer Garden offers a special place for several of those key qualities, including intercession.
"The last year that my grandmother was here, I would go up and spend time with them. She was pretty much bedridden at the time," Will recalled. "But my grandmother and my grandfather would just sit there holding hands and pray for [all of us].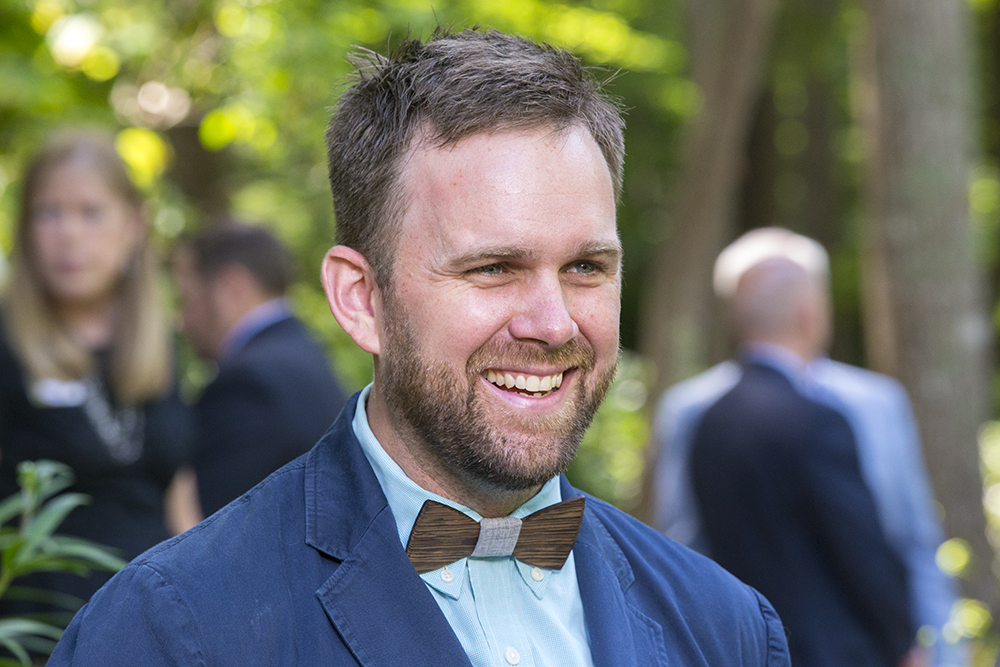 "… This is a place where we intercede for one another [and] pray for God to intercede," he continued. "That's what this garden represents."
For the next two weeks, The Cove will feature photos from Ruth's Prayer Garden on its Instagram page.
Plan your visit to see Ruth's Prayer Garden.
There are more than 150 plant varieties in the garden.
The "Jack-in-the-pulpit" is probably one of the most unique among Ruth Graham's favorite flowers. It was no easy feat to obtain, considering the plant's rarity and growing requirements.
"I never realized how hard those things are to find," Will said. "They take years to bloom … so we should've planted this a couple of years ago!"
Gardens were important to the Grahams not just because of aesthetics, but also because of the spiritual parallel.
"[The fall in the Garden of Eden] was man's darkest hour, yet in the midst of it, we see the seed of hope planted," Will said, referring to Genesis 3:15. "Just like we see these seeds planted out here … one day we'll see them bloom. There's a future hope in it.
"What man destroyed, God made new again in the garden," he said. "That's the hope that my grandparents shared all these years. That's what we share today is the hope found in the garden."