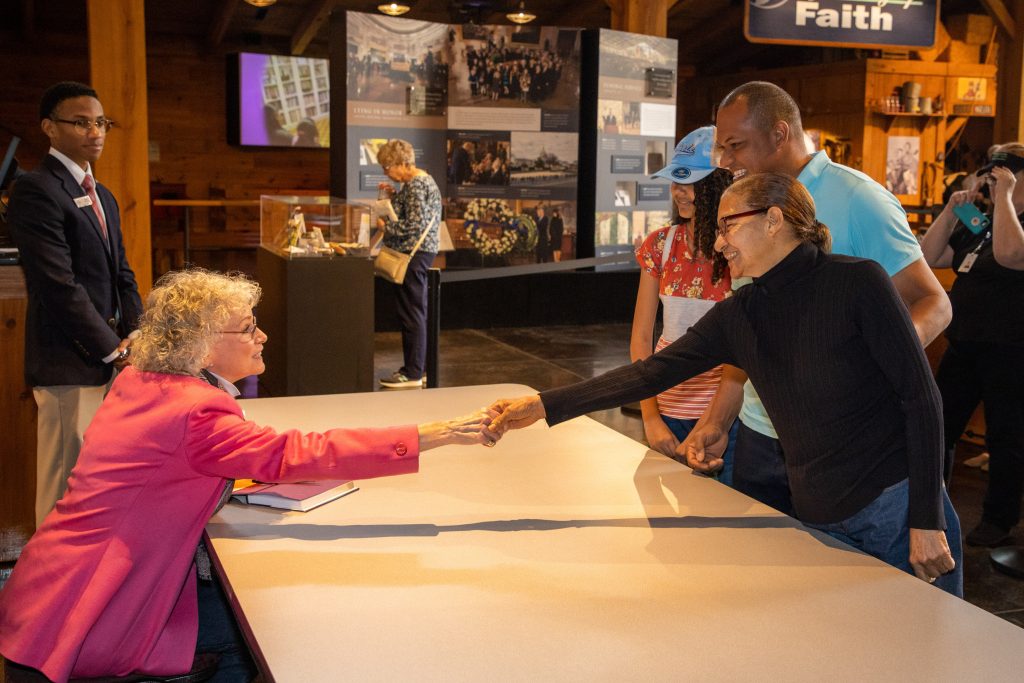 Ruth Graham's smile shone brighter than her pink sport coat as she warmly greeted guest after guest during Saturday's book signing at the Billy Graham Library. Ruth is the youngest of Billy Graham's three daughters.
Her newest book  Forgiving My Father, Forgiving Myself: An Invitation to the Miracle of Forgiveness explores Ruth's own journey of forgiveness. The heartfelt work was released in late 2019.
In general, the Saturday crowd was lighter than usual, likely due to COVID-19 concerns, but a feeling of peace cloaked the Library grounds. Visitors passed blooming flowers of all colors—purple, white, burgundy—as they made their way to the foot of the building's cross-shaped entrance and into the lobby.
Enrique Holguin stood in line for Ruth's book signing with members of his family. The Graham family has been an inspiration to him, and he said he thought he recognized Ruth last night at the Charlotte (N.C.) Douglas International Airport. Enrique saw her while working at a sundries shop. He remembered the conversation this way:
Excuse me, ma'am. Do you know Billy Graham?
Yes, I do.
Well, let me tell you, you look just like his daughter.
That's because I am his daughter.
"I almost passed out," said Enrique, who has visited the Billy Graham Library countless times with his family. This was their vacation spot when they lived in Philadelphia, and they still come by often now that they live in the Charlotte area.
"That was one of the most exciting moments of my life."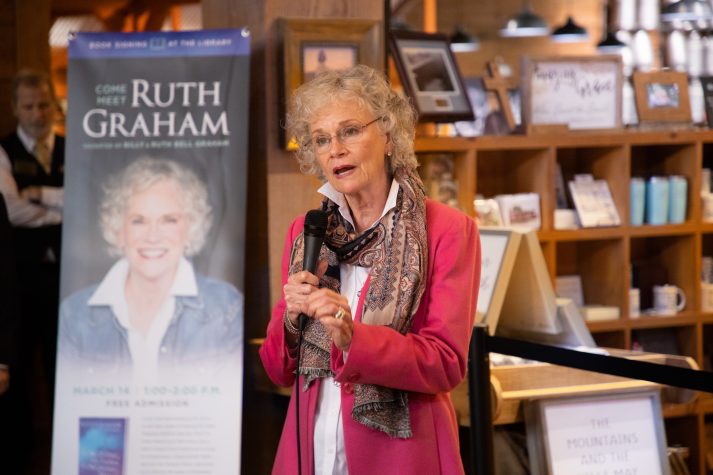 Ruth agreed to take a picture with him and mentioned she was coming to the Billy Graham Library to sign her new book on Saturday. Enrique knew he had to come.
So on Saturday, Enrique stood in line with members of his family. His 12-year-old daughter Brendalis held a new copy of the book. When it was their turn, Ruth's face lit up.
"It was just a delight to see him, and that it meant so much to him to come," she said. "That just warms you all over."
Ellen Serra was the first in line on Saturday. The topic of forgiveness really resonated with her.
"When you forgive, the devil screams because he's lost," said Ellen, who had a personal copy and one for a dear friend who recently lost a loved one to suicide. "When you can forgive the way Jesus did on the cross—Father forgive them for they don't know what they're doing—it is the power of the cross. And then there's a day of resurrection and that's what salvation is all about. It sets people free. I'm very moved by it."
Mike and Sarah Frum trekked from Harrisonburg, Virginia, to Charlotte this weekend to celebrate their 27th wedding anniversary. The Library was on their list of things to do, and they were pleasantly surprised to find Ruth's book signing was happening.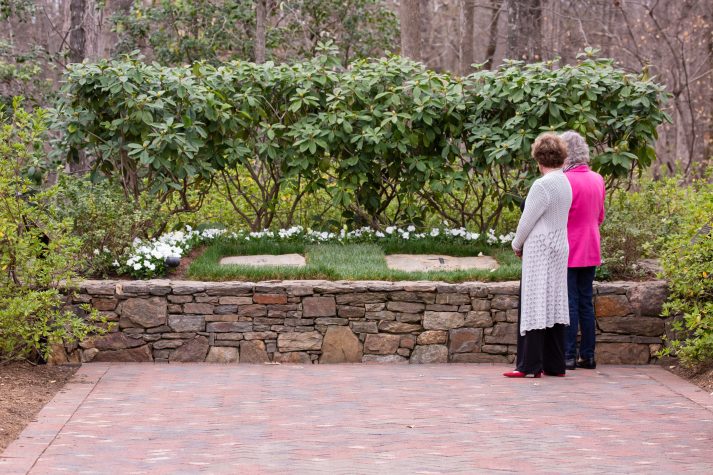 The Frums watched Mr. Graham on television, and Sarah added that Ruth's ministry, Ruth Graham & Friends, had been a personal encouragement to her. Sarah bought the new book and read the first chapter while standing in line.
"It takes a lot for a person to open up and really put their heart out on paper," she said. "We can grow from that. I'm hoping to learn something about forgiveness."
Transparency has been a hallmark of Ruth's books—from In Every Pew Sits a Broken Heart to her recently released book on forgiveness, Ruth shares stories from her life. While greeting the crowd on Saturday, she told them "This is my journey. This is my most vulnerable work yet."
It's not necessarily a path she would have chosen, but it's one she doesn't back down from navigating.
"Somebody has to start it," Ruth said after the book signing. "Somebody has to be really honest and say good, bad, indifferent—God's grace covered it. I'm grateful. I don't know why He chose me to do this."
Bonnie Baucom, a Library volunteer of almost six years, said Ruth's reliance on Scripture is what made the book special for her.
"She relates about forgiveness, and not only forgiving others but forgiving yourself," Bonnie said. "I like how she brings out the Word in that, and how she stresses the importance of the relationship with the Lord through His Word."