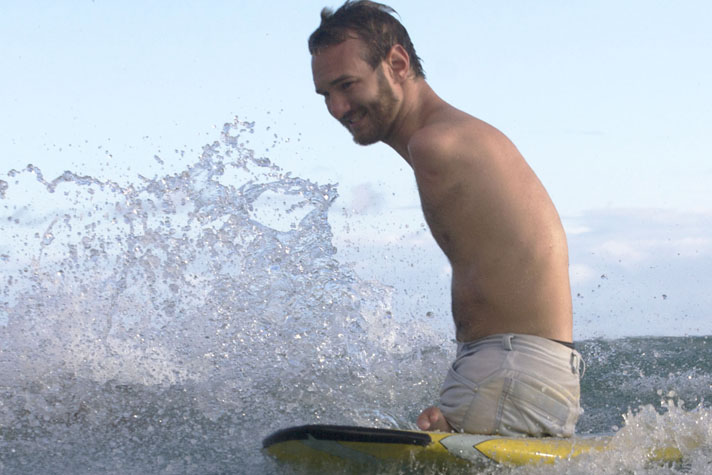 It took a while for Nick Vujicic to find his purpose in life, but once he did, he took off, traveling around the world as a human illustration of the hope and direction he found in Christ. "I have no arms and no legs," he said, "yet I am complete and lacking nothing." Billy Graham, he added, has helped him put his life into perspective.
In a video from "60 Minutes Australia," Nick Vujicic jumps backwards off the diving board and splashes into an empty pool. He resurfaces, yelling, "I can't feel my legs!"
Why are people laughing in the background? Because Nick has no legs. Or arms.
Nick Vujicic (pronounced Voy-a-chich) is no stranger to the spotlight. He has appeared on "CBS Sunday Morning," "Inside Edition" and "The 700 Club." He's a New York Times best-selling author, radio host and motivational speaker. His life has inspired millions of people around the world.
"Inspired" might even be an understatement. Based on comments from his website and Facebook page, he has transformed the way some people think about life – and God.
"I have no arms and no legs, yet I am complete and lacking nothing," Nick said. "I'm not jealous of anyone having arms or legs because I've got something much more, which is faith in Jesus Christ. … He will carry me when I cannot walk."
At 30 years old, Nick has traveled to more than 44 countries and has seen many people embrace new life in Christ. He calls Billy Graham his "evangelistic role model." (Read more about meeting Mr. Graham below.)
Everywhere he goes, Nick connects with people. People are drawn to him despite age, culture or status.
"They know how it feels to feel alone and feel like there's no hope," he said. Above all, he added, they want purpose, and Nick's story is full of it.
Nick was born in Melbourne, Australia, to Serbian parents. Although he was the firstborn in his family, no one sent his mom flowers as congratulations after Nick was born without arms or legs. As a young child, he was depressed about his seemingly dark and lonely future. At age 10, he attempted to drown himself in the bathtub but couldn't because he cared too much for his parents.
Then at 15, Nick read John 9 in the Bible where the disciples see a man blind since birth and ask why that happened. Jesus said, "This happened so that the works of God might be displayed in him" (John 9:3).
As a child, Nick thought he would be happy if he had arms and legs. But that verse from John resonated with him, and instead, he found that happiness comes from doing what God created him to do: inspiring others and telling them that despite their circumstances, God can use them.
"[Theologian] William Barclay … said the greatest two days in anyone's life [are] the day you were born and the day you knew why," Nick once said. On his website, he writes, "If God can use a man without arms and legs to be His hands and feet, then He will certainly use any willing heart!"
Nick now lives in California with his bride of one year, Kanae, and their new son, Kiyoshi. Being a father "is a joy and love that you've never known," he said, but there was a time when he thought it would never happen. How would he find a wife who loved him without limbs?
In his book, Unstoppable, Nick comments on faith in action. People might say they have faith, he says, but do their actions show it?
"Stop putting limits on God," he said. "Whatever the fears are, God is bigger." It's God, he said, who gives people the power to overcome.
In an interview with The Christian Broadcasting Network, Nick talked about questioning God:
"The question was, 'Why? Why did you make me this way?' And the answer was, 'Do you trust me?' … When you say 'yes' to that question, nothing else matters. … There is no point in being complete on the outside when you're broken on the inside. And I found out that God can heal you without changing the circumstance."
Nick holds two bachelor's degrees – one in accounting, and one in financial planning. He and Kanae married in February 2012 and welcomed their son in February 2013. While Nick has no limbs, he has two toes on his left foot that assist him in certain activities: He can get a glass of water, comb his hair, type, hit a golf ball and shave.
"But that's all boring compared to skydiving, scuba diving, horse riding, swimming [and] surfing," he said. Yes, he's done all that.
"I can be angry with what I don't have or thankful for what I do have," Nick said.
And as he tells people around the world, he has a lot to be thankful for.
Nick on Meeting Billy Graham
Nick has met millions of people, but one person he was anxious to meet was Billy Graham. A couple of years ago, he and his then-fiancée, Kanae, met Mr. Graham at his home in Montreat, N.C. Nick calls it "a monumental day" and wrote about it in his book, Unstoppable. Their conversation led Nick to make changes in his ministry.
"He's helped me to make sure that my priorities are right," Nick said, and that faith and family come first. Hearing about Mr. Graham's career "caused me to step back and think about what I want to look back on when I reach a similar place in my life."
Mr. Graham said he regrets not spending more time in prayer or memorizing more Scripture, Nick said, and "when the Rev. Billy Graham says that, it really humbles you."
Nick on love
Although Nick had loving parents, his childhood was, at times, rough. He was bullied in school and since then, has met others overlooked or mistreated by society.
Yet the Jesus Nick believes in never overlooked people, he said. Jesus reached out to the lowest of the low and called His followers to love everyone.
On a recent tour of eastern Europe, Nick visited a school in Croatia. Noticing three boys who subtly teased him during his talk, he invited them onstage for a hug. He told them he loved them. The first boy broke down in tears.
When faced with opposition or mockery, Nick said, Christians' response should always be "to love."
Nick on faith in action
Putting that faith and love into action, though, can be difficult, Nick said.
"We must talk about the love of Jesus, but we must above all show the love of Jesus," he said. For churches, that means making people feel welcome and tending to their needs, particularly for families who have children with special needs. It also means working together with other churches to effectively reach the community.
Nick's nonprofit, Life Without Limbs, occasionally partners with local churches to organize citywide outreach. Volunteers might feed the homeless, landscape or paint fire hydrants to illustrate their love for the city.
Nick on future plans
Nick's book, Limitless: Devotions for a Ridiculously Good Life, was released April 2. It's a series of short life stories that draws its title not from Nick's seemingly endless abilities, but from "God's limitless love and power."
Also this month, Nick begins a 26-country outreach to mobilize churches and tell people about the kind of fulfillment and purpose found only in Christ. That's the same goal that BGEA's My Hope America has as Christians nationwide share their faith in 2013.
"It's not about numbers, but at the same time, we want the world to know that Jesus lives," Nick said. My Hope America "is really pushing the body of Christ into being evangelistic, not just as a church but as a family."
Final thoughts: Nick on having arms and legs
In heaven, Nick said, God promises perfect bodies. So what's the first thing he would do with limbs?
"Hug Jesus and then hug my wife, family and friends, and hug everyone who was encouraged through the ministry," he said. "So lots of hugging, and then I'd run."