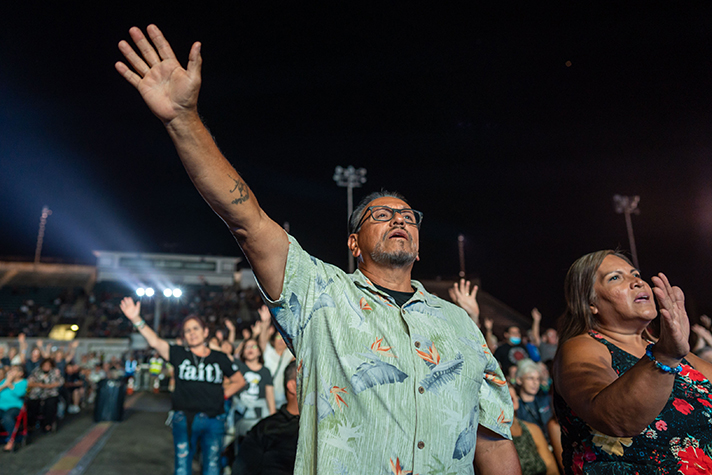 In August of 1949, Billy Graham was in San Bernardino, California, just before his ministry exploded during an eight-week tent Crusade in nearby Los Angeles. Late one night, he took a walk through the woods where he laid his Bible on a tree stump after a challenging conversation with a friend about the authority of Scripture.
It was that night he prayed and told God he accepted by faith that the Bible is indeed the Word of God.
Seventy-two years later, against the backdrop of the San Bernardino mountains, his son wrapped up an eight-city tour across Route 66 based on the central message of the Bible: God loves you.
"The Bible is God's Word from cover to cover," Franklin Graham said Saturday night. And the story inside tells the greatest love story of all—how God's infinite love for us caused Him to make a way for us to be with Him forever.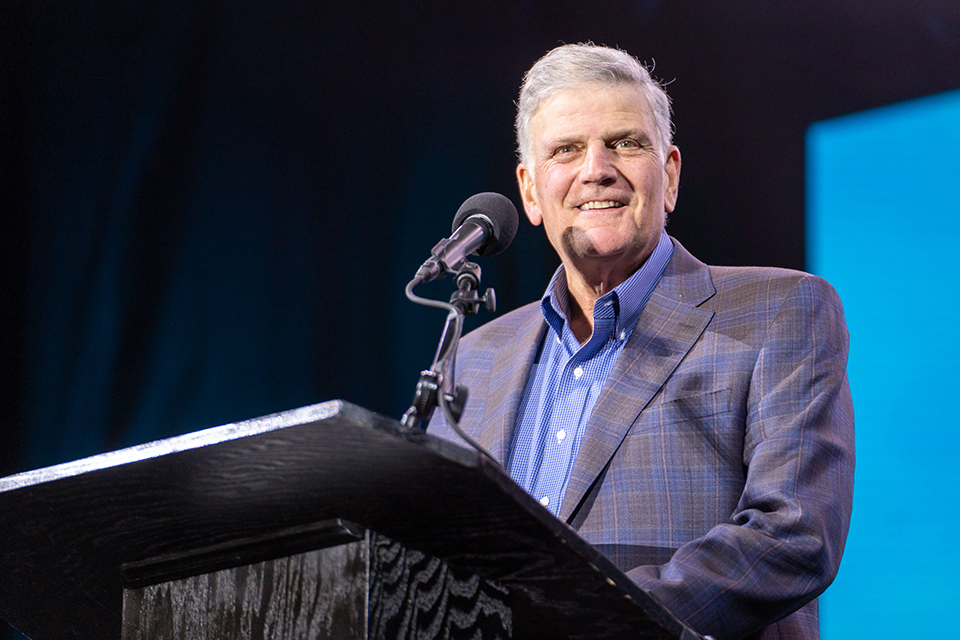 In the span of two weeks, the Route 66 God Loves You Tour covered 2,000-plus miles, reaching more than 56,300 people with the Gospel at the outdoor events—and thousands more online.
>>Read stories and see photos from each tour stop
It was blistering hot at the first stop in Joliet, Illinois. It rained before the event in Albuquerque, New Mexico. People bundled up in Flagstaff, Arizona.
Regardless of weather or venue, the message stayed the same.
"The pandemic has changed us," Franklin Graham told 6,800 people gathered at the National Orange Show Event Center. Something else that happened 2,000 years ago can also change us—for the better, he added.
That was Jesus' payment for our sins.
"There are many religions in the world but only one Jesus Christ," he said. "He came for the purpose of taking our sins to a cross."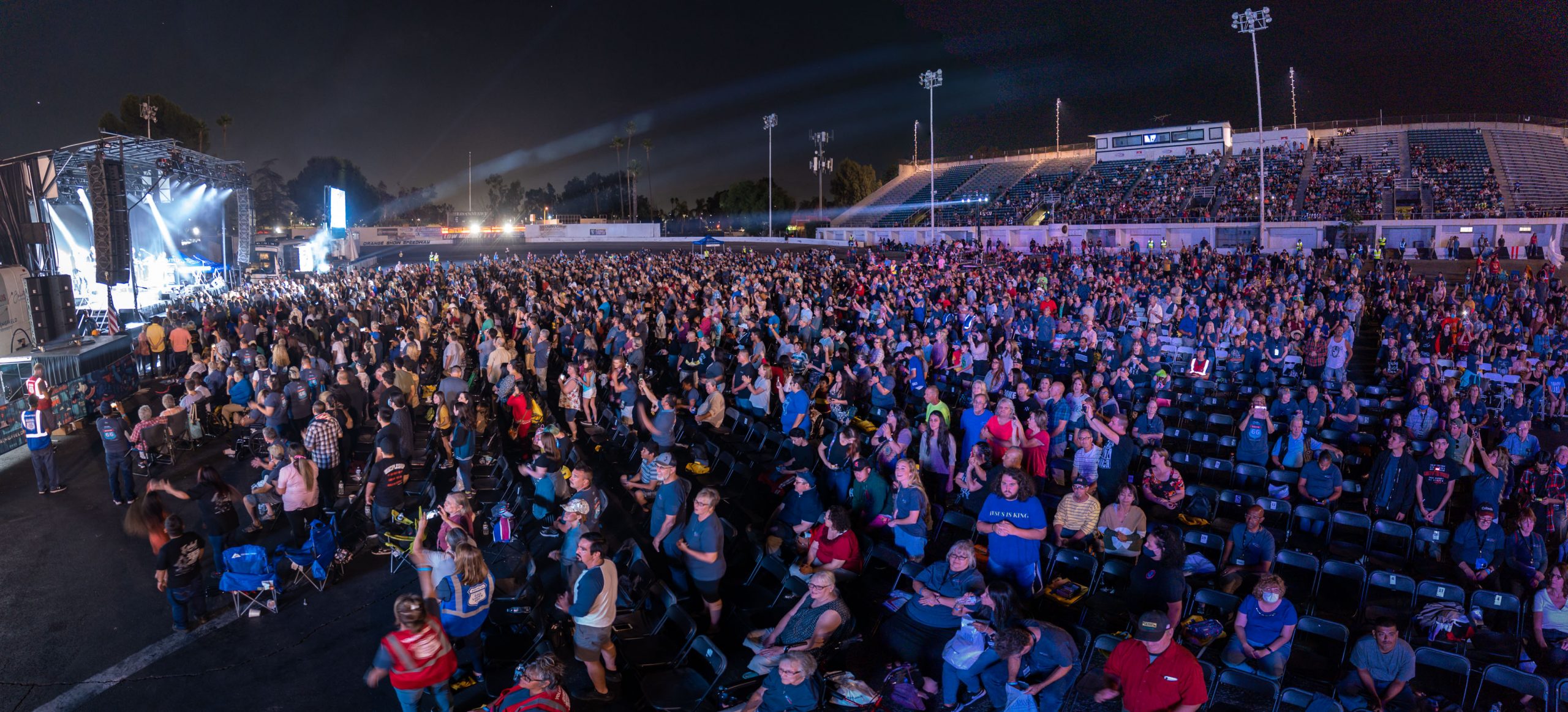 'Taking Back the Ground'
Peggy Stapleton has lived in San Bernardino for 30 years and works for local Christian radio station 89.7 KSGN.
"Lots of raves happen here," she said, looking around the venue. Raves that draw thousands of young people to what Stapleton called "drug and sex parties."
The grandmother of five once went to a rave as part of her friend's ministry to reach those who attend. She was horrified by what she saw there. Just this weekend, her friend ministered at a rave in Washington State where people were burning a cross and chanting.
Before the sun went down on Saturday, Stapleton took a couple of pictures of the God Loves You Tour and texted them to her friend, along with the words "Taking back the ground at the Orange Show."
"This is the mission field," she said.
San Bernardino volunteer Tara Fernandez shares her hope for the community:
Following in Faithful Footsteps
Throughout the Route 66 tour, more than 5,000 people made decisions for Christ, including a mother and her 7-year-old son in San Bernardino.
Candace Collins talked excitedly as she stood between two rows of chairs on the blacktop. The sky was dark by then and only the stage lights lit up her face.
Collins said it's been nearly seven months since she's been clean. Earlier this year, she wept in a hotel room, addicted to meth and feeling hopeless. That's when she decided to surrender to Christ.
She stood Saturday to rededicate her life to Jesus and seek His strength, but she wasn't alone. Her son, Nicholas, stood with her to ask Jesus to come into his life.
"God did for me what I couldn't do for myself," Candace said. Her son witnessed her on drugs in the past and now sees how God is changing her life, she added. She wants to raise him to be strong in his faith, partly by bringing him to events like this, the God Loves You Tour.
Just like Franklin Graham followed in his father's footsteps by accepting God's Word as truth, Candace hopes Nicholas will follow her example of surrender to a holy, accepting, forgiving God.
A God who loves us.