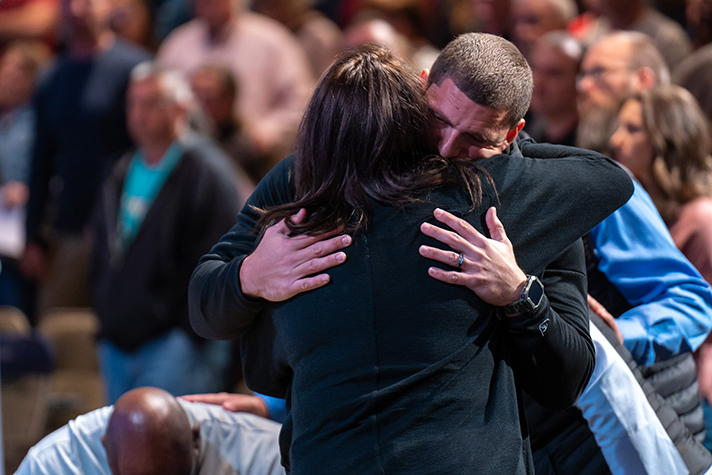 Hayley* stared at the amber-colored leaves still clinging to trees nestled along the Blue Ridge Mountains. She knew a change was on the horizon.
She was one of more than 300 law enforcement officers and their spouses attending a faith-based marriage retreat this week at the Billy Graham Training Center at The Cove. Couples received Biblical guidance and practical wisdom to guide both their lives and marriages through the ups and downs.
>> PHOTOS: Law enforcement couples fight for their marriages
Sitting in a rocking chair next to her husband, Kevin,* she explained that such a serene moment was unusual.
"It's just been no calm, you know?" said Hayley, who lives in Minneapolis, the epicenter for civil unrest following George Floyd's death. "Our life is chaos all the time—at work and at home," she added, noting that they have three children.
"And then you get up and do it all over again."
The retreat gave her and her husband—both who are officers—the opportunity to have a conversation they said was "long overdue."
Their marriage has been pulling at the seams. Long work shifts, some unforgettable incidents on duty, and poor communication have contributed to the difficulty.
It's especially hard for Kevin to see his wife be in danger on patrol.
"I hate it, because I don't want her to get hurt," he said. "I think about death more than her, and it bothers me. Because I'm like, 'How are you not seeing the writing on the wall here of what could happen?' It's hard because sometimes I know I'm not very supportive of her because maybe I want her to do something [safer] or take a different route."
The protective love he has for his wife is common for spouses of law enforcement officers. But, Hayley has a different perspective on death.
"I think it comes back to faith. I just give those things to God," she said.
That faith was encouraged throughout the retreat, as speakers with law enforcement backgrounds shared from God's Word.
"It's hard for me to understand some of the religious part of it because I'm not very religious. I wasn't raised with God; she was," explained Kevin. "But I still find meaning in what's being said.
"It's hard for me to put God first because I'm focused on her and us. I think if we go home and start to apply this, that's the thing I'm going to struggle with the most. … I'm here for her, to be honest, not for God." 
Because of the retreat, Hayley realized their five-year marriage needs a better foundation: Jesus.
"I think the main [takeaway] for us is … making God first, and making Him the center of our relationship," Hayley said, her eyes full of hope. "I want to say we can survive, but [not focusing on Him is] making it so much harder on us."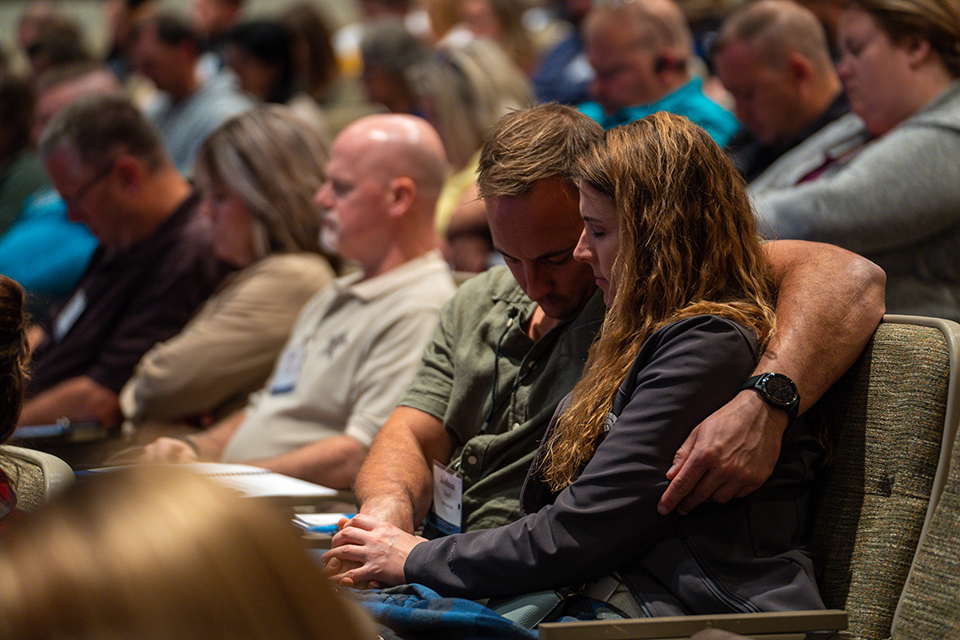 Many more officers came to that same realization during the conference. At the end of the retreat, couples were invited to come forward to submit their lives and marriages to Christ. Several dropped to their knees and wept with their spouses, tears falling onto stage stairs that served as an altar.
>>Learn more about the National Law Enforcement Ministry
Among the couples who desired to reconcile their marriage were Trevor* and Mary.* She serves as a deputy chief in Indiana.
"God put us here at the right time," Mary said. "We needed this."
Ahead of the retreat, she and her husband were just days away from separation and on the road to divorce. But by the end of the conference, the couple believed God was calling them to salvage their marriage—and they even phoned their children to tell them things were going to be different from now on.
"You know, if it wasn't for this retreat, a month from now we wouldn't be together. And now we're going to make it," Mary added.
As she talked, Trevor wiped joyful tears from his eyes.
'I Have to Believe There Were Dozens Who Gave Their Lives to Christ'
Just before the event ended, speaker Rick Snyder felt compelled to invite officers and their spouses into a relationship with Jesus Christ.
He asked for every head to bow and every eye to close, and said for those who don't know the Lord, this was a chance to raise their hands and give their lives to Christ.
There was silence. A hand raised. Then another—again and again.
Snyder said, "I see you, brother." Pointing to another, he said, "I see you," until he acknowledged every raised hand in the room.
"I have to believe there were dozens who gave their lives to Christ," said the Billy Graham Rapid Response Team's deputy director of law enforcement Eric Hubbard, who stood at the back of the room in tears, taking in the work of God. "It was amazing.
"You could just feel the Holy Spirit moving in that place," he explained. "There was a sense of peace, a sense of victory, a sense of relief."
By the end, at least 26 people indicated they made decisions for Christ.
*Names changed for privacy.