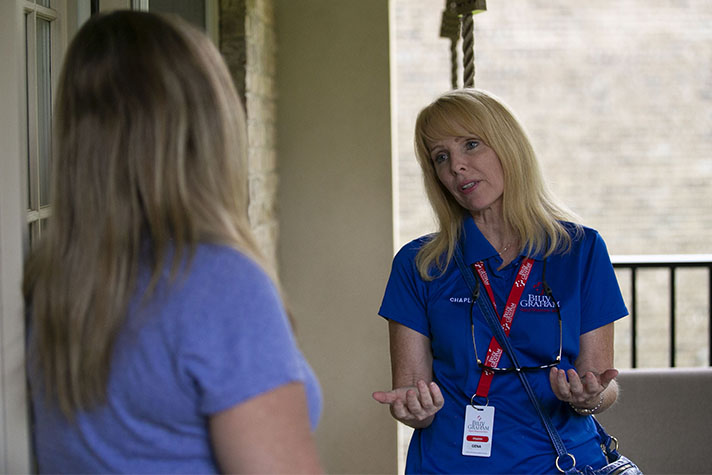 Life's storms can hit unexpectedly—and hard. It is in these moments that people often recognize their need for God.
This was the case for Todd Hendrix and Casie Schmidt, two homeowners affected by flooding in Catawba County, North Carolina. Heavy rains sent floods through the western Carolina town earlier this month.
While the disaster may not have been in major news headlines very long, crisis-trained chaplains from the Billy Graham Rapid Response Team (RRT) and Samaritan's Purse volunteers came ready to help. Just an hour's drive between the Billy Graham Evangelistic Association and Samaritan's Purse headquarters, chaplains are encouraging homeowners emotionally and spiritually as Samaritan's Purse volunteers respond to the damage.
When two Billy Graham chaplains met Todd Hendrix, the outside of his brick home appeared crisp and in order. But in reality, he was facing many more storms besides destruction to his basement.
"I was really hoping to turn a corner in 2019—it hasn't been too great," the salesman said.
Todd recognized that although he's facing hardship, God has been watching out for him. After all, his recent car accident resulted in a hospital visit that diagnosed him with a lung disease—likely caused by the mold in his home—and the flood gave Samaritan's Purse the opportunity to get the mold out of his house.
"God has a purpose for you being here," Susan said.
"I believe that," Todd nodded.
Over the past few months, he's been taking life one step at a time, bracing himself during waves of hardship and counting on his friends' prayers.
"God wants us to have this abundant life, this peace here," chaplain Susan Johnson shared. She then asked him if she could show him a Peace with God booklet, which tells the message of God's love.
Putting his glasses on, Todd complied and began reading through the booklet, page by page. Although he'd gone to church all his life, he couldn't recall a time that he asked for God's forgiveness for his sins, so he prayed to rededicate his life to God.
Although his next season of life may not be easy, Todd knows he doesn't have to face anything alone. God is with him.
>> You don't have to face life alone, either. Receive God's peace today.
Earlier that morning, Casie Schmidt stood in front of her home, surrounded by Samaritan's Purse volunteers and Billy Graham chaplains.
A vibrant Christian and mother of five, Casie's voice tremored as she shared how Samaritan's Purse wouldn't take any money for repairs. Her insurance wouldn't cover the cost of damage, but God had a bigger plan.
Away from home when floodwaters crept into her basement, she saw how God used the flood in ways she couldn't have imagined. Receiving help has sparked a desire within her to reach out to her neighbors.
"Sometimes we feel like we don't want to intrude on our neighbor or pressure [them], but they need the Lord," she said, adding that pride often gets in the way of sharing the Gospel.
Pride has created a hesitancy among her and her Christian friends in telling others about Jesus, but she's determined for that to change.
Inspired after hearing how another mom came to know Christ on Sunday while having her flooded home repaired by Samaritan's Purse, Casie is now considering how she can intentionally share the Good News with even more people around her.
"I am so glad this [flood] happened," she told the chaplains. "God has used this to wake me up … and stir my heart."
Interested in becoming a Billy Graham chaplain? Learn more.