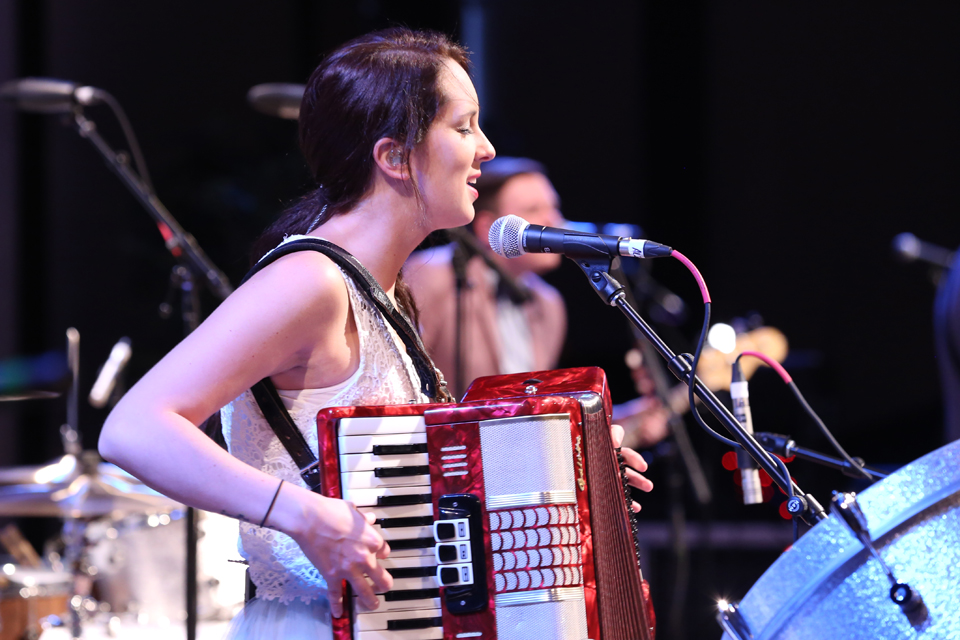 There's something you should know before going to a Rend Collective concert: You will be on your feet, probably the entire time. Not because you have to, but because you can't help it.
Five good-humored Irish worshipers make up Rend Collective, a passionate group of 20- and 30-somethings who came together years ago in the Northern Ireland coastal town of Bangor. Sunday marked the second year in a row the lively band performed at The Billy Graham Training Center at The Cove in Asheville, North Carolina, to a sold-out audience.
As a few band members took the stage in vests, bowties and jaunty hats, lead singer Chris Llewellyn reminded the audience that there will be singing in heaven.
"So let's practice!" he said. "We don't want to be bad at it."
And sing they did—loudly and full of emotion.
"I love the spirit behind (their music)," Erin Friedrich said.
Erin and her husband, Seth, attend a small church in Spartanburg, S.C., pastored by Seth's father. The couple heard of Rend Collective when Seth's mother wanted to use the band's song "You Are My Vision" in church one day.
And now?
"We play a lot of Rend Collective," Seth said. "It brought the joy back to worship."
The couple's four children, 6 and under, sing along to their songs in the car.
Since their Cove debut, Rend Collective has celebrated at least two milestones, with band member Chris Llewellyn getting married, and members Gareth and Ali Gilkeson welcoming a baby boy.
It seems only fitting that the group's latest album is called The Art of Celebration, yet they understand that some people who listen to their music don't feel like celebrating.
"We all go through very difficult times. We're all still human, and we all still struggle," Gareth said. "The art of celebration is an art form; it's not the 'fact of celebration.' … It is something you have to choose."
The band has received more feedback from their latest album than ever before, with many people detailing how it's helped them through tough times. Rend Collective's songs serve as reminders that strength and joy come first and foremost from God.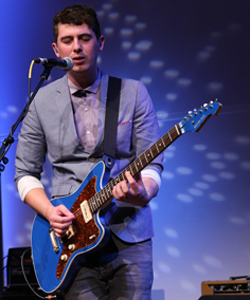 That's a message that resonated with Caroline Christiansen and Chelsea Adkisson, two friends who drove from Florida to see Rend Collective whose growing popularity was evident when it spent time at No. 1 on the worldwide iTunes chart in March.
It was their first time at The Cove for the two friends, and the perfect time to come since two of Christiansen's favorite things are Rend Collective and Asheville.
"It's just very honest and open," she said about Rend's music. The band doesn't just sing for people, Christiansen added, but brings the audience into a group worship experience.
Christiansen made a Rend fan out of Adkisson, too, although "fan" doesn't quite capture the impact of the band's music.
"It's gotten me back into the church," Adkisson said happily. "I was straying a little bit."
While Rend Collective focuses on writing music for the Church, the band also wants to "create an environment where everybody can feel that God is accessible"—both Christians and non-Christians, Gareth said.
"Sometimes singing the same songs and using the same phrases over and over, they can lose their poignancy," Thompson said, adding that the band tries to write songs that give people a fresh perspective on God.
One of Thompson's favorite songs is "Boldly I Approach" about the redemption found in Christ:
Boldly I approach Your throne. Blameless now I'm running home. By Your blood I come, welcomed as your own, into the arms of majesty.
"It is sometimes difficult to get through without breaking down," Thompson said.
Sunday's audience was definitely moved, so much that grown men swayed and bounced in the aisles to the group's high-energy worship songs. An hour into the concert, Rend left the stage, but loud applause and whistles brought them back for an encore.
Rend ended with the song "Simplicity," getting at the heart of worship.
I come in simplicity, longing for purity—to worship you, in spirit and truth. Only you.
See other artists who are performing at The Cove this year, including Mark Schultz on Aug. 17.