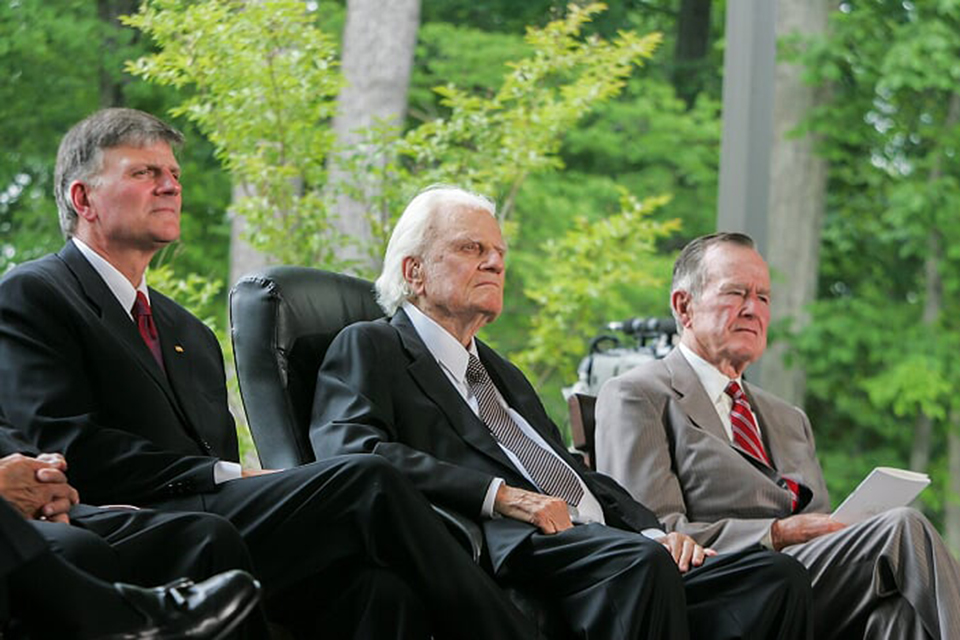 George H.W. Bush, former president of the United States and a good friend of the Graham family, has passed away just seven months after Barbara, his beloved wife of 73 years. President Bush was 94 years old.
President Bush passed away at his home in Houston Friday night. He is survived by his five children and their spouses, 17 grandchildren, eight great-grandchildren and two siblings. The elder Bush's health had been declining in recent months.
Franklin Graham posted this on his Facebook page Saturday morning: "Our deepest condolences to the family of George H.W. Bush who passed away late yesterday at the age of 94. President and Mrs. Bush were very close friends of my parents and our family through the years. He represented the presidency when politics in our country was more civil. He was a man of character who served our nation during war and led our nation during peace. He was a man of many accomplishments, but one of the greatest was his family—two sons to serve as governors and one to follow as president of our nation. Our prayers are with the entire Bush family."
Former President George W. Bush and former first lady Laura Bush came to Charlotte to meet with Franklin Graham after Billy Graham's death this past February.
The Bush-Graham Friendship
The American public witnessed the Bush-Graham friendship through events such as a Presidential Inauguration, prayer breakfast and even the 2007 Billy Graham Library dedication, where Bush was among several presidents to attend. Earlier this year, the former president described Graham as a "good friend" in a statement after Mr. Graham passed away on Feb. 21.
"I think Billy touched the hearts of not only Christians, but people of all faiths, because he was such a good man," Bush said. "I was privileged to have him as a personal friend."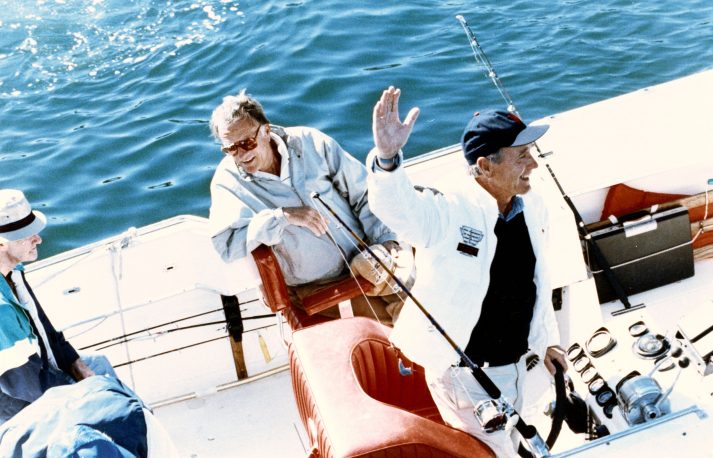 Billy Graham, known to many as pastor to the presidents, wrote in his autobiography Just As I Am that he was impressed by how Bush prioritized his family. For instance, Graham noted how immediately after the 1990 State of the Union address, Bush didn't take a moment to relax. He slipped through the White House just to wish his children goodnight.
On several occasions, President Bush and his wife Barbara invited Billy and Ruth Graham to vacation with their family at their summer house in Kennebunkport, Maine. The environment was more laid back than the White House and gave the kids a chance to be kids, for the grandchildren to be grandchildren.
Faith was never far from the president's mind, though, and one summer he asked Ruth Graham if her husband would talk with the youth present. She suggested they hold a question-and-answer session.
"So that was what we did at Kennebunkport," Graham shared in Just As I Am. "The young people sat around me—'wall-to-wall grandchildren and their friends,' as Ruth described it—and asked me questions. Good ones about life and theology that challenged my thinking. And I tried to answer with what the Bible said. The next year, and the year after that, the children asked for another Q&A session. Those experiences helped form a personal bond between me and the four Bush sons and one daughter."
George W. Bush, who served as the 41st president of the United States, credits Billy Graham as leading him to Christ.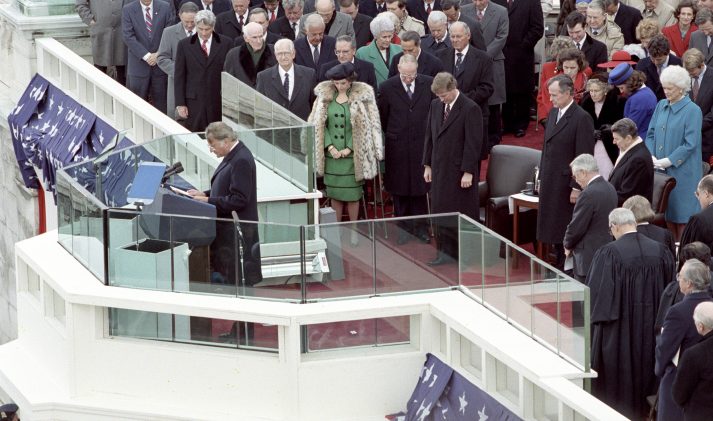 Mr. Graham was called upon to join Bush and his wife the day the Gulf War began in 1991. Bush didn't ask for Graham's political opinion, and Graham didn't share it. Rather, Mr. Graham offered to pray with the Bushes before Bush Sr. shared the news of the war in a speech to the American people. The next day, at President Bush's request, Mr. Graham agreed to hold a prayer service for the cabinet, some of the congressional leaders and several hundred Marines at Fort Myer, a military compound across the Potomac River.
Again, President Bush's commitment to faith struck Graham, who shared in Just As I Am:
"The next morning, after his sternly uncompromising television announcement the night before, the president of the United States knelt before the Lord in a chapel at Fort Myer."
Former President George H.W. Bush lay in state at the Capitol Rotunda in Washington, D.C., earlier this week. A memorial service for Mr. Bush was held Wednesday at the National Cathedral in Washington, D.C., on the day that President Donald Trump designated as a national day of mourning for the former president. A funeral for Mr. Bush was held at the Bushes church, St. Martin's Episcopal Church in Houston, Texas, on Thursday, followed by an interment at the George Bush Presidential Library & Museum in College Station, Texas.
Please keep the Bush family in your prayers.
Do you know Christ personally? Pray now.