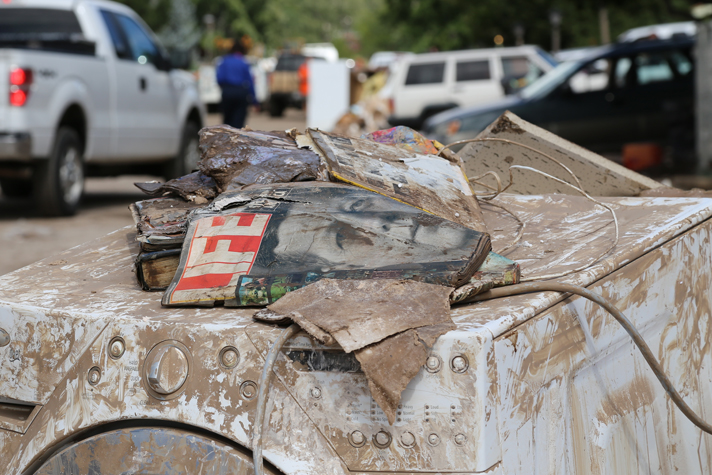 It was just before 3 a.m. when a Boulder County, Colo., mother realized something wasn't right.
Steady rainfall throughout the night had become too much for the small mobile home park where she lived with her 9-year-old daughter. The creek on the other side of the park was overflowing, and water was beginning to seep into their home.
As the muddy rainwater rushed in faster, it was clear they needed to get out of there.
"The water went up to the little girl's waist," said Billy Graham Rapid Response Team chaplain Toni New, who met the family inside a local church on Tuesday morning.
The mom and her daughter made it safely to a shelter the night the flood devastated their neighborhood. They're now among thousands of families forced out of their homes after historic flooding ravaged an area the size of Connecticut.
The family ended up at Rocky Mountain Christian Church in Niwot, Colo., after a relative told them they might be able to find help there.
The church is serving as the staging area for the Billy Graham Rapid Response Team and its sister ministry, Samaritan's Purse. Together, the two groups are helping meet physical, emotional and spiritual needs in the hardest hit areas of the eastern Rocky Mountains.
The mom and her little girl filled out a request to get help from Samaritan's Purse, and that's when they bumped into Toni New.
"They have nobody to help them," Toni said. "They didn't have any flood insurance. The mom is on a roller coaster of emotions. She said there are times the tears come and she can't hold them back."
Toni spent some time talking to the mom and her daughter and found out they had been hoping to move out of their mobile home to a new town, but they weren't ready to go yet.
"I told them that sometimes God helps us do things quicker, in a time we don't expect."
After listening to their story, Toni asked if they'd like her to pray for them, and the mom didn't hesitate to answer.
"They were eager," Toni said. "They wanted prayer. I prayed that the Lord would give them strength, that He would send people for them—to lift them up and to help them."
Later that day, Toni and her husband, Al, visited the mobile home park where the family had lived. A few houses down, they met an older woman who lived by herself. She was sitting on a lawn chair next to her home, which was unsafe to enter. Her wooden porch was about 100 feet away; the flood waters had caused it to break apart from her home, depositing it farther down the road.
She told the chaplains she had also escaped the water just in time.
"She said she was asleep and her phone rang," Toni explained. "She hung up on them because it was 3 o'clock in the morning. But they called back and called her by name and said, 'We've got to get out of here. It's flooding.'"
Now, almost a week later, she still hasn't been able to get back into her home. Like her neighbors who had gone to the church for help, she was open to prayer.
"I prayed that God would comfort her, that He would give her guidance, that He would give her peace and show her his love during this time of loss," Toni said.
Across town, at a distribution center for displaced residents, two more Rapid Response Team chaplains had the chance to meet with and pray for families struggling to figure out their next steps.
Jack and Peg Rasmusson live in Evergreen, Colo., about 40 miles south of Boulder. They've volunteered all over the country as crisis-trained chaplains, but this deployment is close to home.
Tuesday afternoon, they met a woman whose home sustained extensive damage from the flood. The wife and mother of four had received a frantic call from her husband the day the waters overtook their home.
"Her husband called her at work and said he was putting the kids up on the roof," Peg said.
The water had rushed in too quickly for the family to flee by car. About an hour after they climbed onto the roof, they were rescued by boat and taken to safety. They returned home this week to find the majority of their belongings covered in mud, with standing water up to the ceiling of their basement.
"You could tell she was so overwhelmed," Peg said. "She said she had realized, 'I just can't do this by myself.'"
Peg and Jack helped her fill out a request for help from Samaritan's Purse. In the meantime, they asked if they could pray with her.
"I prayed with her and gave her a hug," Peg said. "And when I was hugging her I just said, 'You're not meant to do this alone. We're here to help.'"
By Wednesday morning, eight Rapid Response Team chaplains will be ministering in the Boulder area. They'll join 50 Samaritan's Purse volunteers in coming alongside residents who are overwhelmed and looking for help.
Recovery from the flood could take months, and with colder temperatures just around the corner, homeowners are racing the clock.
The chaplains hope to be a presence of peace and calm in a time of uncertainty, staying in Colorado as long as they're needed.
To help spread the hope of Christ, click here to donate to the Rapid Response Team.