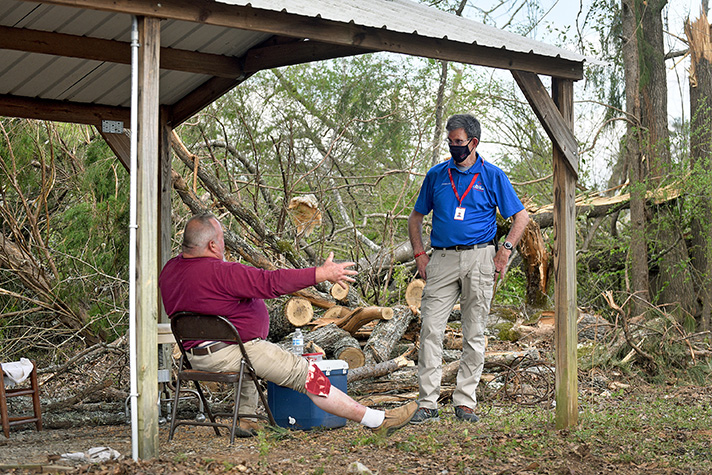 The Billy Graham Rapid Response Team (BG-RRT) is serving in Tuscaloosa and Dallas County, Alabama, after a severe storm system swept across the South, spawning a violent EF-1 tornado that destroyed homes in the historic city on St. Patrick's Day.
"We are deeply saddened to hear of the devastation that this severe storm system caused in Tuscaloosa and across the southern United States," said Josh Holland, BG-RRT's assistant director.
>> Give to help Billy Graham chaplains offer emotional and spiritual care during crises.
Although no fatalities were reported, there have been more than 30 accounts of twisters—mostly in Alabama and Mississippi—from the line of destructive storms that traveled across the South on Wednesday and Thursday. Several of these tornadoes were confirmed in Jefferson County, Alabama, where the chaplains deployed in January.
Crisis-trained chaplains began arriving in Tuscaloosa and Dallas County over the weekend, and are ministering to locals recovering from the storm that slammed splintered trees into cars and ripped roofs off houses. They're offering a listening ear and comfort while partnering with Samaritan's Purse, a ministry that cleans up homes in the aftermath of disaster.
The BG-RRT's Mobile Ministry Center will also be parked in the region, serving as a safe haven for conversations with chaplains.
"The message of the Bible is that God is a God of hope, no matter what the natural circumstances are," Holland said. "His supernatural love can meet us in the middle of our greatest pain and we are honored to share that with people. Even when there are no words, our crisis-trained chaplains have the opportunity to be a physical presence for people who are grieving."
Please keep all those affected by these storms in your prayers.
Do you know how to face life's hardest moments? Trust in God.