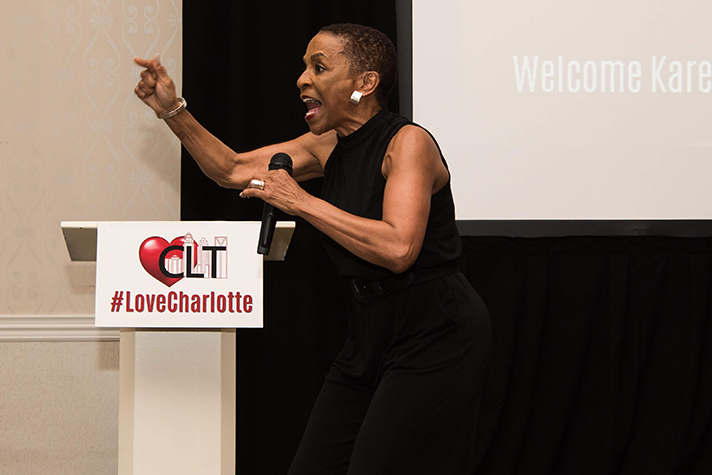 "When Jesus spoke again to the people, he said, 'I am the light of the world. Whoever follows me will never walk in darkness, but will have the light of life.'"
—John 8:12
"Raise them up, Lord! Raise them up," Karen Abercrombie thundered against heaven the same prayer she once said as Miss Clara in the final scene of War Room. But on this particular day in late spring, her pleas were directed with Charlotte, North Carolina, in mind.
Abercrombie was recently the keynote speaker for Love Charlotte's Vision Casting dinner held at the La Meridien Hotel in Charlotte. The visionary group, created by Project Pray, wants to see the Queen City start serving the Lord, really by loving one another again just as Jesus instructs. Prayer is the first step, Pastor Doug Small shared, and others agreed, especially with the 2020 Republican National Convention on the horizon. The ultimate goal is to raise up an army of prayer warriors who will serve as ambassadors for this city.
Abercrombie used her testimony to point to the power of prayer. For her, it began when she saw an incredible dramatist and actress perform at a women's conference many years ago.
"When I saw her, I said, 'Oh God, if You would just allow me to use my gifts in the way You're allowing her, I will give You everything that I have,'" Abercrombie said. "Years and years went on and wherever I was, I gave everything that I had."
She never envisioned moving from New York to Mooresville, North Carolina—just 40 minutes up the road from the Billy Graham Evangelistic Association—but that's where she felt the Lord called her. She began worshiping and serving the Lord at a church that ultimately would connect her with the Kendrick Brothers, producers of several Christian movies. The Kendricks were less than a month away from filming War Room and they still needed a Miss Clara.
"Everybody was in place," Abercrombie said. "They had interviewed and auditioned well-known Gospel singers and actresses from Hollywood [for Miss Clara]. But every time they prayed, God will tell them, 'No.' And it was all because it was time for my Heavenly Father to answer a prayer that I had put to Him 13 years ago.
"So I said that to say this. … Your Heavenly Father cares about every single detail of your life. This room is filled with His chosen ones. And He cares for you. And He loves you. And He hears you. And He is pleased that we are here drawing together to bring this city together to show love and unity."
Statistically and anecdotally, the Queen City could use a dose of unity. Charlotte saw an increase in nearly every violent category during the second quarter of 2019. Homicide, reports state, increased 119 percent.
Charlotte-Mecklenburg Police Chief Kerr Putney extended a request into the community shortly after the deadly UNC-Charlotte shooting that made headlines in April.
"We can't police our way out of this problem," Chief Putney said during a press conference. "The entire community needs to engage to find solutions. We need to make sure everyone in this community has the skills they need to deal with conflict without resorting to violence."
Kevin Williams, a chaplain manager for the Billy Graham Rapid Response Team, said Putney's remarks are evidence that the Church—those who make up the body of Christ—needs to do its part.
"I actually discern that to be a cry for the Church to step in its rightful position," Williams said. "We've been given an assignment in this world as the body of Christ and have been commanded to go into all the cities, counties, states, nation and the world. The police are on the front lines of everything. They're on the front line of spiritual things. They're on the front line of criminal things, violent things, mental issues and so forth. And we're behind them somewhere just watching them do what they do, watching them drown and attempting to do something that they're not called to do."
Williams continued, referencing Matthew 5:14-16, "We the Church need to get back onto the front line and be salt and light."
This year, Love Charlotte will attempt to draw together hundreds of churches in the Charlotte area first for prayer and secondarily for discerning ways to love this city. The Billy Graham Rapid Response Team, which deploys crisis-trained chaplains nationwide and abroad for man-made and natural disasters, will come alongside this group to encourage prayer and offer training. The ultimate goal, Williams said referencing Matthew 9:36-38, is to raise up ambassadors for Christ, people who will bring unity by walking in the example of Christ.
It's a matter of obedience, trust and faith, Williams said.
"Christ brings clarity," Williams said. "We sometimes get distracted by what we see and hear, and then we think there's no hope. But Jesus Christ desires to show Himself and He longs to use us in the midst of chaos.
"So let's stop talking about where the police, government and others have missed the mark and take our rightful place of being light and hope to the entire city, county, state, nation and world."