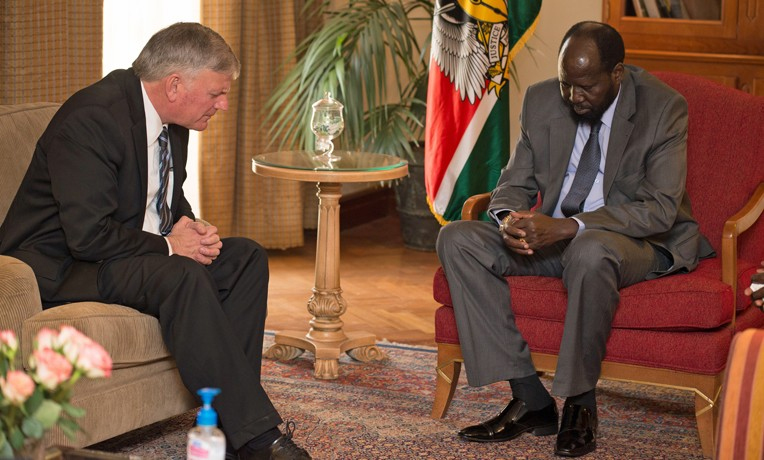 Franklin Graham, president of the Billy Graham Evangelistic Association and Samaritan's Purse, met with South Sudan President Salva Kiir and former Vice President Riek Machar last week on March 3-4.
He prayed with both men, in separate meetings, on neutral ground in Ethiopia and urged them to bring an end to the internal conflict that has been roiling their country for over a year.
A political crisis erupted between the two men in December 2013 and led to chaos in the country's capital of Juba. Fighting spread throughout the country, in many cases along ethnic lines—Dinka vs. Nuer. Kiir is a member of the Dinka tribe, the largest people group in South Sudan, and Machar is a member of the Nuer tribe, the second largest people group. However, it should be noted that there are many factions involved in fighting and lawless behavior, and it is not entirely clear what groups are under whose control.
On March 5, Graham met with about 150 South Sudanese church leaders in Juba, an event Graham described as the highlight of his most recent trip to Africa. They prayed and worshiped together, asking God to bring peace to the country.
Franklin Graham was invited to take part in the celebration of South Sudan's independence on July 9, 2011.
South Sudan, still the world's newest nation (the 54th country in Africa), remains fractured today. The continuing turmoil and insecurity has displaced about 1.9 million people, cutting off many from normal food supplies and basic services. Tens of thousands have been killed in the de facto civil war.
Despite the challenges, Samaritan's Purse is providing emergency food, clean water, medical support and spiritual encouragement to tens of thousands of internally displaced people.
Please pray for God's peace to reign in South Sudan.