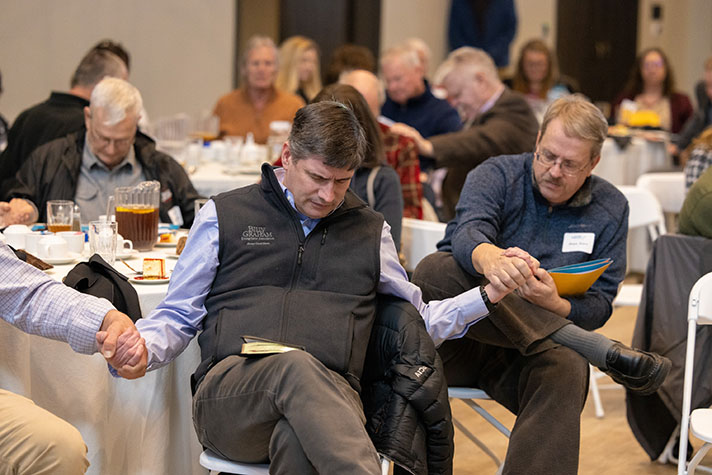 They came one by one. They came in groups. Mothers with children in tow. Pastors greeting each other. Hearty laughs, and arms raised in praise.
Extra chairs were hurriedly set out to accommodate the overflow crowd, and still many were standing in the back of the event center.
The excitement was electric Jan. 26 in Idaho Falls, Idaho, as the Look Up Tour with Will Graham was announced. The two-day evangelistic event will be held Sept. 23–24 at the Mountain America Center in Idaho Falls.
This snow-laden, idyllic town is known for its natural beauty, and for being a gateway to national parks like Grand Teton and Yellowstone. But area Christians are hoping that it becomes known for other reasons—as a place where churches are unified and revival takes root.
'Lord, Here I Am'
Speaking to the hundreds gathered, Will Graham shared a message from 1 Samuel 3. When God called the boy Samuel, saying, "Samuel! Samuel!" he responded with, "Speak, for your servant hears" (v. 10).
Graham brought that home to Idaho Falls, sharing that God is calling His followers across the region to be available to reach others with the Gospel in the coming months.
"Are you ready to be used by God in your community to do things that you might feel uncomfortable doing? To speak to people you don't normally speak to?" he asked. "Are you here to serve God, to serve your community? Are you ready to do what God's called you to do?"
"Be like Samuel," Will Graham said. "'Lord, here I am. Use me in these months and years to come. Use me to reach my neighbors, to reach students, and to reach family members with the Gospel of Jesus Christ.
"He can change lives. He can change the hardest hearts. God can touch anybody's heart."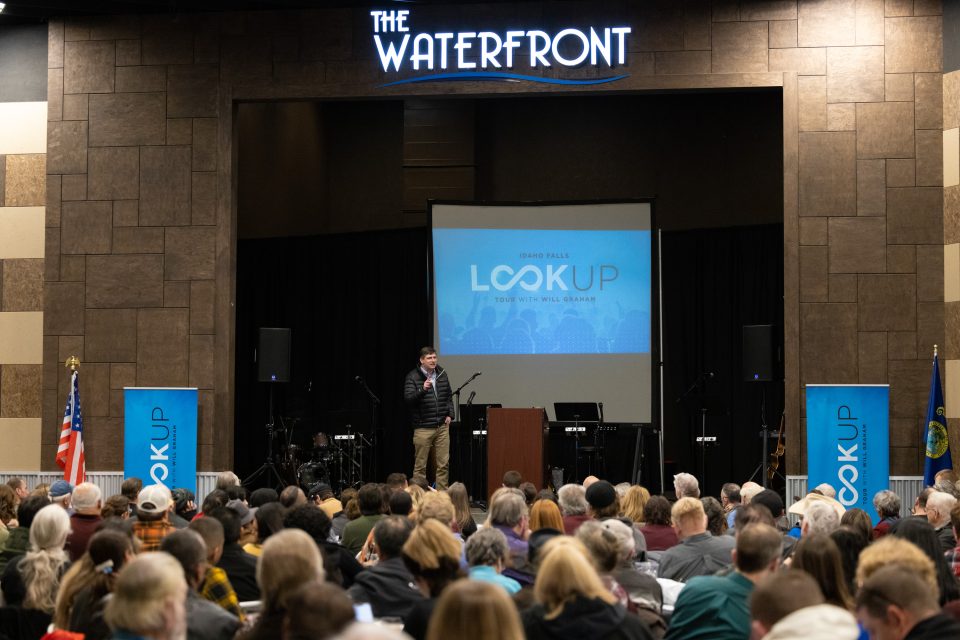 'Where Is the Hope?'
Many in attendance recognized this as a unique—and needed—opportunity for Idaho Falls.
"Many people in our community are suffering from hopelessness and depression," said Steve Winn, a local leader for the Look Up Tour.
"Life is confusing," he said. "People are asking, 'What is the truth? Where is the hope?' The world continues to offer empty solutions to such questions because the truth of these questions are answered spiritually.
"As the church body works together to proclaim the Good News of Jesus," he continued, "I believe God will reveal His saving grace and power in such a way as to awaken us to His purposes in southeast Idaho."
Tyler Perkins, executive director of the Idaho Falls Rescue Mission, added, "The Look Up Tour is important. … Our region desperately needs it.
"I anticipate and already see great strides in church unity and the larger church body coming together for one purpose—to reach people in our region with the Gospel."
'Prayer. Prayer. Prayer.'
Billy Graham once said that the three most important components of any successful evangelistic outreach are: "Prayer … prayer … prayer."
Over the coming months, will you join the churches and believers of Idaho Falls in praying over this community and area of the nation?
"This is going to take a big God—a mighty God—to change this city," said Will Graham.
"It's not going to be done in our human strength," he said. "It has to be done by the Lord.
"Why can't a great revival start right here?"
Want to be a part of the Idaho Falls Look Up Tour? Get details here.