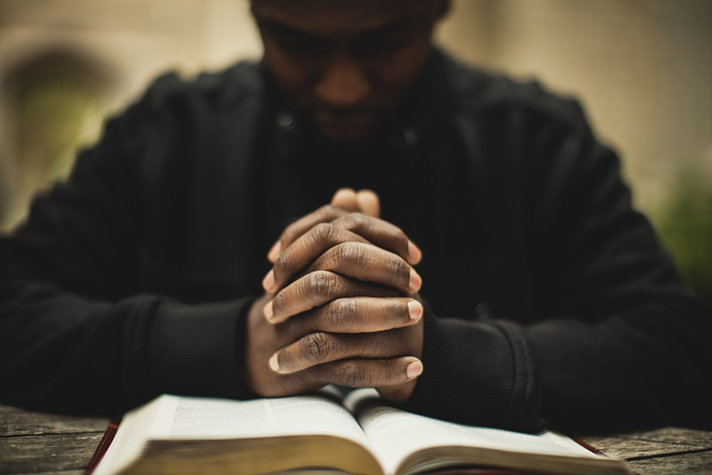 For every sin and issue that people calling the BGEA Prayer Line struggle with—Jesus died. His death on the cross paid the price for sin.
Addiction, homosexuality and unbelief are just a few battles that people have shared on the 24/7 prayer line. While many are consumed with guilt over these, some call just to talk and be heard amid their loneliness.
>> Wrestling with guilt? Call the BGEA Prayer Line at 888-388-2683.
On the other end of the line, trained volunteers offer spiritual care and introduce some to Jesus for the first time. Many callers have renewed their relationship with Christ through this ministry, created after COVID-19 concerns.
Be encouraged by these diverse excerpts taken from calls:
Homeless Man Turns to God
A homeless man saw Franklin Graham's TV commercial through a store window. He prayed along with Graham, who led a prayer of repentance and surrender to Christ. The man called the BGEA Prayer Line and told a volunteer that when he prayed, "It was like a bolt of lightning." The volunteer shared Scriptures and talked with him about his decision to follow Jesus.
Tempted Man Receives Prayer
One man called in to ask for prayer that God would protect his family from the coronavirus. He also shared with the prayer volunteer how he was delivered from a homosexual lifestyle by listening to Franklin Graham's message one day. Close to tears, he admitted he still experiences those tendencies at times and requested prayer. They prayed together for his family and for God to help him stand strong against temptation.
Grieving Family Is Given Hope
A prayer volunteer answered a call from 16-year-old Emma* on Easter Sunday. She was the last of four family members to phone in and receive Christ. The entire family had been devastated by the recent death of a 22-year-old family member who overdosed. His mom and dad called first and made decisions to trust Christ, followed by Emma's mom—and a week later, Emma.
Panicked Alcoholic Accepts God's Grace
Paul, a prayer volunteer, got a call from Steve,* "a broken man" who was hospitalized and pretty sick. Steve had spent time in prison and was an alcoholic, and he was absolutely distraught because he thought he was going to hell. "He was in a panic," Paul said, "because he knew God was real, and he'd been living a sinful life." He encouraged Steve and prayed for God to take away his addiction. After a long conversation, Steve prayed to rededicate his life to Christ.
"I just sat back and thought, 'I think God is doing the born-again work in this guy … while I'm just sitting here talking to [him] and praying with him,'" said Paul. "He was calm, he was thinking clearly and he didn't seem to be so anxious. He seemed to have hope for the future. I was just in awe of God's saving grace … because [Steve] really did seem like a different person."
Prayer for an Unbeliever
Ira* called the prayer line planning to harass whoever answered. He stated that he didn't believe in Jesus and he was going to hell. The prayer volunteer talked to Ira about finding peace and encouraged him to turn his life around. Before they hung up, Ira allowed the volunteer to pray for him. He asked God that Ira would one day find the love and peace of His Son, Jesus Christ.
Inmates Call In for Forgiveness
A call came in from three female inmates. Handing the phone to each other, they prayed to ask Jesus to forgive their sins and be their Lord and Savior.
Religious Man Declares 'I Want to Get into Jesus'
The first words out of Behnam's* mouth were, "I want to get into Jesus." The disabled man had called the BGEA Prayer Line after praying to receive Christ with Franklin Graham on TV. Behnam was so surprised to talk to a real person and not hear a recorded message. He called because he wanted to know more about the Christian faith. He told the prayer volunteer that he was half Christian and half Muslim but has chosen to follow Christianity.
Are you struggling? Talk to someone today on the 24/7 hour BGEA Prayer line. Call 888-388-2683.
*Names have been changed for privacy.