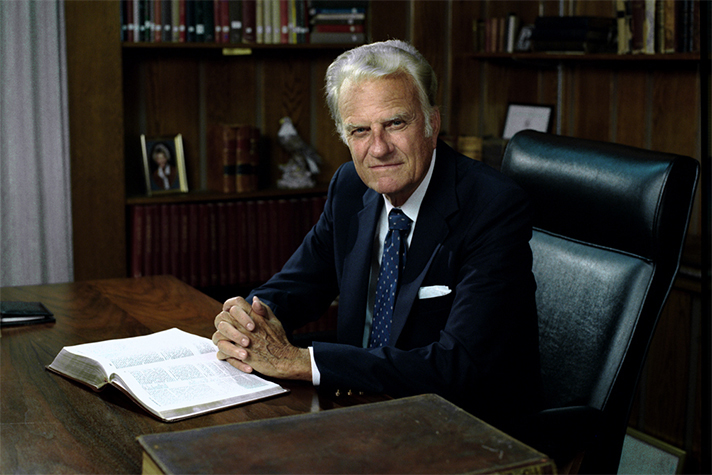 Billy Graham often referred to his North Carolina upbringing during his seven-plus decades of ministry, and in the coming years, "America's Pastor" will represent the Tar Heel State in the U.S. Capitol's National Statuary Hall. The next step in the process is to find an artist. Those interested should apply by April 1.
The North Carolina Statuary Hall Committee met this past December, eight months after the evangelist's passing from earth to heaven, to begin the installation process. Former Gov. Pat McCrory approved the statue in 2015 after he signed North Carolina House Bill 540 into law.
"There have been many great North Carolinians," the house bill stated, "but few have impacted the world more than Billy Graham."
Likewise, America's Capitol held a special place in Mr. Graham's heart, shared Franklin Graham, the evangelist's oldest son and president and CEO of the Billy Graham Evangelistic Association. Mr. Graham, considered pastor to many U.S. presidents, spoke in the Capitol Rotunda in 1996 after receiving the Congressional Gold Medal.
"The U.S. Capitol holds a special significance in my father's ministry—he shared the Gospel there, and it's where he was given the distinction to Lie in Honor," Franklin Graham said.
>>Watch video of Billy Graham's Lie in Honor ceremony at the U.S. Capitol Rotunda.
Mr. Graham preached the Good News of Jesus Christ to more than 215 million people around the world during his ministry, but his life had humble beginnings. Raised on a dairy farm in Charlotte, he felt God call him—a mere farmer's son—to become evangelist to the world.
"I think one of the greatest parts of my grandfather's testimony is that he was a farm boy from North Carolina," said Cissie Graham Lynch, daughter of Franklin Graham. "This is something for North Carolinians to be proud of and to always remember that God can use any of us as long as we have a life and a heart that surrenders to Him and is obedient to His calling on our life."
Lynch will be involved with choosing the artist and finalizing details of the statue.
"As a granddaughter, I've been prayerfully considering this responsibility from every angle—from the artist selection, to what we decide the statue will look like and the details—that it would honor my grandfather and ultimately point people to God."
Regarding the high honor, Franklin Graham agreed it will continue his father's legacy of sharing the Good News.
"Our hope is that adding his likeness to Statuary Hall will continue to bring awareness to my father's life work of spreading the Gospel of Jesus Christ and allow the message he preached to be shared with those who visit for many years to come."
The Billy Graham Evangelistic Association is a nonprofit organization that directs a range of domestic and international ministries, including: Franklin Graham Festivals, Will Graham Celebrations, The Billy Graham Library, The Billy Graham Training Center at The Cove, SearchforJesus.net, the Billy Graham Rapid Response Team of crisis-trained chaplains, My Hope with Billy Graham TV ministry and others.
Interested in being considered for this commission? Get details here.
What is the Gospel? Find out.