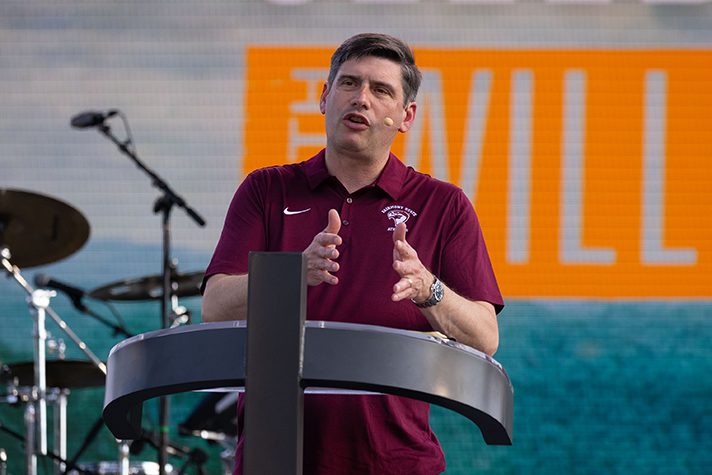 There's no denying COVID caused countless headaches while planning the Mountain State Celebration with Will Graham. But during the event's 15-month postponement, the Billy Graham Evangelistic Association (BGEA) got in the practice of offering online evangelistic events. 
So when Will Graham finally got to preach this past weekend in Fairmont, his message was not only heard in West Virginia. Livestreams on Facebook, YouTube and BGEA's website allowed thousands from 45 countries to join virtually. 
"We've got people watching right now all around the world," Graham told the crowd gathered for the final night of the three-day outreach. 
>>Read about the Mountain State Celebration's effect on West Virginia. 
The evangelist gave a special shout-out to friends who were watching from Australia, one of six continents where people were tuning in at the same time. 
Let that sink in.
Some people woke up in the wee hours of the morning to watch. Others listened closely to a language that wasn't their native tongue. And their computers and cellphones connected to the same feed streaming from a small West Virginia city—to every corner of the globe except Antarctica.
"If you're watching online, there's some of you that still need to do business with God," Will Graham said, calling out the online audience multiple times throughout his Sunday message. 
"God wants to speak to your heart today, and I know He will."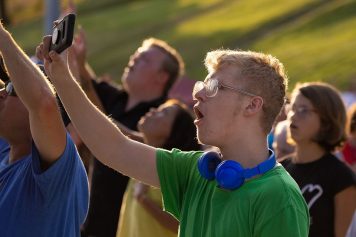 Each night the evangelist urged those listening to make life's most important decision—to either accept or reject Christ's gift of salvation.
And while virtual viewers couldn't physically walk forward, many indicated decisions for Christ.
"I prayed your prayer with my family," Jason Tucek commented on YouTube.
"I rededicate myself to You, Lord," Gayle McLeod added on Facebook.
Rather than joining the chorus of voices reciting the prayer of salvation in Fairmont State University's football stadium, they prayed from their homes. Instead of looking a prayer volunteer in the eyes afterward, they sent messages back and forth with trained online coaches. And while they couldn't clap along with the supportive audience, they celebrated with fellow virtual viewers in the comments section.
"We are giving You praise from Chicago, Lord," said James Henson on Facebook.
Celeste Benitez posted, "So many people giving their life to Christ—I love this!"
Before bidding West Virginia adieu, Will Graham told the crowd, "There's not a single one of you here by accident."
And not a single online viewer was watching by accident, either.
"I was just talking to my aunt this afternoon about Billy Graham, Franklin Graham and Will Graham," Margaret Anderson shared on Facebook, "and up popped Will Graham on my cellphone. I decided to listen to him tonight instead of watching TV—and here I am dedicating to Christ Jesus. Thank You, God."