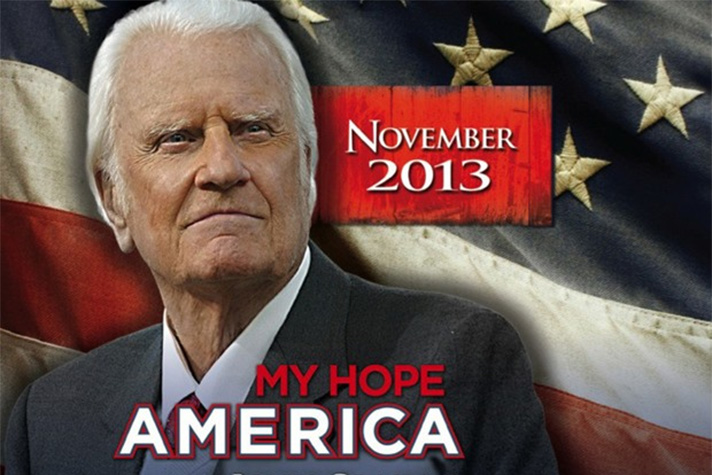 In 18 years as pastor of Steele Creek Church of Charlotte, N.C., Kelvin Smith had never before shown a video to his congregation instead of preaching a sermon
But his heart was stirred every time he privately watched a DVD recording of The Cross, the centerpiece program of the My Hope America With Billy Graham evangelistic outreach.
So on Oct. 27, Smith showed The Cross at both Sunday morning services, resulting in about 30 new decisions for Christ and droves of believers coming to the altar to pray for the needs in their lives.
Near the end of the first service, a 17-year-old young man came forward to surrender his life to Jesus, tears streaming down his cheeks. His mother told Smith that her son had reluctantly gotten out of bed that morning and had vowed to sleep through the entire service.
"Instead, she said he did not close his eyes the entire time and was just fixated on the film," Smith said.
In the second service, a 7-year-old boy came forward with his family and insisted on being baptized even though there was no formal baptism ceremony scheduled.
Associate pastor Ted White talked to the child after his decision for Christ, verifying the boy's understanding of the Gospel and the significance of baptism as an act of obedience serving as an outward sign of the decision he'd made in his heart.
"This was just the simplicity of a child knowing, 'I have received it' and saying 'I want to do it now,'" White said.
Smith said he decided to show the film 11 days before its Nov. 7 national television debut because he not only wanted any unsaved attendees at Steele Creek to have a chance to respond to a powerful Gospel presentation, but also in hopes that believers would be inspired to invite their nonbelieving friends and family members to watch the program with them.
Steele Creek had already trained 125 people (82 homes, counting husbands and wives) to be Matthews.
"I wanted those who are Christians to take this My Hope campaign to heart because there are lost people out here in our communities who need hope," Smith said.
He told the approximately 1,500 attendees at the two services that they could have a DVD recording of the program, but only if they planned to show it to nonbelievers.
Steele Creek is one of more than 28,000 churches in the United States and Canada poised to use a My Hope video program as a tool to bring an evangelistic crusade into their living rooms.
Smith said Mr. Graham, who turns 95 on Nov. 7, comes across in the video as an entirely trustworthy communicator, regardless of whether the viewer is familiar with his background as a worldwide evangelist.
"When you hear a man of that age talk about the cross, it's very special and it draws you to him," Smith said. "And when you're drawn to him, he's going to lead you to Christ because that's what leads him.
"Praise God for the anointing on the film and the hope that it gives. May God use it for many, many years, and may He use it powerfully on Nov. 7."
For national and local TV listings of The Cross, click here.