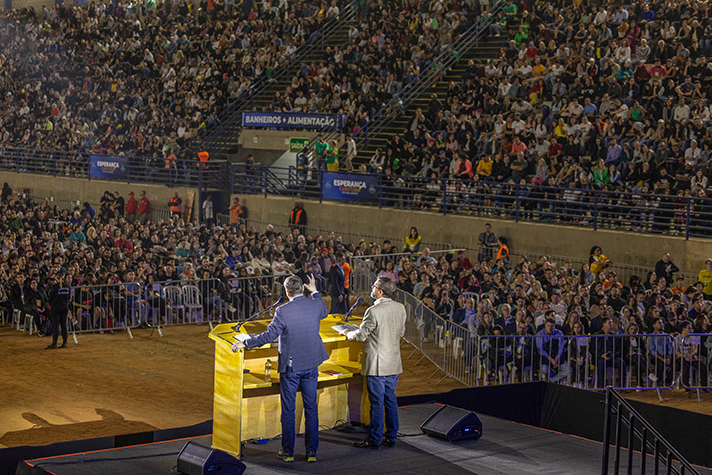 It's hard to describe the passion and joy inside Campina Grande do Sul rodeo arena as Esperança Curitiba (Hope Curitiba) began Saturday night.
Many stood in line for hours to get in. Thousands arrived on one of more than 180 buses that brought people to the venue in Curitiba, Brazil, from across the region.
And long before the first band sang a word, the lively crowd was bursting with enthusiasm, with many excited for an opportunity to share the Gospel with anyone who may not know Jesus Christ. Throughout the audience were pockets of people chanting the Name of Jesus in unison or waving giant flags proclaiming His Name.
>>See photos from Hope Curitiba
With music by renowned Latin worship leaders Gabriela Rocha, Gabriel Guedes, and Theo Rubia, the exuberant scene only grew during the powerful music, and the audience of more than 17,000 lifted their hands and voices in praise.
"I think we made one mistake tonight. We needed a bigger arena," Will Graham joked as he took the stage. "It's great to see so many people here worshiping the Lord."
But Graham didn't waste time getting to the point for anyone listening who didn't yet have the peace and hope that comes from a relationship with Jesus Christ. He soon turned his attention to a serious message about the cross of Christ.
"God took the sin of the world and placed it on the shoulders of Jesus for sinners like you and me," he explained. "The cross was the most important moment in the history of the world.
"It's impossible to measure God's love on the cross," he continued. "It doesn't matter how deep you are in sin. God's love on the cross covers you as well."
Will Graham then gave those in attendance a chance to turn from their sin and surrender their lives to Jesus.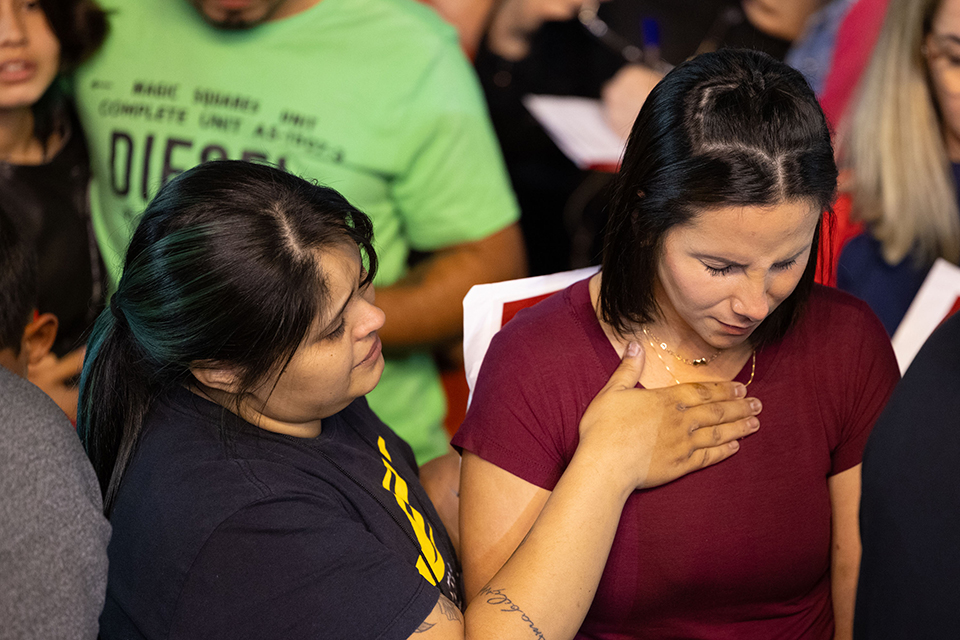 Crowds streamed forward at the invitation, filling the empty space in front of the stage before spilling into open areas on the sides. Many young people, in particular, responded with tears and hugs as they prayed with trained prayer counselors.
One of the hundreds to respond to the Gospel was a teenager named Felipe.* While many faces were streaked from crying, Felipe's countenance was marked by peace and contentment, like a searching man who finally found what he was looking for.
"Before, I felt like my head was a blank sheet of paper. There was something missing," said Felipe, pausing to collect his thoughts and choosing his words carefully. "Now I am feeling that I am starting to write my whole story again.
"Yesterday, I felt lost. [But] God really touched my heart during [tonight's] service. I felt brave and so much courage to come forward."
Altogether, nearly 1,000 people made decisions for Jesus Christ in Curitiba. Now, more than 400-area churches that have been involved in the event will help follow up with those like Felipe who are beginning their lives with Christ.
Will Graham, meanwhile, is heading back to the United States to continue sharing the Gospel at next weekend's two-day Look Up Tour outreach in Idaho Falls, Idaho. No matter where you live, he has said, the need for Christ is the same.
Please pray for these new believers in Brazil to grow in their faith and boldly share it with others around them.
*Name changed to protect privacy