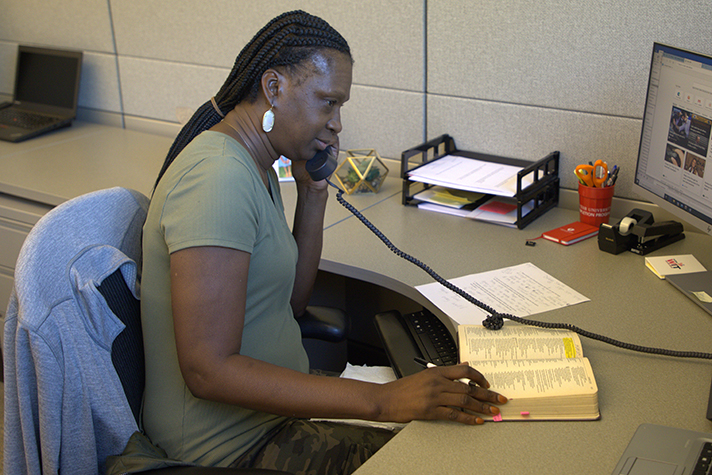 A year ago this month, the pandemic threw many people into full-blown panic.
One year ago, on March 17, calls started trickling in to the 24-hour Billy Graham Prayer Line. As the world turned on end, many realized their need for something bigger than themselves. Since then, trained volunteers and staff have answered more than 430,000 times.
The prayer line is one of the Billy Graham Evangelistic Association (BGEA)'s newest ministries. Prayer line Manager Jonathan Edwards said the response has been incredible.
"I love the fact that we've been able to point people to Jesus and show them the difference of living through a pandemic without Jesus versus living in a pandemic with Christ."
Billy Graham Prayer Line
1-888-388–2683
24 hours a day, 7 days a week
Many callers hear about the ministry from Franklin Graham's TV commercials. Since the first one aired on March 23, 2020, he's shared the Gospel and invited people to call for prayer 12,000 times and counting.
On the flip side, it's been a powerful resource for believers. Someone from South Dakota asked permission to put the toll-free number on billboards. A racing ministry asked to share the number. Counseling centers that couldn't open because of COVID-19 referred their clients.
The need is definitely still there, Edwards said. Volunteers and staff are averaging 1,300 to 1,500 calls in 24 hours.
"We have an army of people ready to share the Gospel day and night."
"When people hear they can have an actual conversation, they're more likely to call," he confirmed. "We always want to make sure we have a live person on the other end."
Keeping the line staffed is challenging at times, he admitted. But volunteers are committed, making this their personal ministry. Even before getting on the phone lines, they're spending time in prayer, Edwards said. Callers often share deep burdens, and volunteers and staff call it a privilege to tell them "God loves you and will forgive you."
Not every caller is pleasant, however—some just call in to vent. Whatever prompts each call, they're hearing God's Word.
There are a couple of stories from the past year that stand out to Edwards.
In March, the caller ID indicated the call came from a liquor store. The person was on speaker phone and began asking questions. The prayer line representative shared the Good News and everyone within earshot heard it, too. The caller wanted to turn his life over to Christ and prayed to do so.

In another instance, a boy and his grandmother were walking down a wooded trail when they spotted a rock with writing on it. Looking closer, they saw a phone number. Calling it, they talked to the volunteer and the young man decided to pray and ask Jesus into his heart.
"In an isolated society, we've been a connection point for a lot of folks," Edwards said. "Many have found comfort just having someone listen and pray with them."
By simply picking up the phone, thousands have made spiritual decisions for Christ and heard about His forgiveness and grace.
"People are desperately looking for someone to point them to Jesus and pray with them," Edwards said.
"To continue ministering in a year when the BGEA couldn't do ministry in our normal, traditional way has been a blessing.
"In a really crazy year, God provided."