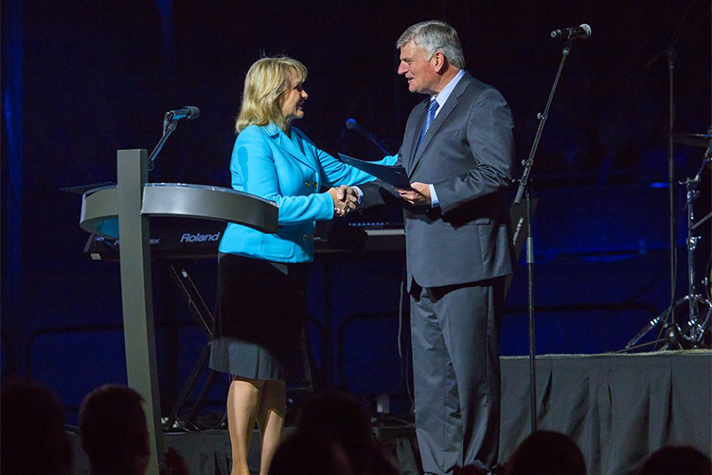 At Sunday night's Good News Festival in Oklahoma City, Mary Fallin, the first female governor of the state, welcomed the crowd and took a moment to talk about her own relationship with God. She reminisced about attending Billy Graham's Crusade in Oklahoma City back in 2003 with her then-teenage children. When Billy Graham invited people forward to respond to the Gospel, her daughter grabbed her brother's hand "and got up and left me!" she recalled. "I can't tell you how special that felt to me in my heart."
Fallin said she was thrilled to see so many people fill the Chesapeake Energy Arena Sunday to hear about Jesus Christ. "I am so grateful that Franklin Graham has carried on the wonderful, life-changing Crusade and the Gospel of Jesus Christ across the world," she told the audience.
Here's what else she had to say:
"The most important thing about me is I love God. And I'm a Christian. And I'm not scared to say I am.
"I'm not scared to walk my faith. And my faith does play a role in the decisions that I make. I do seek God's wisdom, God's discernment, God's grace, God's forgiveness, in all the decisions that we make on behalf of the state of Oklahoma and certainly as our nation. I know you're all here today because you want to do the same.
"I try to be a good wife, I try to be a good mother, I try to be a good friend, I try to have compassion towards people and I try to make the very best decisions that I can on behalf of our citizens with God's help. And no matter who we are and what title we might hold, we all need God. I don't know how people make it without God. There are so many things that are going on in our nation, in our state, in our world. It is a scary time. It is a scary time. And evil is out there. I see it all the time.
"But you know what? Our God is greater than evil. We know the end of the story. We know that we win. And I want to tell you something about America. You know, America was founded on godly principles. I believe that. But America will cease to be great if America takes God out of our country.
"I can tell you that being a Christian today is not always easy. There's a lot of condemnation, there's a lot of persecution that comes in all forms. Franklin and I were just talking about the Internet, which is not always pleasant to deal with. Christians are being persecuted, even when we want to put our own 10 Commandments up on our state capitol grounds. It can be lonely and frightening in our world.
"I want to tell you a couple of quick Scriptures that are important to me: Matthew 18:20 says that whenever two or more are gathered together, there I am among them. So the good news is that God is here among us tonight. He is in this room. He knows our hearts. He knows things are going to happen to us before we even know things are going to happen. He knows the end of the story.
"One of my other favorite Bible verses, and I'll close with this, and I always think about this and keep it close to my heart, is 2 Chronicles 7:14—that if my people who are called by His name, (my name), will humble themselves, seek His face, turn from their wicked ways, it says then I will hear from them from heaven above and forgive them of their sin and will heal our land.
"And that's the greatest thing we can do for our state. It's the greatest thing we can do for our nation, is humble ourselves, seek His face, ask for His forgiveness and pray and know that He will heal our land."