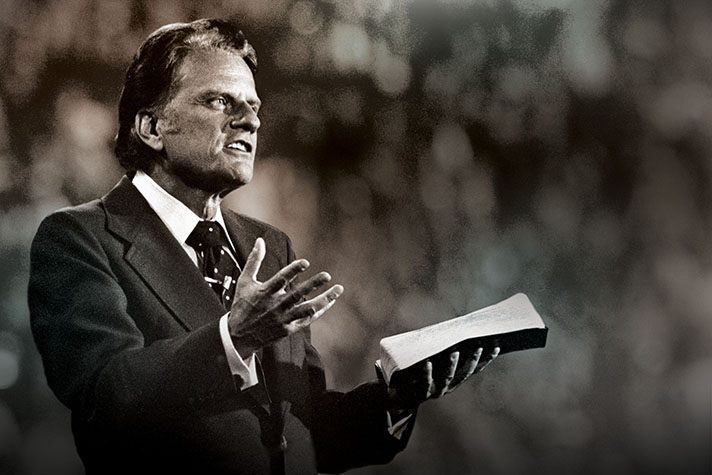 From Nov. 6, 2015 through July 2016, the North Carolina Museum of History in Raleigh will feature a special exhibit honoring Billy Graham as "North Carolina's Favorite Son." Plan your visit.
For decades, Billy Graham has been touted as one of the nation's—and the world's—most revered people. Last year marked the 58th time he was voted one of the "Ten Most Admired Men in the World" through a Gallup poll.
He has also been known unofficially as "America's Pastor" and "Pastor to Presidents."
When North Carolina Governor Pat McCrory visited Billy Graham at his home in 2013, he presented him with his latest title: "North Carolina's Favorite Son."
The state's House and Senate each passed subsequent resolutions to officially declare this distinction, as well as to memorialize Mr. Graham's late wife, Ruth Bell Graham.
Now, North Carolina Museum of History visitors will get a chance to learn more about the life and ministry of the Tarheel State's iconic native.
From November 2015 through July 2016 a special exhibit, "North Carolina's Favorite Son: Billy Graham and His Remarkable Journey of Faith," will be displayed at the museum in Raleigh.
The 5,000 square foot exhibit, which is not publicly funded, opens on November 6—the day before Billy Graham's 97th birthday. It will include memorabilia, displays and multimedia that document his early days as a farm boy in Charlotte, his family life, his friendships with dignitaries and his leadership through national and international crises like 9/11.
"It seemed appropriate to pay homage while he is still living," said David Bruce, assistant to Billy Graham. "And now, anyone who visits the North Carolina Museum of History will have a chance to see the influence this man from our state has had worldwide."
After the "Favorite Son" designation became official, it became obvious to several state leaders in Raleigh, North Carolina's capital, that there was little in the way of public recognition for Graham. This group went before the museum directors and petitioned to have a display to honor their special native.
"They realized there was not very much reflection of our state's faith element, and that a display about the life of Billy Graham would satisfy much of that," Bruce explained. "There are definitely reflections of notable people like politicians, but this adds a missing and very important piece."
Bruce is also quick to point out that the honor bestowed upon Mr. Graham is ultimately not to draw attention to the famous preacher, but to make the name of Jesus more famous: "Any great honor Billy Graham receives points to his message, his integrity and his faithfulness. It's really a testimony of the Gospel of Jesus Christ."
Each year, thousands travel to Raleigh to visit various historical sites and important landmarks, including large numbers of students.
The North Carolina Museum of History is usually one of their stops.
"It will have a great impact," Bruce said. "As part of the exhibit we can point people toward the permanent exhibit—the Billy Graham Library."
Tom Phillips, vice president of the Billy Graham Library, sees this exhibit as an extension of the Library's ministry.
"A lot of people go to an historic museum to look at the whole picture of a state's history. In doing so, North Carolina Museum of History visitors will discover the spiritual history of our state through the lives of Billy and Ruth Graham," he said.
"My hope is that this will create an awareness of the Billy Graham Library, and serve as an invitation to come visit us."
And like Bruce, Phillips is counting on this exhibit to inspire the next generation of North Carolinians.
"I believe this exhibit will encourage all young people that God has a plan for their lives, and that He can call them to do great things, like He did with Billy Graham," he said.
"My prayer is that they will walk away with the understanding that they don't have to be pastors, missionaries, or world famous evangelists to fulfill God's call. They can do that wherever God places them."
Like with anything that has Billy Graham's name attached to it, the most important thing that can come from this exhibit is a changed heart and a redeemed life.
"We always want something like this to cause a person to consider his or her own relationship with the Creator. You want it to touch hearts and draw attention to spiritual things," Phillips said.
"People are so busy these days; they don't stop for much. My prayer is that each visitor can 'be still' as they tour the exhibit and that God's Spirit will break through and change lives."
Give to support the Billy Graham exhibit.