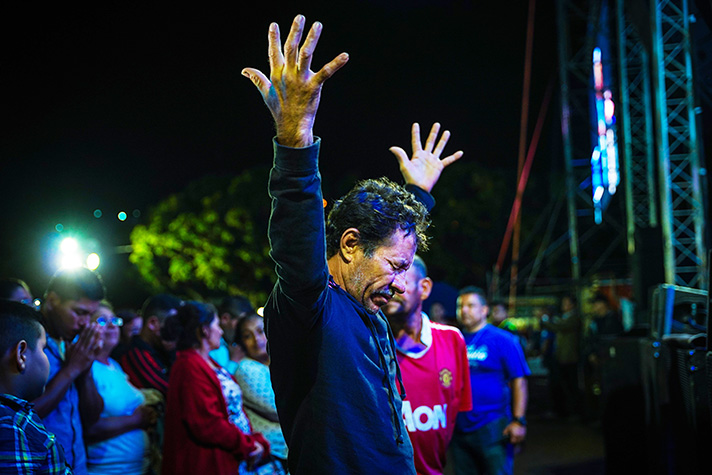 Anielca longed for relief from the sadness and guilt that she carried.
Growing up in Nicaragua, she had seen crucifixes and heard of a man named Jesus who died on a cross long ago, but she never understood what that had to do with her.
But on Sunday, Aug. 20, she heard that Jesus loved her enough to die on the cross for her sins, and that with His blood, He opened the way for her to now have a relationship with Him.
That night, David Ruíz, Spanish-speaking associate evangelist with the Billy Graham Evangelistic Association, boldly preached the Gospel. He explained the Biblical account of Jesus Christ's crucifixion and reminded those present that Jesus endured all that suffering out of love for sinners. Just as He rose from the dead, those who put their faith in Him will also overcome death.
"Jesus says, 'He who believes in me, though he dies, yet shall he live,'" Ruiz said, quoting John 11:25. "Accept today the forgiveness that Jesus offers you."
"I decided to follow Christ," Anielca said at the end of the event. "I felt a new joy that I had not felt before. Now I have hope that I have eternity with God."
Anielca was one of more than 2,600 people who decided to put their faith in Jesus Christ as their Lord and Savior during the two-day evangelistic Family Festival.
Total attendance for the Festival events at the Elias Alonzo Field in downtown Matagalpa surpassed 24,000.
'I Felt I Had to Come'
Abraham saw advertisements for the Family Festival on the streets of Matagalpa and for several days struggled about whether he should attend. On the last day of the Festival, he woke up thinking he would go.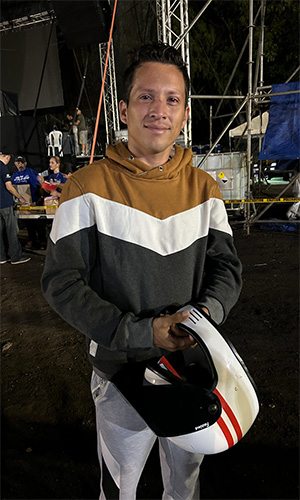 "But once I got home [from work], I stayed up playing with my brother. Then I saw that it was already very late and I felt something. I felt I had to come."
Abraham arrived at the Festival late, but in time for a message he needed to hear.
"We know we're all going to die. Are you ready to die?" David Ruíz challenged the audience from the stage. "Do you know if your sins have been forgiven? Come to Jesus tonight."
Those words pierced Abraham's heart.
"When he asked if we were ready to die, I honestly didn't feel ready," Abraham shared, with tears running down his cheeks.
"I've done things I shouldn't. I've had thoughts I shouldn't. That's why today I asked the Lord to forgive me, that I want to be with Him. I don't want to go to hell. I want to give my soul to God.
"I felt God talking to me [in the past], but I didn't want to listen to Him. It is very good that I came. … I understood that Christ paid for my sins. Now I feel relieved."
Joy on Their Faces
Evangelical churches in the region have prayed a long time for revival so that more people may know how much God loves them.
Roberto Rojas has served as a pastor for 40 years in Nicaragua. He said this event was an answer to his tireless prayers.
"This event was a beautiful thing," Rojas shared. "Here in Matagalpa, most of the churches are denominational. And even though the Billy Graham Evangelistic Association does not come on behalf of any denomination, the churches still came together. I was impressed to see the joy, the contentment on people's faces."
On the second night of the event, a thunderstorm threatened to disperse the crowd gathered at the outdoor venue. However, organizers were surprised to see that people remained in their seats despite the rain. With raindrops rolling down their faces, they listened to the message of salvation.
"It is a joy to see how God moves behind these evangelistic events," said Pastor Rojas. "This reveals that what began years ago under the leadership of Billy Graham is not going to stop, because this is of God. And what is of God does not stop."
Please pray for all new believers in Nicaragua to grow in their faith in Jesus Christ and to share that faith with others.