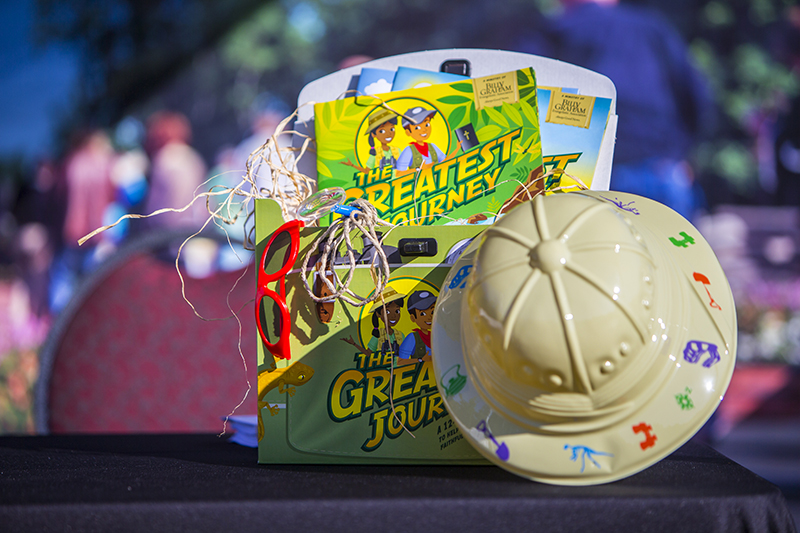 Part of the Billy Graham Library parking lot morphed into a jungle-themed fun zone Tuesday, all to give parents and church leaders a sneak peek at what their children can experience through The Greatest Journey, BGEA's new Bible study series for kids ages 6-10.
Safari hats and coloring pages were aplenty, but it wasn't just arts and crafts for the nearly 200 attendees.
"Do you know who you're going to meet today?" Library Promotions Manager Sonya Johnson asked the little ones.
"Billy Graham!" an excited kid yelled back.
Almost.
It wasn't Billy Graham that the lively crowd met, but rather Jacob and Jordan, two characters brought to life from The Greatest Journey to teach them about one of Mr. Graham's biggest passions – evangelism.
"Do you know what a missionary is?" asked Chelsy Roy, the 11-year-old who acted as Jordan.
A few hands shot up until one child proudly answered, "Someone who has traveled the world and tells people about Jesus!"
"That's right. God has a mission for us all," added Jacob, played by 9-year-old Mitchell Dreffer.
With the help of Children & Youth Evangelism Training Director Chad Miller, the pair then showed a fun way to memorize key Scriptures like Romans 10:9 and 2 Corinthians 5:7.
"I always love seeing kids responding to Scripture and their faces light up as they learn God's Word," Miller said.
As he reenacted the story of the crucifixion and resurrection of Christ, dozens of kids proclaimed after him, "Jesus is alive!"
Sharing Christ at Any Age
 Mr. Graham once said, "God gave us our children so we could prepare them to become adults." And that's part of the vision behind The Greatest Journey.
Samaritan's Purse first introduced The Greatest Journey in 2009 as a way to disciple children in other countries through Operation Christmas Child.
The newest version by the Billy Graham Evangelistic Association takes kids on a picturesque Bible study journey, complete with activities and easy-to-understand tracts they can share with friends.
"We're most excited about hearing the stories of kids' lives changed and then seeing them go out and share the Gospel with others," Miller explained.
Little Chelsy, who has big dreams of acting and singing on Broadway, happily took on the role of Jordan.
"It's really fun teaching the Bible verses and about God," she said. "He forgives you, and He's really cool."
There was so much interest in The Greatest Journey event that some people had to be turned away because of limited seating.
Camp counselor Bryan Patterson was able to bring 30 or so kids from the Greater Providence Church summer camp in Charlotte, N.C. Each of them went home with a cross necklace that Library volunteers helped them make.
"We like to get the kids out of camp, and coming to this event at the Library was perfect," Patterson said.
"The kids loved it," he continued. "We try to tell Bible stories in a way they can relate to and The Greatest Journey definitely does that."