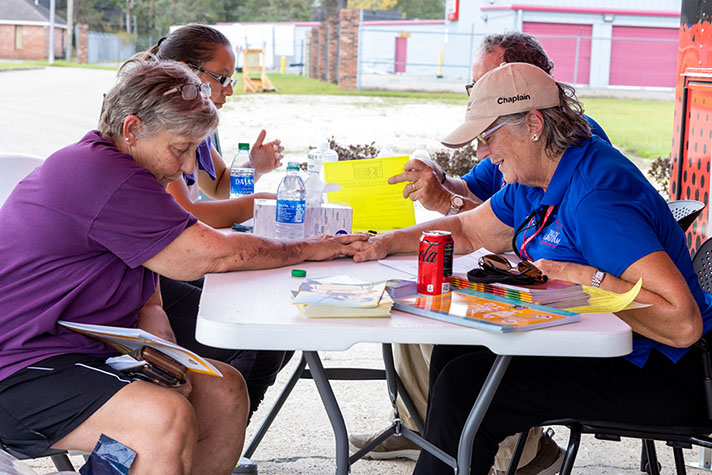 On the same day Hurricane Katrina hit 16 years ago, a Category 4 storm slammed into southern Louisiana with 150 mph winds, bringing back haunting memories and causing fresh damage to recovered areas.
Slow-moving Hurricane Ida left a path of destruction in late August, and caused 16 deaths in Louisiana, Mississippi and Alabama, before killing over 50 people in the Northeast.
Since September 2, the Billy Graham Rapid Response Team (BG-RRT) has been serving Louisiana residents, offering emotional and spiritual care in Northshore, Houma and the Greater New Orleans area. They've prayed with more than 5,700 people, and have witnessed dozens decide to follow God. Despite the widespread devastation, they've seen joy culminate in the lives of many who've begun or rekindled a relationship with Jesus.
Here are three short stories of their experiences.
Questions About God
In the fishing town of Houma, Mark* was quick to tell chaplains he questioned the existence of God. He had lost his wife of 53 years and his business and now faced extensive hurricane damage. He admitted that while he attended church as a young adult, he never had a relationship with Jesus.
The chaplains shared the "Steps to Peace With God" booklet with Mark, and could visibly see a change in the man's countenance. He decided to pray and invite Jesus into his heart. Smiling, the homeowner told the chaplains, "You do not know how much I needed this today and I now have a renewed hope for the future."
A Second Chance
After his Northshore home was cleaned up by Samaritan's Purse volunteers, Andrew* received a Bible and the chaplains introduced themselves. Andrew invited them to sit down, and began to share about his life. He acknowledged he had been previously been a gang member and was shot. When he fell to the ground wounded, he realized there had to be more in store for him in his life. He was reminded of that again when he and his 10-year-old son sat in a bathtub while Hurricane Ida raged outside.
The chaplains asked about his spiritual condition, and Andrew said he is a Christian, but needed to recommit his life to God. He'd fallen away from Him. The chaplains asked if he'd like to rededicate his life. He said yes, and they prayed together. The chaplains provided literature from BGEA to help Andrew in his walk with the Lord.
Came for Pay, Left With Eternal Reward
When Janie* and Eric* showed up at the Samaritan's Purse camp in the Greater New Orleans area, they expected to get paid to clean up homes. When they found out the work involved no pay, the young married couple still decided to stay for 10 days and volunteer since the organization provided shelter and food—and the people seemed nice. The couple had used drugs for several years, but when they arrived at camp, they had both been clean for seven months. The wife had a relationship with Jesus, but had strayed away.
After serving for two weeks, a chaplain decided to sit down with Janie and Eric to share the love of Jesus with them one last time. Eric was moved and blessed by those who had been around him at camp, and decided to follow Christ. Janie also prayed, choosing to reignite her relationship with Jesus.
*Name changed for privacy.
Are you ready to start a relationship with a loving God? Get to know Him right now.