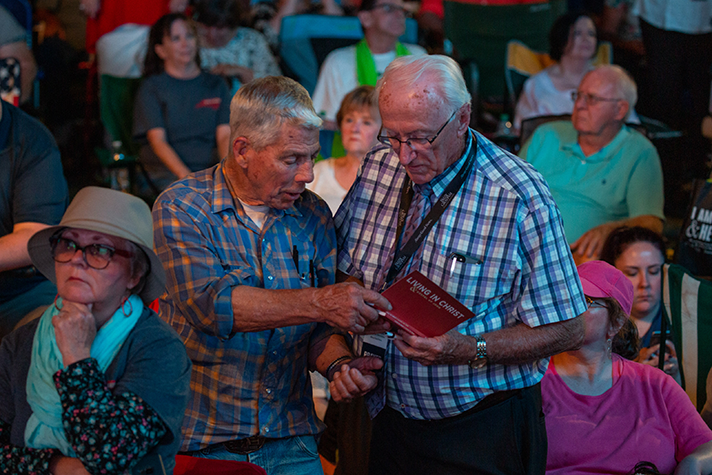 While Franklin Graham shared the Good News at Festival Park on October 1, his message of God's love was also coming in strong two miles down the road in Fayetteville, North Carolina.
That's where Snyder Memorial Baptist Church (SMBC) aired the livestream of Graham's first stop on the Decision America Tar Heel State Tour. Church volunteers offered parking and bussed people to the outdoor venue, but they also realized that some—including many in the nearby senior living communities—simply wouldn't be able to weather the humid 80-degree day.
So Gloria Ginn, point person for SMBC's Decision America efforts, set the wheels in motion. Invitations were made by word-of-mouth to senior living centers and other churches.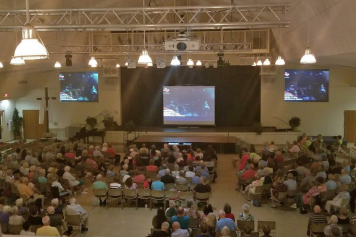 "All the older people started to hear about it, and their eyes went really bright, like 'Really? This would be so good,'" shared Ginn, who volunteers at Heritage Place Senior Living. "And then it just started growing.
"God is glorified in many ways, and sometimes you just need someone who can organize and then the body of Christ takes off and does amazing things."
SMBC attendees got involved. Many took the pre-event Christian Life and Witness Course so they could counsel people who might make decisions for Christ—whether at Festival Park or the livestream service. Prayer teams were created and 24-hour prayer opportunities were held ahead of the Decision America event.
Whole groups of people within the church got involved, too, covering every detail. Childcare was offered. The fellowship hall was prepared. Parking, security and technology teams all played a part. And of course the refreshment committee was ready with snacks. The whole endeavor was a team effort.
"What the body of Christ can do through prayer and unity of the Holy Spirit far exceeds anything that we can do separately," said Ginn, who attended a Billy Graham Crusade as a child growing up in Ohio.
Pastor John Cook, who spent decades serving as an Army chaplain before coming to SMBC 10 years ago, said, "It was wonderful. … We didn't know if 10 people would show up or 100, but we had a great turnout."
More than 300 filled the fellowship hall to watch the Decision America Tour stop on large video screens. People who might otherwise have passed on the event were able to listen to Franklin Graham talk about the healing that only Christ brings. As a result, some made life-changing decisions to follow Jesus—including one person on oxygen.
At the conclusion of the event, trained counselors talked with people ready to learn more about a relationship with Jesus Christ.
"God was definitely working, and a lot of people are going away rejoicing," said Ginn, who only recently returned to the United States after serving as a missionary in the Czech Republic for 26 years.
"Now we're praying it won't be a one-time thing," she said. "The ripple effect will increase and continue and all those people who did stand up are going to be discipled, and that fire can be shot through all the churches that are going to be participating."
SMBC will hold a new believers class for people who made decisions for Christ. That's especially important to Cook, who served as a chaplain at West Point while Franklin Graham's son Edward was there. Cook also served as a chaplain at Fort Bragg.
The division in our nation pains Cook particularly when it comes to the body of Christ. He is passionate about seeing churches cross denominational lines and serve together. His church participates in an interdenominational, community-sponsored prayer walk every year.
"We are so divided right now as a nation, and we need to come together. The only thing that's going to do that is our mutual faith in Christ," Cook said.
He later added, "It was neat to see so many people from so many churches and so many backgrounds at Festival Park all worshipping together and finding unity that we can only find in Christ."