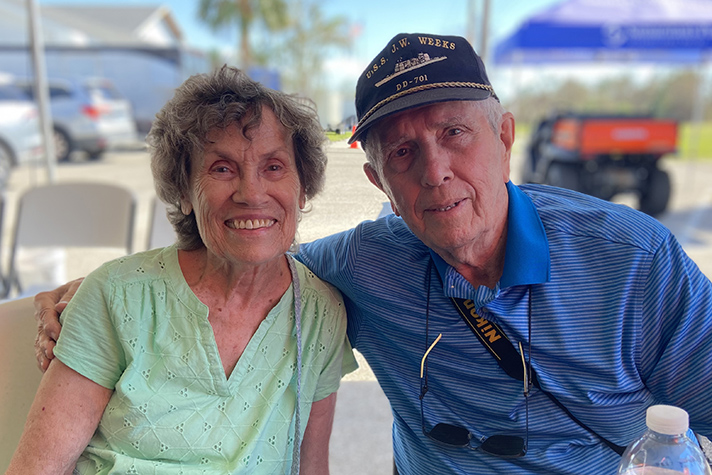 When 20-year-old Daryl Eweles was set up on a blind date by his sister, he refused.
It was 1958, and he had just served two years in the Navy and moved to the Detroit area, where his parents had relocated.
The former quartermaster didn't know anyone, but his family decided to change that.
His dad told him he would be going on this date, wanting Daryl to get out of the house. "You didn't say no to my dad," Daryl said. 
And that was that.
Plans were made for Daryl to meet Myrna, a senior in high school at the time, and head to a Billy Graham Crusade with his sister and some mutual friends.
Although Myrna didn't know anything about Daryl before meeting him, she didn't mind. 
"When [my friends] told me where we were going, it didn't matter who I was going with," Myrna recalled. "I was going to hear Billy Graham."
Inside Olympia Stadium, Daryl and Myrna heard the evangelist boldly preach the Gospel. Thousands responded by coming forward to the main floor of the hockey stadium.
"It was amazing," Myrna's eyes sparkled, remembering the event. "You just felt like you were surrounded by the Holy Spirit. There was just such a peace and such joy in the singing. The message of salvation was so clear, so absolutely clear, there were no questions."
Myrna was already a Christian, but Daryl wasn't quite on the same page. He left the Crusade with mixed emotions.
"When I went home that night, I told my younger sister … 'I like [Myrna]. I don't know about this church stuff.'" 
Although Myrna and Daryl didn't interact much on the first date, Daryl wanted to try again. 
The couple arranged another date—and then another.
God Didn't Give Up on Him
Although Daryl's parents had taken him to church as a kid, he had never heard the Gospel until he was at boot camp in the Navy, prior to meeting Myrna. It was during that time that he heard a pastor preach, and although Daryl wasn't ready to accept Christ, it stirred his heart.
Not long after, Daryl saw a movie about a man who miraculously came to know God and became a chaplain. It moved Daryl, and he asked for a Bible that Christmas. 
By the time he met Myrna, said Daryl, God had been working on his heart for some time. He very much wanted to date Myrna, "and you didn't date her if you didn't go to church."
Daryl was starting to see how God was opening his heart through a series of events—the minister at boot camp, the movie, the Crusade with Myrna—and in May of 1958, he decided to follow Christ.
"I've always said the Lord has long patience," Daryl said. "He started working on me the summer of '55 and kept working on me and didn't give up."
A Match Made in Heaven
Daryl wouldn't give up on dating Myrna, either.
"I chased her for two years because she had a scholarship from the state to go to school," Daryl continued. "So I ended up going to school to keep an eye on her and decided I kind of like this."
Both Myrna and Daryl became teachers and were married on Thanksgiving Day in 1960.
Despite the way Daryl adored her, the morning of the wedding, Myrna called Daryl to ask, "Are you sure you want to marry me?"
A childhood case of polio had caused her to lose use of her left arm, and she wanted to make sure he was willing to accept her disability for the long haul. Daryl didn't hesitate. He knew helping one another would be a two-way street in marriage. 
And it has been. For the past six decades, the couple has faced many life events together—from health scares to having children and grandchildren—but their faith has only grown stronger.
Upon retirement, they became active in the Airstream Travel Club and started holding church services at their rallies across the country while living out of a RV for 14 years. 
Now, they live in Englewood, Florida, which was recently hit by Hurricane Ian. The couple met Billy Graham Rapid Response Team chaplains who have been ministering to locals in the aftermath.
Myrna wants to see the community recover and is ready to get back to teaching her Tuesday afternoon Bible class. At the age of 82, she's played a pivotal role in several of her neighbors accepting Christ, and she continues to share the Gospel. 
"We're very thankful for you folks, and we're very thankful that our friends are doing OK, that we're doing OK," Daryl said after the hurricane, referring to help from Billy Graham Rapid Response Team chaplains and Samaritan's Purse volunteers in their community. 
"We see that 62 [-year anniversary] on Thanksgiving," the veteran said with a smile. "The Lord willing and the creek don't rise."