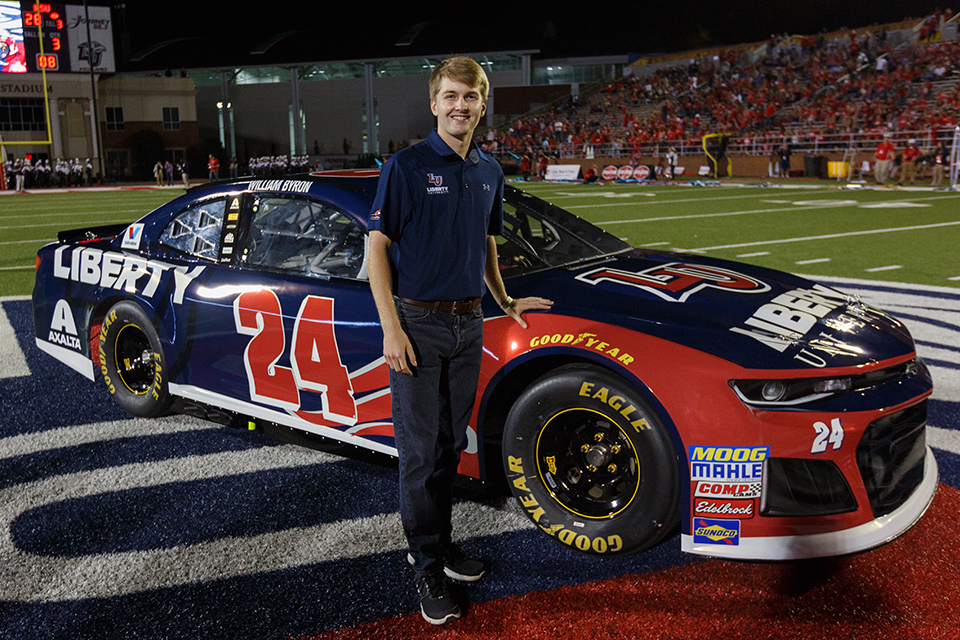 God's plan is exceedingly abundantly above anything we could imagine for ourselves.
Ephesians 3:20
The Ephesians 3:20 Bible verse, paraphrased on a small metal plate, remains in William Byron's No. 24 Chevrolet on race weekends, and it serves as a reminder for the 20-year-old rookie.
"I keep that somewhere where I can see it," Byron shared about the plaque, a gift from family. "It keeps me focused on the big picture, not getting caught up in little moments and things here and there."
Byron's faith grounds him, whether he's driving 200-plus miles an hour in NASCAR's elite series or studying for an exam at Liberty University, which also happens to be a primary sponsor of his No. 24 Hendrick Motorsports Chevrolet. His faith is such a part of his life that it naturally flows from him during media interviews, and during recent Daytona 500 coverage, he shared how God is more important than racing. That encouraged a response from Franklin Graham who posted on Facebook:
"Way to go, William! Keep putting God first, and that will be your biggest win in life."
"That was pretty cool," Byron said later of the note, adding his mom was a bit "starstruck."
"That was something I didn't really expect. For him to see my story and see what we're doing on the racetrack with Liberty and how I am growing my faith and showing people, that was pretty cool. I've seen him on TV and seen him at Liberty and things like that, so it was cool to have that interaction. Hopefully we can get him out to a race or something and be able to meet him."
This is Byron's first year in the Cup Series, and there is pressure piloting the No. 24 Chevrolet that NASCAR Hall of Fame nominee Jeff Gordon once drove to 93 wins and four championships. But Byron doesn't let that get to him. He learned early in his career, around age 16, that contentment doesn't rest in the highs and lows of a race weekend.
"When I started racing was really the first chance that I really reached out to God and really needed Him in my life," Byron said. "I was always involved in it as a kid, but it didn't carry as much importance to me as it does now."
Liberty University, which holds chapel services and folds the Word of God into schoolwork, has helped Byron deepen his faith. He's also been encouraged by faith-based people, like performance adviser Max Papis, along the way in his motorsports career.
Byron does what he can during the week to prepare for races—hitting the gym, watching race footage, working with his team and training in the Chevrolet simulator. Crew chief Darian Grubb calls Byron a student of the simulation and says that gives the Cup newbie an edge when giving the engineers feedback on his race car.
Grubb, who coached Tony Stewart to the 2011 Cup championship, said Byron's cerebral approach most likens him to seven-time champion and teammate Jimmie Johnson.
"As far as somebody I've actually worked with, just how he is studying data and he wants to get better,' said Grubb, who sat atop the pit box for Johnson's first four races in 2006 while Chad Knaus was suspended. Johnson won two of those races.
"(Byron is) very self-critical about what he's doing and how he can be better. Obviously he's very young in it right now so he's just trying to learn the sport more or less. But Jimmie studied really hard to get where he's at right now."
Grubb grew up watching Billy Graham on television, and he said even today his faith plays a role in his life. Racing 36 weekends can make it tricky to have a consistent home church so he looks for opportunities to dig deeper into God's Word. Grubb's 9-year-old son attends a Christian school, and one of the things Grubb enjoys the most is working together with him on a particular Bible message.
"It's fun to be able to talk through those things," Grubb said.
And it's also special for the seasoned crew chief to watch Byron continue the No. 24 legacy with his own touch.
"He's just a very caring person," Grubb said. "He truly cares about the individuals on the team, their personal lives, who they are, what they're about, things he can help them with. And then watching him interact with fans, especially the young kids, that come to the racetrack has been really fun to watch.
For Byron, the whole ride—from starting on race simulation games to winning the 2017 NASCAR Xfinity championship to leading laps this season in the iconic No. 24 Chevrolet—has just been amazing.
"A lot of old (No.) 24 fans are now fans of us," Byron said. "That part is cool. It allows me to be part of something that's greater than my career and allows me to grow with that. I look forward to that part of it and trying to carry on that legacy.
"We have a few diehard (No.) 24 fans that have been there their whole life. To see them start to support us and have William Byron shirts and things like that, that's pretty cool to me. Gives me a chance to grow with those guys."