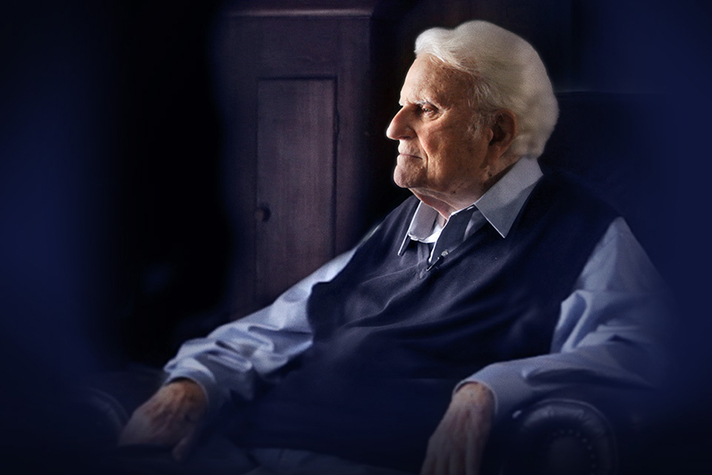 As the release of a new video message from Billy Graham kicks off My Hope 2014, churches in all 50 states, Canada and the United Kingdom have plans to share the Gospel with friends and neighbors in English and Spanish.
Heaven, the latest short film from Billy Graham Evangelistic Association's My Hope outreach, features a never-before-seen message from Billy Graham, coupled with the true stories of a Nevada woman who lost her father to murder and a California firefighter who nearly lost his life battling a fire.
The BGEA officially released Heaven on Nov. 7, Mr. Graham's 96th birthday. The stories below represent a snapshot of My Hope events happening across the United States beginning in November and continuing into 2015.
Pahoa, Hawaii – Several churches are using My Hope to reach out to residents facing fear and anxiety over the Puna Lava Flow. As dangerous lava creeps closer to residential communities, believers are using the Heaven video to share the hope of Christ with their neighbors.
Prattville, Alabama – The community has rallied around a veteran firefighter who is fighting for his life after falling from a ladder earlier this month. Now a local pastor is inviting firefighters from surrounding counties to his church on Sunday, Nov. 9 to pray for the injured firefighter, honor first responders and watch the My Hope video Heaven. The video is largely focused on a firefighter who nearly lost his life when he fell through a roof into a raging inferno.
Superior, Nebraska – Ten churches from various denominational backgrounds have teamed up to host a My Hope event at a local movie theater on Nov. 12. They'll show the new video, Heaven.
Bronx, New York – Real Life Church is investigating purchasing a piece of property that was formerly a strip club. In the meantime, the church plans to project a My Hope video onto the wall of the building as a way to share the Gospel with the neighborhood.
Augusta, Kansas – First Baptist Church of Augusta had plans to use My Hope at a local historic theatre when the senior pastor suddenly resigned. Instead of putting evangelism on hold during a difficult time of transition, the church decided to move forward with its plan to share the Heaven video with the community. Thousands of invitations have been handed out for the Nov. 9 showing.
Cleveland, Ohio – Julia Moses is a 75-year-old pastor who used to be a teenage gang leader. She plans to use My Hope to share the love of Jesus with troubled young men and women in her community. Pastor Moses has been working to build relationships with the young adults by providing water bottles, snacks and prayer on a weekly basis as they play basketball by her church. She plans to host her My Hope event around the time of the Super Bowl in February. She'll show the film Heaven and share her own story of transformation through Christ.
Mooresville, North Carolina – On Halloween night, First Baptist Church Mooresville held a Light the Night outreach in conjunction with the town's annual trick-or-treating event. Church volunteers offered free food and children's activities while showing several My Hope videos on a big screen outside. They also distributed Operation Christmas Child shoeboxes to each family and invited visitors to come back on Nov. 23. Anyone who brings a filled shoebox back that day will be invited to enjoy a free meal as they watch the Heaven video.
Rochester, New York – A small church that burned down last year is still without a building, but the congregation is determined to share the hope of Christ with its neighbors. Churchgoers are inviting friends and family to their homes to show the Heaven film and share their faith. "We are just a small church trying to do our part to get the Gospel into our community whether we have our historic building or not," the pastor shared.
DeLand, Florida – On Nov. 16, Jimmy and Melissa Brissey, owners of the Sweet Spot ice cream shop, will offer free ice cream while they show the Heaven video to guests. Jimmy's parents, Jim and Jean Brissey, are planning another local outreach at the historic Athens Theatre in downtown DeLand, where Heaven will be shown on Dec. 7. The family is also involved in an ongoing prison ministry and has successfully used My Hope to lead prisoners to Christ.
Barrington, Rhode Island – A small church plans to show the My Hope video Heaven during an annual Thanksgiving dinner for people in need. About 100 people are expected at this year's dinner. The pastor is also the chaplain for the Providence Bruins ice hockey team and plans to share Heaven with the players this year.
Plan a My Hope event in your community.
Watch the Heaven video by ordering a free DVD, checking TV broadcast times or streaming it online.