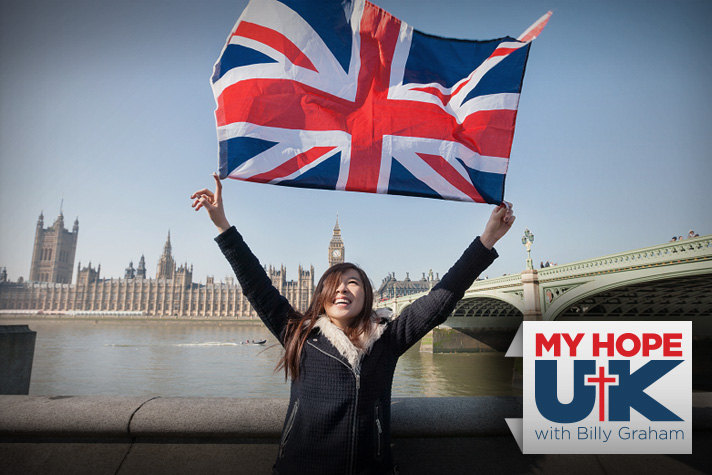 Sixty years ago, Billy Graham preached to more than 2 million people at London's Harringay Arena, an historic, 12-week Crusade that people still talk about.
This year, Mr. Graham's message will again be heard across the UK, this time in the form of a short film called "The Cross." The film will share his latest Gospel message through a BGEA outreach called My Hope—an effort that launched today in London.
"We want to find ways to very simply, very succinctly, very clearly, explain that Jesus is the answer," Steve Rhoads, vice president for My Hope UK, said.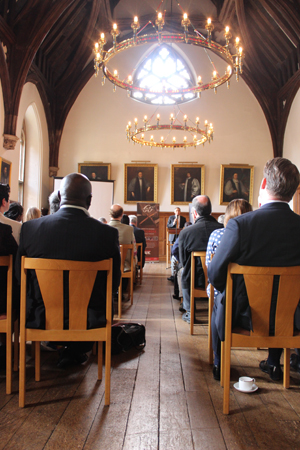 And that's exactly what My Hope is about: simply sharing Jesus.
My Hope is a grassroots effort to share the Gospel with friends, family and neighbors. Since 2002, nearly 60 countries—including the U.S. and Canada just last year—have participated in this outreach, with tens of thousands giving their lives to Christ—and impacting communities around them.
But this is the first time it will be done in the UK.
"You don't have to be a theologian, you don't have to be a church historian, you don't have to have a master's degree from a seminary" to share the Gospel, Rhoads said.
In fact, part of the goal of My Hope is to make it easy for people to tell others about Jesus.
Last week, UK newspaper The Telegraph published an article about being a Christian in the workplace. A survey featured in the article showed that many Christians are afraid to share their faith at work because they think they might get in trouble.
Evangelism can be hard, Rhoads said, yet the local church plays an important role in the community. By equipping those churches with tools to help others share the Gospel, Christians could have a great impact on those around them.
The idea to implement My Hope across the country began last October when Franklin Graham preached in Reykjavik, Iceland. Representatives from the UK were there and saw "The Cross," which features a message from Mr. Graham filmed at his mountain home in Montreat, North Carolina, last year. The film also includes a personal testimony from GRAMMY Award winning artist Lecrae.
"There was such a strong, visceral reaction to that program," Rhoads said. So much so that those who saw it sat in stunned silence for a moment once the program ended. That's when they started talking about how to use the program in their own country.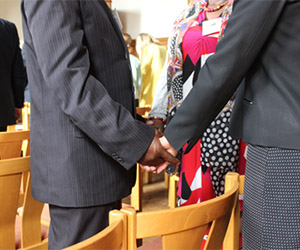 Since then, My Hope advocates have been telling UK churches about the outreach opportunity. And how they can share "The Cross" with people around them this November to coincide with Mr. Graham's 96th birthday on Nov. 7.
Churches might be separated by location or denomination, Rhoads said, but there's one message—"and it's the message of the cross"—Christ's perfect sacrifice for our sin.
That's the same message Mr. Graham wants to get across in the My Hope film.
"There's a great appetite for a clear presentation of the Gospel by Mr. Graham in the UK," Rhoads said, adding that many churches are longing for revival.
The My Hope outreach is one way to get free resources to the church in hopes of sparking that revival. Still, it's not about the churches themselves; it's about lives being saved through a relationship with Christ.
"It's the Gospel that not only has the power of eternal life but it's also the power that has the ability to change a life now," Rhoads said at today's launch. "We have all been tasked by the Lord Jesus to take that message into the United Kingdom this year."
Many pastors from around the UK attended Monday's launch and prayed for the My Hope outreach.
"No matter how an individual or church uses these My Hope UK resources, it begins with prayer," Rhoads said. "It starts as individuals begin to pray specifically for people they know who need the hope found in a relationship with Jesus Christ."
You don't have to wait until this fall to get involved in My Hope UK. Click here to learn more or to pre-order your UK copy of "The Cross."