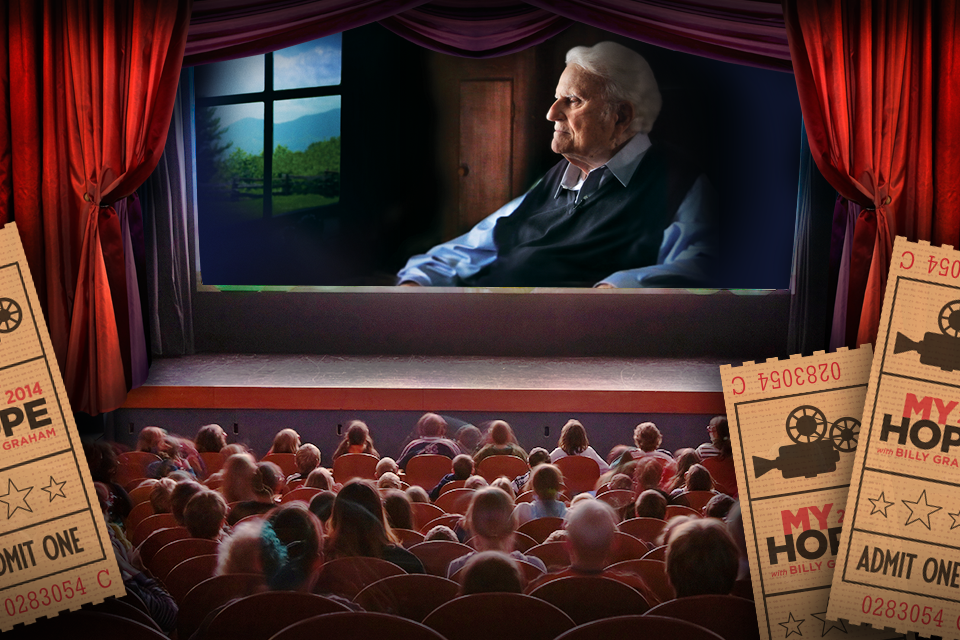 From prisons, schools and churches to an old theatre and an ice cream shop, the people of the southeastern U.S. are finding all sorts of places to share the hope of Christ this fall.
Many of the creative ideas are coming out of the Sunshine State, where Jim Guth, one of five regional coordinators for My Hope 2014 with Billy Graham, has his home base.
"It's exciting," Guth said. "There are going to be so many tools available for presenting the Gospel in the simplest way possible. This just has the potential to rewire our history as a country and for many lives to be saved."
From his home office in Gainesville, Guth has been traveling to and from six states that make up his region—Tennessee, Mississippi, Alabama, Georgia, South Carolina and Florida—spreading the word about My Hope.
As Billy Graham's 96th birthday rolls around on Nov. 7, the Billy Graham Evangelistic Association is encouraging churches and individual believers to use the My Hope outreach around that date to simply share Jesus with friends, family and neighbors who may be far from God.
A new video called Heaven, with a never-before-seen message from Mr. Graham, will be released by the end of October, allowing Christians to share the Gospel in whatever setting they choose—church, home or anywhere.
Heaven follows true stories of two people who were suddenly forced to face the question of what happens after death.
Throughout the 30-minute message, which will be available on DVD and streaming online, Billy Graham asks viewers to confront the reality of death—and the everlasting life available to those who accept Christ.
"I think it's going to get the attention of many young people," Guth said. "I believe it's going to cut across all generations and cultures, but when you're young and you talk about heaven, that's so far off.
"You don't think there's any chance you even have to consider that for a while. But the way this video is presented, young people are going to have to come to a decision about heaven."
Thousands of churches in the southeast region are taking part in My Hope this year. Higher Ground Ministries in DeLand, Florida, is one of them.
Pastors Jim and Jean Brissey wanted to find a unique way to show the Heaven video, and the historic Athens Theatre in downtown DeLand came to mind.
They're organizing a "Bring Your Friend to Heaven" night, hoping to hand out tickets to the community and fill the 450-seat theatre on Dec. 7.
Meanwhile, Jim and Jean's son and daughter-in-law, Jimmy and Melissa Brissey, are planning their own My Hope outreach that's pretty sweet.
Last year at the Sweet Spot in DeLand, which Jimmy and Melissa own, customers were invited to enjoy a free cup of ice cream and watch the My Hope video, The Cross. About 40 people filled the tables and booths at the shop, where a large-screen TV was set up.
"My wife and I were there just kind of watching and praying, and you could have heard a pin drop the entire movie," Jim Brissey said. "You could sense the presence of God in the place."
Once the video ended, Jimmy and Melissa each spent 2-3 minutes talking about their relationship with Jesus before giving an invitation to accept Jesus. Eight people raised their hands to indicate decisions for Christ.
The Brisseys are also among a large group of believers that have used My Hope to bring the hope of Jesus to prisons around the country. Jim just became signed on as an Orlando area coordinator for My Hope and plans to show Heaven at a local prison this fall.
"You can do this anytime, anyplace, anywhere, as you are led by the Holy Spirit," Jim Guth said, noting that several schools and churches have been using the 2013 videos The Cross and Defining Moments to reach out to people before Heaven is released.
On Sept. 24, North Florida Christian School in Tallahassee showed The Cross to about 300 middle and high school students. When Pastor Randy Ray asked if anyone would like to come forward to publicly make a decision for Christ, 45 students filled the front of the room.
A Bible teacher at Marshall Christian School in Albertville, Alabama, also used My Hope this fall, and is praising God for the salvation of a 13-year-old girl who had been struggling with cutting and suicidal thoughts.
"There are so many stories coming out of this," Guth said. "The one thing I know about my God is that Jesus can redeem anything that's been lost—in our lives, our churches, our communities and throughout this country."
Get involved in My Hope 2014 with Billy Graham.
Watch and share the official Heaven trailer.