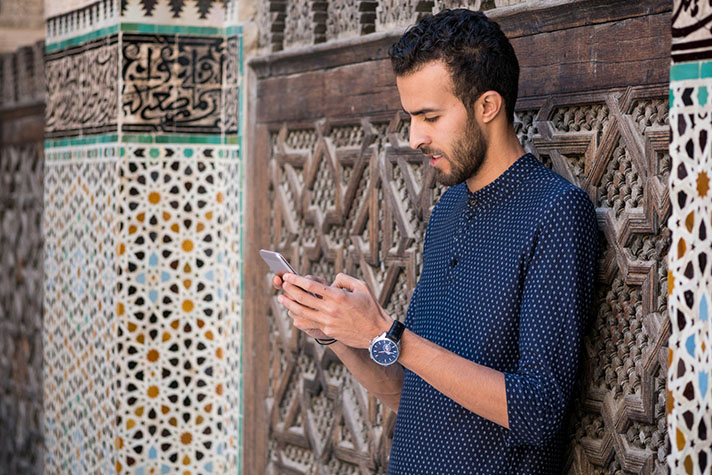 "Christ belongs to all people; He belongs to the whole world."
— Billy Graham
It's risky. You could be persecuted, ostracized or disowned. You might want to believe, but you don't want to be cut off from your family.
This is the dilemma faced by hundreds of people across the Middle East who come from a Muslim background. They're asking about Jesus, but don't want anyone to know.
Over the past two years, about 400 people in this part of the world have decided to put their lives in Christ's hands after interacting with the Billy Graham Evangelistic Association's online Arabic ministry. There's a website called SalamMaaAllah.net (or PeaceWithGod.net in English) which explains the Gospel through text and videos. The imagery, the language—it's all meant to speak to Arabs in their heart language.
But it's more than a website.
People might find SalamMaaAllah.net one of several ways—like through a Facebook ad or maybe a friend. Once there, they have an option to connect with the ministry's Facebook page where they can chat live with a trained, Arabic-speaking volunteer via Facebook Messenger.
One on one, a volunteer and the person online can have a confidential conversation, and many times, that conversation turns directly to Jesus Christ.
That's what happened with Hadi*, an online visitor with lots of questions.
"I am a Muslim and I am very confused," he wrote on Facebook Messenger. "I feel in my heart that Christ is the truth but my mind does not accept it."
He struggled with accepting the Trinity and the idea that God became a human who died on our behalf.
>> Read More: How Can You Share the Gospel with Muslims?
An online Arabic volunteer named Ali* welcomed him to the Facebook page and addressed his concerns, explaining what the Bible says about Jesus.
"I believe what you said is the truth and I have no doubts about it," Hadi replied, "but I want my mind to agree with my heart. What can I do?"
After a few days of offering encouragement and responding to questions, Ali asked if he could pray for Hadi, who quickly accepted.
Ali prayed that God would fill Hadi with His peace and understanding. He also challenged Hadi to take a few moments and ask God to show him His way.
The next day, Hadi excitedly told Ali what happened.
"I accept Jesus because He is the truth," he said, happily.
Ali sent Hadi a link where he could read the Bible in Arabic. Hadi was glad to receive the link, and the next day, wanted more.
"What am I supposed to do next?" he asked.
Ali then directed him to a free, online discipleship course in Arabic, which Hadi completed before asking another question: Are there any more?
*Names changed to protect privacy.
Do you know anyone who speaks Arabic? Share this opportunity to reach the world for Christ—right where you are.