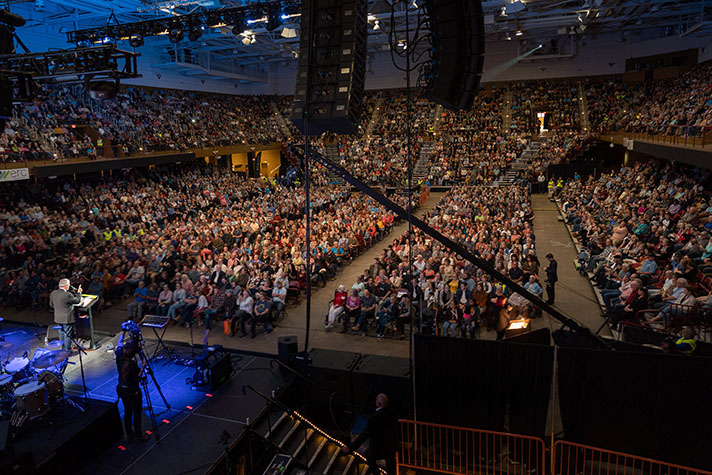 Imagine this: In homes across America, thousands of families sitting down together weekly to watch someone preach.
In the 1950s, this was reality when Billy Graham spoke to the hearts of people through his televised Crusades. The methods and mediums may have expanded, but the Graham legacy is still pointing people to Christ today—through Franklin Graham Festivals and Will Graham Celebrations.
>> The Love Phnom Penh Festival with Franklin Graham just wrapped up in Cambodia. Read more about this historic outreach.
>> See photos from Will Graham's most recent Celebration near the Arctic Circle.
For many years now, Billy Graham's son Franklin and grandson Will have carried out his legacy of holding large evangelistic events around the world to share the Gospel.
But what exactly are Festivals and Celebrations?
"They're different terms but really it's the same thing as Billy Graham Crusades," said Gary Cobb, director of training for the Billy Graham Evangelistic Association (BGEA).
"There's music, there's testimony, there's a message of hope and there's an opportunity to respond to the Gospel of Jesus Christ."
So why doesn't the BGEA still call these Crusades—a term familiar to many baby boomers and older?
It's simple, Cobb said: "People today don't connect with the word crusade, necessarily, and they may not attend something called a crusade, but they might attend something called a festival."
"And this gospel of the kingdom will be proclaimed throughout the whole world as a testimony to all nations, and then the end will come."
—Matthew 24:14, ESV
In 1957, Billy Graham and his team didn't have high-speed internet, but they did have TV. People across the country tuned in to his live messages from Madison Square Garden in the Big Apple.
He preached from God's Word, the Bible.
Billy Graham used satellites, too, first broadcasting from England to all over Great Britain in 1985. Then in 1995 from Puerto Rico, millions around the world heard the Gospel message at the same time—via satellite in 48 languages.
Today, Franklin Graham and Will Graham regularly use the web to stream their evangelistic events to a global audience.
Since BGEA started livestreaming events in 2016, more than 6,800 people have indicated decisions for Christ online.
So whether it's a BGEA Crusade, Festival or Celebration, it's about Christians reaching out to friends and loved ones, and bringing them to hear a message of hope.
That God loves them, that there's a better life for them with Jesus Christ. That's what matters.
"These events are all about the Gospel," affirmed Cobb. "It's about sharing the Gospel with people who don't know Christ."