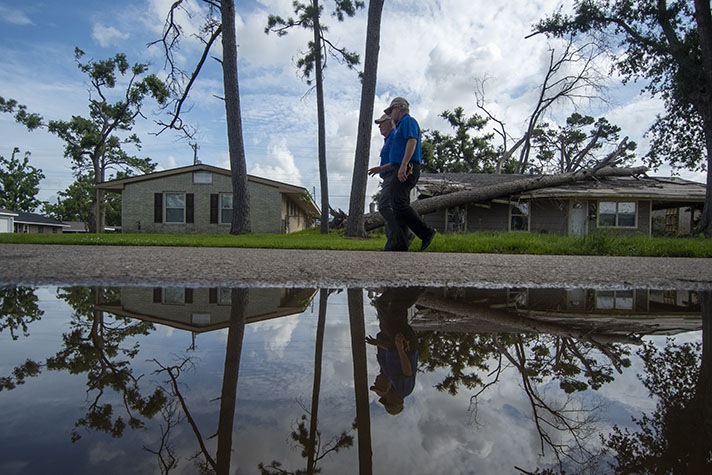 77 inches. 
That's the approximate sum of rainfall across four Southern cities damaged by flooding since late May.  
In the wake of calamity, families have been left devastated as they recover valuables and repair homes. To help them process grief, crisis-trained chaplains from the Billy Graham Rapid Response Team (BG-RRT) are ministering in Lake Charles and Iberville Parish, Louisiana; Bolivar County, Mississippi, and recently wrapped up a deployment in Dumas, Arkansas.
The following four short stories give a glimpse of God moving through the presence and ministry of the BG-RRT chaplains in flooded communities. 
Lake Charles, Louisiana: Persistence
Cindy* and her grandson became homeless overnight due to floodwaters filling their home.
Determined, Cindy began searching for an apartment. She constantly showed up at a complex and asked about openings. Day after day, the lady at the desk shook her head and gave the same message: no availability.
One day, the tables finally turned.
While Cindy's eyes brimmed with tears as she turned to walk the familiar path out the door, the lady at the desk called Cindy back to fill out an apartment application. Within two days, a two-bedroom apartment was their new home.
Some people kindly donated various pieces of furniture to Cindy and her grandson that Samaritan's Purse volunteers moved into the apartment. BG-RRT chaplains stepped in to gift Cindy with a new Bible after her own Bible had been covered with water and mold.
Cindy's situation mirrors Job, a man who had everything taken away from him and later was blessed abundantly (Job 42). All Cindy could say was, "I'm just like Job! Look how God has blessed me." 
Iberville Parish, Louisiana: From Confusion to Clarity 
After conversing with chaplains, Sarah* asked if they would explain a particular Bible passage. Her son recently passed away and left his Bible open to Luke 4 with his car keys on that page. She didn't understand the Scripture and hoped she could gain clarity.
The chaplains shared how the Word of God equips us to fight temptation and her need to be saved from sin.
Sarah confessed her belief in Jesus and prayed for a relationship with Him. The chaplains then taught her how to approach reading and studying the Bible to learn more about God.
>> Get tips for reading and understanding the Bible. 
Dumas, Arkansas: Passerby or Divine Appointment?
Chaplains met John* as he casually passed by the Mobile Ministry Center (MMC), a BG-RRT vehicle set up at a local church on a main roadway. After engaging in conversation, they quickly realized John was disheartened.
A significant decision regarding his wayward daughter was heavy on his mind. The chaplains offered encouragement and prayed with him before he continued on his way.
The next day, another set of chaplains stationed near the MMC saw the same man walking by and talked with him. Not only was his wayward daughter weighing on him, but his past tormented his heart.
The chaplains explained how he could have peace with God no matter the difficulty of his circumstances. Eagerly, the man prayed for forgiveness and surrendered his life to God. The chaplains signed a Bible and gave it to John while celebrating his decision. 
>> Have you made a decision to follow Christ? Know Him today.
Bolivar County, Mississippi: Unwavering Peace
Robert* met chaplains and a local missionary at his flood-damaged home while his wife and disabled son stayed at a nearby hotel. The missionary—who coaches local youth—had already brought a group of young men to remove much of the furniture and personal belongings in the family's home.
As Robert led the chaplains through his water-damaged home, he began describing almost 50 years of marriage and memories held within those walls. Tears flooded his eyes and his voice began to quiver.
Yet the words that came next were not of despair and sadness—they were rooted in faith. He expressed that our true peace is only found in Jesus Christ, even in life's most challenging times. 
*Name changed for privacy.