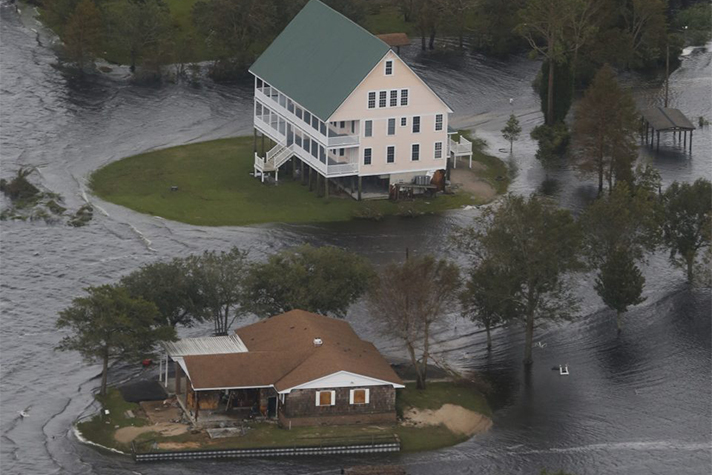 For some, it's like nothing happened.
Driving along the Carolina coast, one may not realize Hurricane Florence slowly dropped record amounts of rain through the area just a couple of weeks ago.
Traffic is back to its heavy routine and businesses have reopened.
Yet, thousands are picking up the pieces of what remains of their homes and lives in the storm's aftermath with the help of the Billy Graham Rapid Response Team (RRT) and Samaritan's Purse. Nearly 50 deaths across the Carolinas and Virginia have been attributed to the widespread storm that also destroyed thousands of homes, making Florence far from a faded memory for those affected.
Deployed in Jacksonville, New Bern, and Wilmington, North Carolina, 50 chaplains are providing emotional and spiritual care to communities as hundreds of Samaritan's Purse volunteers repair flooded and damaged houses.
While Hurricane Florence is gone, recovery is just beginning—with 10 feet of ruined belongings piled high on curbs and the storms of life far from over.
Washed by the Water
It had been a tough day.
Jacob* was trying to get into his demolished car parked in his cousin's garage—which had also been destroyed when Hurricane Florence hit—when two chaplains asked how he was doing.
Honest, Jacob told them he was absolutely broken and had been considering suicide.
He explained he'd recently been discharged from the military for health reasons after serving two tours in Afghanistan. And he had been just days away from moving into a new home with his family when the storm interjected his plans.
The three men began talking about faith, and Jacob admitted he didn't think he could be a "good, model Christian."
But following God isn't about works or being good enough to get to heaven.
"It's about repentance, crying out for a need for a Savior," chaplain Steve Holbrook explained.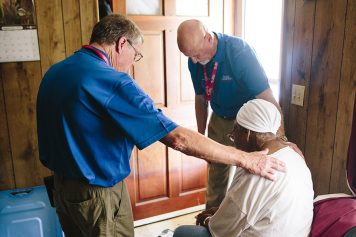 "Are you broken enough to where you're willing to turn your life over to God?" Steve asked Jacob.
"Yes," he replied, and then tearfully prayed to receive Christ.
As the chaplains encouraged Jacob to get connected with other Christian veterans, Steve recognized two Samaritan's Purse volunteers walking up the street—both military veterans.
The veterans joined Jacob and shared with him the importance of following through with the commitment he just made. Wade Hafelden, one of the two volunteers, told him how he had immediately gotten baptized after giving his life to Christ.
Jacob decided he wanted to do the same.
"He was brought down to the basic level and rebuilt through Christ in that garage," Wade said, seeing Jacob overcome with emotion and peace.
However, when it was nearly time for Jacob to be baptized that evening, he was nowhere to be found.
"We were concerned he wouldn't show up at all," Steve said.
But Jacob was doing his best to get there after having trouble getting his car started.
He eventually met them at a church, but they were unable to arrange a baptism there—so they looked to other options.
"We were going to make something happen even if we had to go down to the ocean," Steve said, before realizing the ocean was contaminated from the storm.
Seeking out another pool of water, they headed to a hotel, which appeared to be closed. After knocking on the window, a manager let the small group in.
A lady in the lobby asked what they all needed—and Steve realized the woman was a family friend he hadn't seen in years.
Hearing their request, she gave them access to the hotel whirlpool and Jacob was baptized.
"He came out of water like a baby with new eyes and peace," Wade said. "The man I met hours ago wasn't the same man talking to me."
An Uphill Battle
Waves of issues have kept rising for those on deployment in Wilmington. From cresting rivers slowing transportation to a freezer responsible for feeding hundreds breaking, those deployed to this beach town have faced constant challenges.
And Chaplain Coordinator Mike Wingo has one explanation for it—spiritual warfare.
"Satan is not happy we're here," Mike explained.
Out of the 28 deployments he's been on, Mike said he's never experienced spiritual warfare this intense. However, "through all that, the Lord has opened doors," Mike said. "He provides."
While there has been challenges, it's been well worth it.
"There's been more lives touched on this deployment than I can remember," Mike continued. "Spiritually, it's been huge."
*Names changed for privacy.