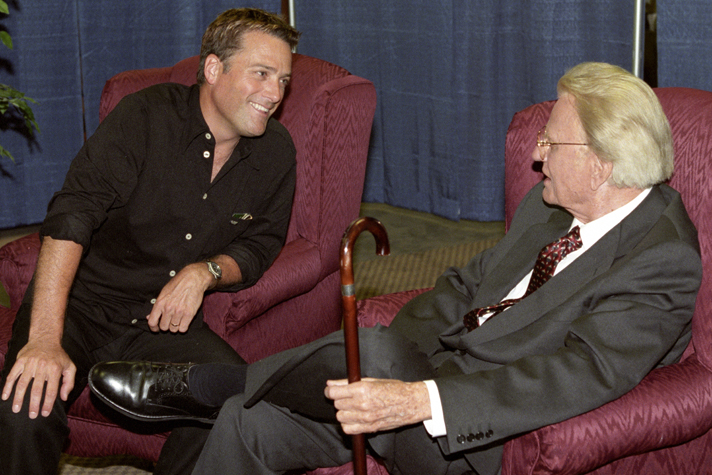 This November, Grammy Award-winning Christian artist Michael W. Smith and his wife, Debbie, will invite non-Christian friends into their home outside Nashville, Tenn.
"Maybe we should have invited these people into our home a long time ago," Smith said.
So why now?
This year, Smith's longtime friend, Billy Graham, is leading a national, in-home Crusade through a movement called My Hope America. More than 165,000 people around the country — including Smith — will invite friends into their homes this fall to share the Gospel through an interactive video and short testimonies. Smith has a list of friends he is praying for.
"I'm really excited about it," he said. "This is history, big time, in the making. … I think it'll be a huge success."
Smith has 22 albums, 10 books and multiple awards. He has traveled around the world and performed for national leaders. But even at that, and even living in the Bible Belt, he says, "I have a lot of friends who aren't believers." The singer/songwriter sees My Hope as "an opportunity to really jump out of the box … and get out of my comfort zone."
In honor of the national outreach, Smith is one of 11 artists contributing to a My Hope CD, which will also point people to Christ. He wrote a song called "Take Me Home," inspired by Mr. Graham's longing for heaven. The song is a conversation Mr. Graham might have with Jesus when he gets there.
Michael W. Smith visits Mr. Graham often and said he always talks about heaven — and how he's ready to go when God calls him home.
"My response is, 'Well, I kind of like you being here,'" he said. "I get choked up when I think about it. … I'm not sure there's going to be another Billy."
Smith plans to play the song for him in person and wants to do it before Mr. Graham's birthday on Nov. 7.
"I hope I can play it for him and not cry," he said. He knows Mr. Graham will always "deflect the glory" to Christ for everything his ministry has accomplished, but said he still wants to honor his friend.
"He's still the most revered man in the world, even by people who don't share his belief," he said. "You even have atheists who admire him. I just think that's incredible."
Smith first met Mr. Graham at a Crusade in the '80s. He played the piano for Amy Grant — another artist on the My Hope CD — and led the song "How Majestic is Your Name."
"He got a kick out of me stomping my foot," the singer said. He recalls Mr. Graham being "deeply genuine."
Years before, Smith would watch Mr. Graham on TV in black and white. He later joined his youth group to watch him preach in Lexington, Ky.
"Even as a young kid, I had so much admiration for him," he said.
In 1994, following his Crusade debut with Amy Grant, Smith was witness to Graham's first youth night at Cleveland Stadium in Ohio. Some people were skeptical, wondering if the event would be a success, but the stadium was packed and Mr. Graham "preached like never before," he said. Thousands came forward at the end to accept Christ.
As a father of five, Smith knows how important it is to reach young people with the Gospel.
"The America that I grew up in is not the same America now," he said. "Things are starting to unravel."
My Hope isn't just "an adult thing," he said, but can be a powerful message for the next generation. He specifically points to singer Lacey Sturm who will be featured on the My Hope video presentation.
"She has a powerful testimony. Every kid will relate to her story," he said.
Michael W. Smith decided to follow Christ at 10 years old after his pastor in West Virginia gave a simple message of God's love for the world. His mom was a church secretary, and he was always at church, but this time was different.
"It was like a light bulb," he said.
Smith faced a few difficult years after that when he moved to Nashville in his teens and started using cocaine and LSD. But he said a near-death experience led him back to God, and God picked him back up again.
That's what he wants people to get out of My Hope. He wants them to know that God loves them no matter what, and that they have purpose in life.
"We're all meant for community," he said, and My Hope is one way to bring people together. So many times, he said, Christians go to church once a week, then "do their thing the rest of the week," but people need relationships — and they need God.
Smith has learned from Mr. Graham to be transparent and relational, not "try to beat everyone to death with a Bible" when sharing the Gospel. Some people might feel uncomfortable sharing their faith, he said, but he encourages them to "step out there and be bold. … Muster up some faith and just go for it."
Michael W. Smith thinks about Mr. Graham's urgency in telling others about the hope found in Christ — and how no one knows how much time is left to do so.
"I think we get complacent and we don't live on the edge enough," he said. But, "this is the time to be bold. … And I think you can do that in a non-threatening way. … It can be pleasant and beautiful, and hopefully some great things will happen."
Smith reminds others that God can use them regardless of their shortcomings. My Hope isn't about Mr. Graham or about the Gospel-sharing skills of those participating, but about God and how He can use Mr. Graham and My Hope participants to do great things.
"Take a risk and go after it," he said. "I mean, what's to lose, really?"
Smith looks forward to inviting his friends over in November and can't wait to see the outcome of this national effort.
"This thing feels like it's a little spark and it's going to turn into a big ol' fire."
Michael W. Smith performs at many Franklin Graham Festivals. He performed at the Iceland Festival at the end of September.
Canada is also leading a My Hope effort. Find out more.