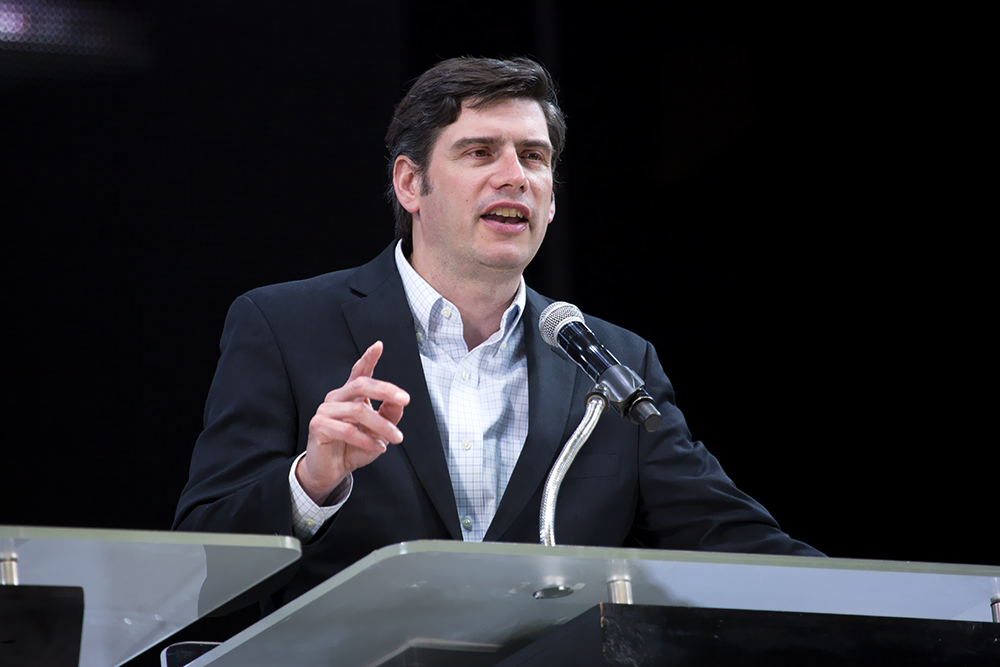 Evangelist Will Graham's booming North Carolina drawl was echoed in near-simultaneous synchronicity by his Spanish translator as he proclaimed a clarion call to those seeking hope, a new life, a Savior.
The words burst across the tile mosaic promenade of Parque David Ben Gurión, in Pachuca, Mexico, where thousands gathered for three straight nights at the Celebration of Hope. Will Graham's message of God's love and forgiveness was carried aloft by the desert wind that is almost synonymous with the city.
In fact, Pachuca is known as "La Bella Airosa" (the windy beauty). And the prayer of many leading up to the Celebration was that the Holy Spirit would blow through the city like the wind, filling the area and drawing many into a new relationship with their Father.
Thousands sat shoulder-to-shoulder in the audience listening to the message of hope.
"God wants to take all of your brokenness, all of your shame, all of your guilt," Will Graham told them. "God won't take the broken pieces of your life and try to glue them back together. He'll give you a whole new life!"
Then the evangelist told them how why. "Jesus paid the price for your sin and mine. He took our place. Why would He do that? Because He loves you! God wants to have a personal relationship with you. Tonight I'm asking you to surrender your life to Jesus."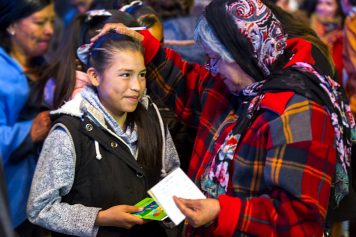 Combined, more than 1,400 people responded to Will's invitation to make a commitment to Christ over the three-day event. Roughly 78 percent of those were first-time decisions—people who had not previously known the hope of eternity with Jesus.
"This event was called the Celebracion de Esperanza, the Celebration of Hope," Will said after the closing program.
"And I believe that's what it is. We're celebrating people finding the One who offers true and lasting hope. It's not hope for today, or hope for tomorrow, but hope for eternity. If there ever was a reason to celebrate, this is it!"
New Life in Christ
Rosa* had a relationship with Christ, but 19 years ago she began living life on her own terms. She had money and success, and no need for a Savior. Now, all the money is gone and she's broken.
Someone invited her to the Celebration of Hope, and when she heard Will Graham's message on the Prodigal Son, it closely mirrored her own tale.
"I used to have a lot of money. Now I'm going through some tough times. I don't even have money to eat sometimes," said Rosa, tears filling her eyes and spilling down her cheeks.
"I'm leaving this place knowing that I have a new life and that God listens to me. God touched my heart."
Daniel*, too, had made a decision to follow Christ at one point, but had drifted away from his Savior. He knew something was missing. He felt like there was a hole in his life that couldn't be filled.
Wearing a hoodie sweatshirt to brace against the brisk, cool wind, he shared, "I stepped to the front because I know that my life is not complete."
But after talking to a counselor and rededicating his life to Jesus, Daniel is whole again.
"I feel really blessed. God has filled my life. He's awesome! He's great! He's the most wonderful and amazing thing that will ever happen to me. I'm really thankful. I'm certain that He has touched my life!"
Unlike Rosa and Daniel, Carmen never had a relationship with Jesus. Her faithful neighbor had invited her to church several times. She was happy to go, but she felt that God was distant and disinterested.
Carmen smiled broadly as she shared that she felt "something growing inside," pushing her forward at Will's invitation.
"I decided to step to the front and give my life to Christ," she said. "My life changed, and it will be changing. I thought that God was very far from us, but now I know that He lives in my heart. I'm really happy and really thankful."
A New Day in Pachuca
Tere Coronado was beaming after the Celebration was over. She, her husband, and her son all volunteered to help with various aspects of making the Celebration a success. And as the people streamed forward to begin a relationship with Jesus, it was clear that the effort was worth the cost.
"This is the best. Totally worth it. My heart is grateful. My heart is awakened by seeing all of the people that came and received Christ as Savior," she said.
And the positive results of the Celebration will pay dividends for years to come, as approximately 300 churches partnered together in this effort.
"I see unity in churches," said Tere. "This event brought unity to the body of Christ and the local churches in Pachuca."
After all, even though the Celebration is finished, there's still work to be done and hundreds of new believers to encourage in the faith.
"Tonight is the beginning, not the end," said Will. "I hope to one day come back and hear the testimonies from this weekend."
*Names changed to protect privacy.