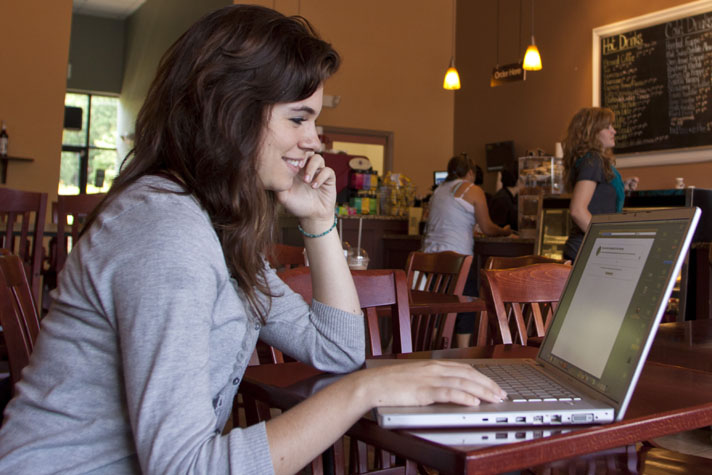 How can an online search give people lasting hope and peace of mind? BGEA's Internet evangelism ministry points them to the greatest need of all – the need for Christ, who alone offers comfort, joy and help overcoming temptation. Two online volunteers talk about this new outlet of sharing their faith.
A 58-year-old woman from Nebraska can't understand why God let her young husband die tragically. A young boy writes that "my life is scary. … I have so many worries."
Around the world, people are taking their questions and concerns online. To date, nearly 11 million of them have found PeaceWithGod.net, an evangelistic website that presents the Gospel in a simple, yet effective way.
PeaceWithGod.net not only presents a message of hope and life, but allows many visitors to chat with online counselors trained to respond to their spiritual questions.
Glenda, a Georgia resident who rededicated her life to Christ while watching a Billy Graham Crusade in 1974, is an online counselor with Search for Jesus, the umbrella ministry to PeaceWithGod.net.
"It's nice to have a platform where you can help them and you're allowed to tell them about God and Jesus," she said. Glenda works as a licensed counselor and said she's limited in talking about faith.
"I feel like I'm keeping a great secret from them," she said about her clients. "You know what would help them, but you're not allowed to tell them."
Since April 2011, nearly 2 million people said they committed or rededicated their lives to Christ through PeaceWithGod.net, with more than 255,000 of them passing along their contact information for discipleship and follow up.
A 39-year-old Texas man with cancer recently found the site and wondered, "Is it too late to be saved?" A mom said she messed up in life and is concerned for her children's salvation.
PeaceWithGod.net isn't just a website but a ministry that God is using in a mighty way. Online searches that lead people to PeaceWithGod.net include phrases like "I want to die" and "looking for God." One young man wrote that he is out of work and has no insurance to help treat his HIV, yet his biggest need isn't medical attention. It's Christ, he wrote, the One who offers eternal life.
Like some other Search for Jesus volunteers, Glenda also gives her time as a Search for Jesus discipleship coach, following up with people who surrendered their lives to Christ or want to know more.
Glenda once mentored a woman who was "frantic" and worried about her salvation. Using resources provided by Search for Jesus, Glenda reassured her of the commitment she had made to Christ and helped the woman get connected with a church.
"It's satisfying to finally be serving the Lord," Glenda said. "I'm a little ashamed that I didn't do more before."
David of North Carolina said volunteering as a discipleship coach has taught him patience.
"I'm 68 years old, so I've seen a lot of stuff," he said.
David is retired from sales. He teaches at church and is part of a prayer group that focuses on law enforcement officers and their families. Although he's familiar with many of his community's struggles, mentoring people online means communicating sympathy and hope solely through words.
"When you're in situations like that, the Lord will come to you and give you the words to say," he said. While typing emails, he sometimes wonders, "Where did that come from?" knowing that it is God working through him.
David counseled one man originally from India who used words like "salvation" and "repentance," but didn't understand them. David explained the Gospel in a way he could understand, and the man said he wanted to pass it onto his family.
Impact of PeaceWithGod.net 
The Search for Jesus team regularly prays for those impacted by PeaceWithGod.net. Here are some comments from the PeaceWithGod.net Facebook page:
"I have given my life to Christ today, no more going back to my old life."
"This is something I should have done in 1966 after my father died. … I just committed myself to God and to the word of his grace, which can build you up."
"I have been feeling that I needed to get closer to God for a while. … As I was reading on my Kindle this morning I almost dropped it and in juggling it around to catch it, this website popped up by chance. Is this subtle or what? Praise God & His holy name!"
Peace With God in other languages
In 2012, Search for Jesus added three other evangelistic websites: PazConDios.net for Spanish speakers in the U.S., PazComDeus.net for Portugal, and HopeKayGod.net for the Philippines. PazConDios.net for Mexico launched Jan. 15. These sites have had thousands of visitors, with many surrendering their lives to Christ. One visitor to PazConDios.net wrote, "I was feeling empty. Now I found a new path that's called Jesus Christ."