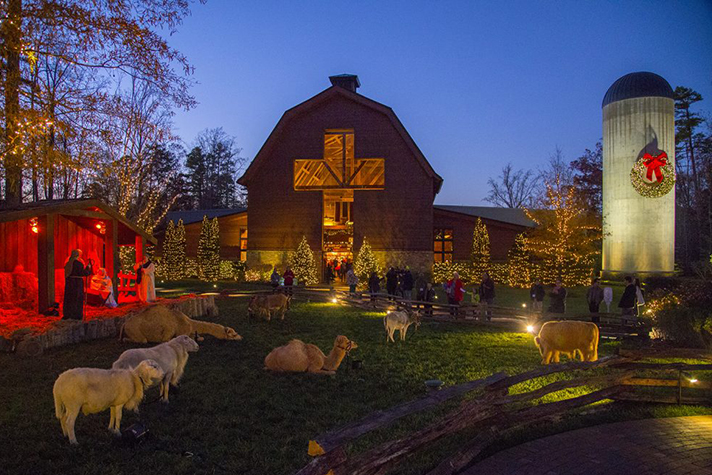 Among the many things that have been cancelled in 2020, Christmas isn't one. Jesus Christ's entrance into the world to save mankind will be celebrated across the globe.
Christmas at the Library is happening in Charlotte, North Carolina, through December 23. For many, attending this Billy Graham Library tradition is a highlight of the holiday season. To keep with COVID-19 safety measures, reservations are required for this year's event.
>>Make your reservation for Christmas at the Library.
>>Learn more about our COVID-19 procedures.
There are plenty of things to see and do. On your way into the Library, pause at the live nativity, which depicts the night of Christ's birth.
What You Need to Know
Christmas activities begin at 5 p.m.
Admission and parking are free.
Library hours: Monday-Thursday, 9:30 a.m. to 9 p.m.; Friday and Saturday, 9:30 a.m. to 10 p.m.
Closed on Sundays.
Carriage rides: $8 for adults; $4 for children under 12.
Besides characters representing Mary, Joseph and baby Jesus, look for camels, sheep, goats, a donkey, and an "uncharacteristic" animal. To give you an idea, a kangaroo, lemur and a shaggy Highland cow have made appearances in the past.
Got dinner plans? Make reservations for a scrumptious Christmas dinner. This traditional holiday meal features turkey and carved ham with maple Dijon glaze, cranberry cornbread stuffing, other savory dishes and an assortment of festive desserts.
Climb into a horse-drawn carriage and take a ride around the beautifully lit grounds of the Library and the Billy Graham Evangelistic Association headquarters.
Take The Journey of Faith tour, which retraces the inspiring journey of Billy Graham using state-of-the-art exhibits and historical retrospectives.
Storytime, carolers and holiday goodies round out this unique Christmas experience.
Christmas at the Library couldn't happen without volunteers. Learn more.