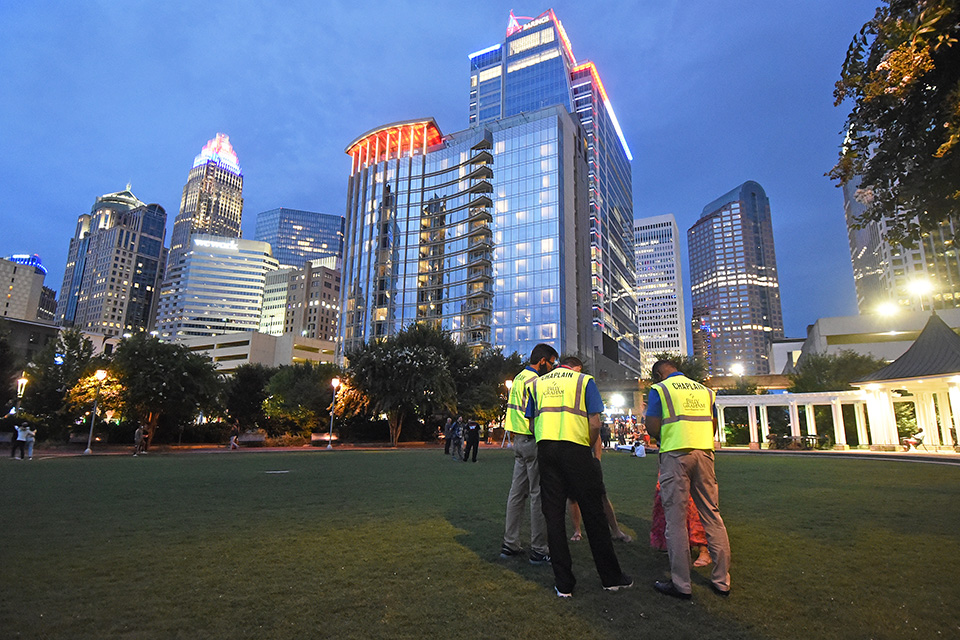 "For there is no partiality with God." —Romans 2:11
A thumbs up of support to a passing Charlotte-Mecklenburg Police cruiser. An extended conversation with folks who openly consider law enforcement the enemy. A moment rejoicing and praying with a newfound sister in Christ. A time of prayer with a small group of people experiencing homelessness.
On Tuesday night, crisis-trained chaplains with the Billy Graham Rapid Response Team responded in Charlotte, North Carolina, to do exactly what they're trained to do—share the love of Jesus in times of crisis. And they do it the way Jesus did—without partiality.
It's the third time in the last four months that chaplains have ministered in Charlotte, hometown of the late Billy Graham and headquarters for the Billy Graham Evangelistic Association (BGEA).
Chaplains deployed on May 31 during civil unrest in the wake of George Floyd's death. On August 8, they accepted an invitation to attend the Pray on MLK event held in Romare Bearden Park.
This week, chaplains have had a ministry of presence in the Queen City after sometimes unruly demonstrations, largely in response to the GOP Convention, which stopped in Charlotte Monday.
Tuesday, chaplains listened as people shared their hurting hearts. They asked compassionate questions. They loved their neighbors by simply asking, "How are you holding up?" And they encouraged local law enforcement responsible for keeping the peace.
Officers thanked chaplains for their kind words.
"We don't hear that a lot," one officer shared with a chaplain.
'Speaking to My Heart'
Chaplains prayerfully walked areas of uptown, ending in Romare Bearden Park, less than a mile away from where protesters started to gather steam for the fourth night of demonstrations.
One group of chaplains encountered a man sitting on a blanket, reading his Bible. He shared with them how he was living out of his car, and he was anxious—a sentiment the chaplains hear increasingly these days. They prayed for peace.
>>Need prayer? Call the Billy Graham Prayer Line day or night at 888-388-2683.
Just behind the gentleman, a local ministry was setting up for an evening of prayer and praise. Wendy Dunes, a young lady who recently accepted Jesus Christ as her Lord and Savior, was eager to tell everybody her story. That included the chaplains, and they had a time of prayer together.
"It was speaking to my heart," Dunes said of the prayer, noting that she was happy to see three chaplains. Three, she said, is her wonderful number thanks almost entirely to her late grandmother, born March 3, 1933.
"[The prayer] was such a revelation about how many times God says fear not: 365 times. That means every day of my life I should not fear because God is with me. He is protecting me. He is keeping me safe. He is keeping me whole. He has filled my mind and restored me."
As Dunes returned to serve alongside the local ministry, a young man asked a small team of chaplains if they worked in the park. The inquiry led to a conversation, and the man shared some of his story.
The recent college graduate had NFL ambition, so he was in town to work out with the Carolina Panthers. When a chaplain asked the young man for a good word, the aspiring football player leaned on Job 13:15, saying, "Though he slay me, yet I will praise Him."
Chaplains prayed with the young man, and afterward he said with a laugh, "I was trying to find the bathroom, but look at how God works."
'Thank You for Being Out Here'
Sometime later, chaplains noticed a small group of people experiencing homelessness. They gathered on the Martin Luther King Jr. Boulevard side of Romare Bearden Park, out of dodge of passersby, many who did their best to avoid eye contact.
But the chaplains chose to see them. They walked over to see how they were doing.
"It started out with resistance, with them saying things to make us leave, but when we didn't, things switched," said Chaplain Kevin Williams, the Rapid Response Team's emergency response logistics manager. "It was like something supernatural started to happen. They started confessing their sins, and the more they talked, the more I heard the Word, heard it moving toward Christ, moving toward the Bible. And do I think it was anything special about the chaplains? No. I believe it was the Holy Spirit revealing Christ and bringing it out of them.
"They were moved to the point to ask us, 'Can we pray for you?'"
Williams was "greatly impacted" by the entire encounter—their confession, testimony and prayers—from this group.
"And then their closing statements were, 'Thank you for being out here.'"
Williams reflected thoughtfully on the moment once more after dropping the chaplains back off at BGEA headquarters only 12 minutes from uptown Charlotte.
"The key takeaway is never take for granted that God wants to provide a ministry of presence to all people," Williams said. "We can't be partial about who we're going to minister to, especially with all the issues that are going on in the world today. There's no partiality in Christ."