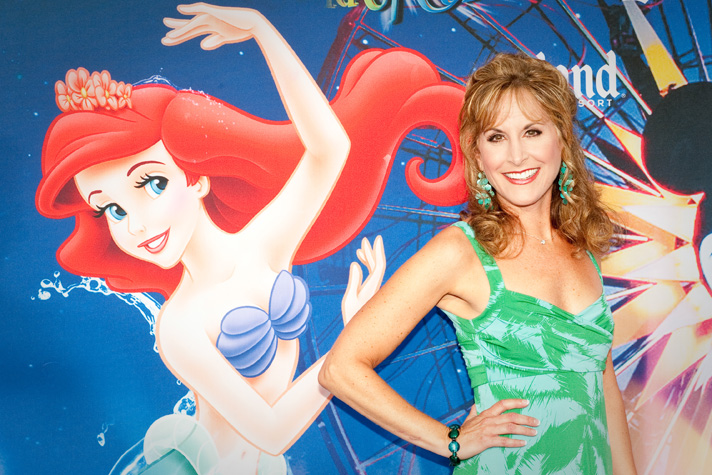 Originally published July 2, 2013.
Just as her career was taking off as the lead character in a groundbreaking animated film, Jodi Benson found herself ready to escape from her pain.
"While my career with Little Mermaid was skyrocketing in 1989, my personal life was plummeting, and I had a real crisis of belief," she said.
Benson is the voice of Ariel in The Little Mermaid, a classic Disney film about the sea king's youngest daughter and her dissatisfaction with life underwater.
Children—and adults—often identify with Ariel's longing for something different, something seemingly out of reach, Benson said.
Benson was the same way growing up in Rockford, Ill., raised primarily by a single parent. She wanted to sing, but had no training and couldn't afford the colleges she wanted.
"This dream that I had in my mind was so far-fetched from where I was that I'm sure everybody just thought I was crazy," she said. Benson initially went into pre-law, but still had her eye on musical theater. "If God puts something in your heart, He will see you through."
Benson moved to New York and landed an ensemble spot in Joseph and the Amazing Technicolor Dreamcoat. Two years later, she got the starring role in Smile on Broadway. When the show closed unexpectedly, she was heartbroken. She auditioned for the part of Ariel, along with hundreds of other women for the new Disney flick, but wasn't overly excited when she got the part. Animation was becoming a dying art. Voiceover work was for careers going downhill, and the end credits weren't even going to list which character she played. Benson, then in her mid-20s, had no idea how big the movie was going to get.
When The Little Mermaid came out four years later in 1989 and enjoyed rising success, Benson's life wasn't much better. She separated from her husband on and off for a year and a half and "begged him for a divorce." Her husband, Ray, was a Christian, and Benson found that her own faith was really just piggybacking off of his. She was restless and anxious about her career.
"I had my foot on the pedal on a cliff in California," she said. "I was ready to go; I was done. And God just said, 'I'm not done with you yet. I love you and I'm not done with you.'"
That's when Benson surrendered. She calls God "a God of second, third, four, fifth chances." The Bible is full of ways He used "broken vessels" to accomplish great things, she said, and she's no different.
"I just don't think I'd be where I'm at now if I hadn't been broken. …  When He puts those pieces back together again, they can be filled with power."
Benson sought counseling and restored her marriage. The Little Mermaid jumpstarted her career and began a new era of animation for Disney.
Since then, Benson has been the voice of Thumbelina, Barbie in Toy Story 2 and 3 and played a real person as Sam in Enchanted—among other roles. Her voice is featured in Disney dolls, books on tape and video games.
Benson and her family live north of Atlanta, Ga. While Benson continues getting fan mail, some acquaintances still have no idea what she does for a living. That's fine with her.
"It's just great," she said. "I love it."
Benson and her husband—also her manager—went through two miscarriages in the past but now have two children, ages 12 and 14, who they homeschool.
"It's a really hard role, but it's a calling. … No one sees it, no one applauds, no one stands up and says, 'Way to go, Jodi!' My husband does, but other than that, it's silent."
She's the only mom she knows juggling work in the entertainment industry and homeschooling, and said "it's lonely sometimes."
Yet in the silence, she said, she still has to obey and "answer to God." She works and travels, teaching between gigs and making sure she puts her kids first. She almost passed up the role in Enchanted alongside Patrick Dempsey and Amy Adams when it initially interfered with her daughter's birthday party.
For not-so-happy times in life, Benson turns to her prayer group. When her mom had heart and kidney issues? Her prayer group prayed. When her daughter had an eye injury? Time to get the prayer group involved. And when she felt ill before going onstage? She sent a text message to her prayer group and felt better when it was time to perform. She praises Jesus for all of those times. And when people complain about her mentioning His name onstage, she doesn't care. She won't forget who has gotten her this far.
Every day, Benson asks God to use her to help or encourage others.
"My prayer is, 'Let me be Jesus today. Let me be light and salt wherever I go,'" she said.
Her husband and children are the same way.
"We're trying to be modern-day disciples," Benson said. "We're trying not to let our agenda get in the way of His work."
Benson also has a couple of connections to the ministry of the Graham family.
About 10 years ago, Benson heard Anne Graham Lotz, Billy Graham's daughter, speak at an event and still remembers the peace that Lotz's devotional brought her as a busy mom of two. Today, and for the past several years, her children have packed shoeboxes for Operation Christmas Child—"one of the highlights of Christmas."
Benson also performs with symphonies and gives concerts across the country. And that curious, defiant, red-headed mermaid that started it all? Benson will promote the release of The Little Mermaid in 3-D in October 2013.
You can have the same hope and purpose Jodi found. Find out more.