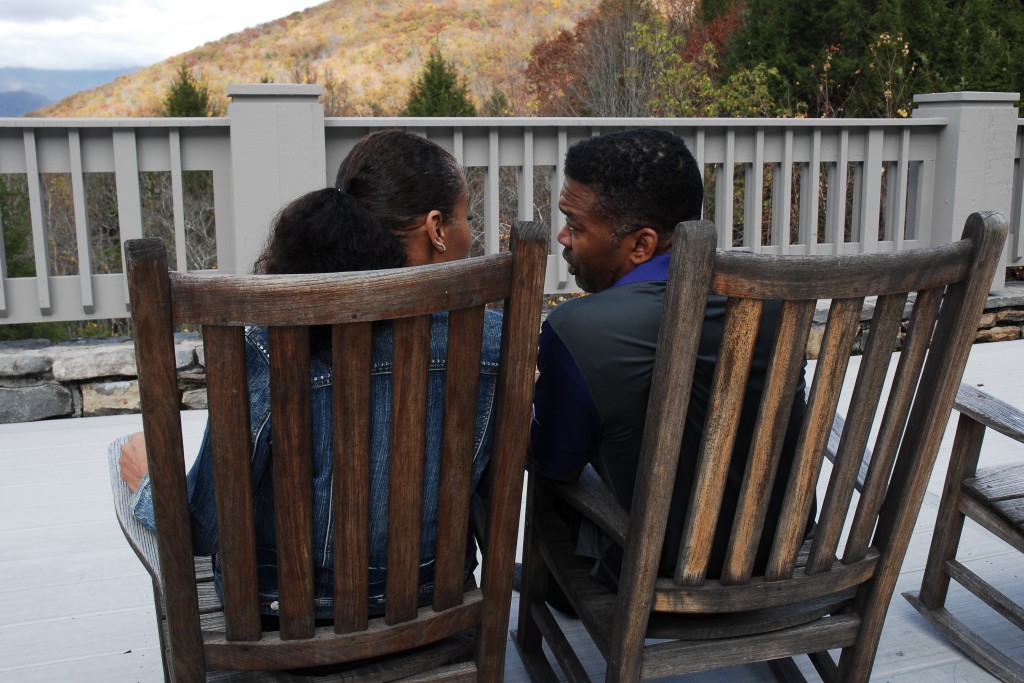 When Baltimore descended into chaos earlier this year, Lolita Russell knew her husband, Melvin—a lieutenant colonel with the Baltimore Police Department—could end up in harm's way.
But she didn't expect to see him pop up on a national news network as she watched from home.
"I happened to see him on TV with someone throwing a bottle at him," Lolita said. "I was just dumbfounded. I was really livid through the whole situation."
It's been a long year for the people of Baltimore.
When six police officers were arrested for the death of Freddie Gray, peaceful protests became violent. With buildings burning and looters taking advantage of the turmoil, the National Guard was deployed and a citywide curfew was put in place.
"It was chaos," Melvin said. "Our city, just like probably most cities across the nation, was experiencing an epidemic of a divide becoming greater between police and community.
"This just catapulted the perception of who police are. If there was any semblance of a bridge, of a relationship between both sides, this totally nuked it. The whole situation was very volatile."
Running Into the Fire
That volatility led the Billy Graham Rapid Response Team into the heart of Baltimore in April.
The network of crisis-trained chaplains is known for deploying after disasters like hurricanes and shootings. More recently, the chaplains have had a presence in the midst of civil unrest in places like Ferguson, Missouri, and Baltimore.
When Melvin spotted the chaplains in his city, he immediately welcomed them.
"Up to this point I had reached out to at least 100 local pastors every day to be out in the community," he said. "Every day you had a large group from the faith-based community out trying to heal. When the Billy Graham team came in, that was in place already. So they were able to minister freely."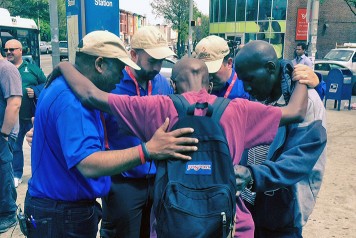 He quickly noticed many of the chaplains had a law enforcement background—something he saw as a plus, given the uncertain and sometimes dangerous situation in Baltimore.
"I can distinctly remember one of the nights—it was a bad night, and there was looting going on, burning and injuring officers," Melvin said.
"I called for the pastors to come out and get in the street. And because it looked so violent I wasn't getting the response."
He was persistent in his call for action, and most of the faith leaders did come through that night.
"And they would tell me later they were terrified," Melvin said.
"So now you have Billy Graham chaplains coming in," he continued. "They have a law enforcement background that makes it easier not to house the spirit of fear. And that's the difference. They were never afraid. It was about doing the will of God.
"While the city is literally burning … you've got the Billy Graham chaplains saying, 'We're running into the fire because we want to help.'"
The chaplains spent 10 days in Baltimore, ministering to all parts of the community. During their time there, a total of 27 chaplains prayed with more than 700 people.
"God led them to Baltimore," Melvin said. "They did a phenomenal job. We had a bunch of authentic peacemakers come in, who were vessels of peace, who poured out that peace."
A Trip to the North Carolina Mountains
Seven months after the height of the turmoil in Baltimore, Melvin and Lolita say their city is making progress.
"We still have an extreme amount of work to do," Melvin said. "But thank God there's progression, and the train is moving."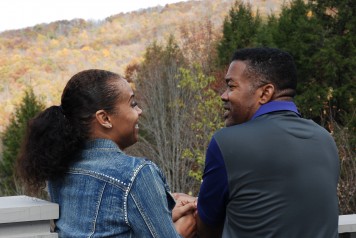 With the city slowly moving in the right direction, the Russells decided to take a much-needed break to attend the second annual National Law Enforcement Retreat at the Billy Graham Training Center at The Cove in Asheville, North Carolina.
The Nov. 4-6 event, designed specifically for officers and their spouses, was hosted by the Billy Graham Rapid Response Team. More than 200 people attended the retreat this year, where they took time to worship God, reconnect with their spouses and get practical, biblical wisdom specific to their vocation.
"You're charged to deal with evil seven days a week, but at the same time to be servants and ministers," one of the speakers, Kevin Williams, shared during a workshop about God's love.
Other topics addressed marriage, faith and the stresses of the job.
It all took place in front of the colorful backdrop of the Blue Ridge Mountains in fall. When they weren't in workshops, retreat attendees had free time to rest, visit the beautiful chapel or hike miles of leaf-covered trails.
"I'm loving it," Lolita said. "Since I've been here, I've just had nothing but peace. Just relaxation, learning and wanting to go to another level with God."
Lights in the Darkness
Officers and spouses came from all over the U.S. and beyond. A group of Royal Canadian Mounted Police even made the long drive down.
Chris and Stephanie Whitt had a much shorter drive—they live less than two hours away in Bristol, Virginia.
Chris is a deputy sheriff. He and Stephanie had been itching to get back to The Cove after attending the first law enforcement retreat last year.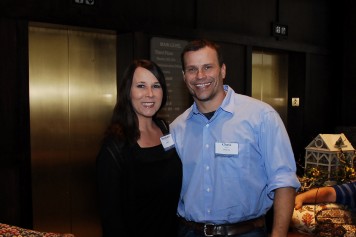 "It's just refreshing," Stephanie said. "It was three days that sort of gave us another year's worth of 'oomph,' so to speak, to get us through the difficulties a law enforcement family can face."
"I've been in law enforcement 15 years, and I have been through countless hours of schooling and in-service," Chris said. "This, hands down, has helped me grow more as a deputy than anything I've ever been through."
Many of the officers said just being around like-minded people was refreshing. Attendees, including several officers who were directly involved in the Roseburg, Oregon, campus shooting last month, had the chance to share their stories, pray together and finally exhale.
As the event came to a close, they were encouraged to take their experiences back home, for the good of their families and communities.
"Wherever God strategically has you—in a department, in that community you serve—I pray that you are allowing Him to shine His light through you, that it might impact someone else," Kevin Williams said.
"See, a lot of people will never, ever read the Bible," he continued. "But they can read you. They can read me. They can watch our walk and read the Word of God if we're living it out."