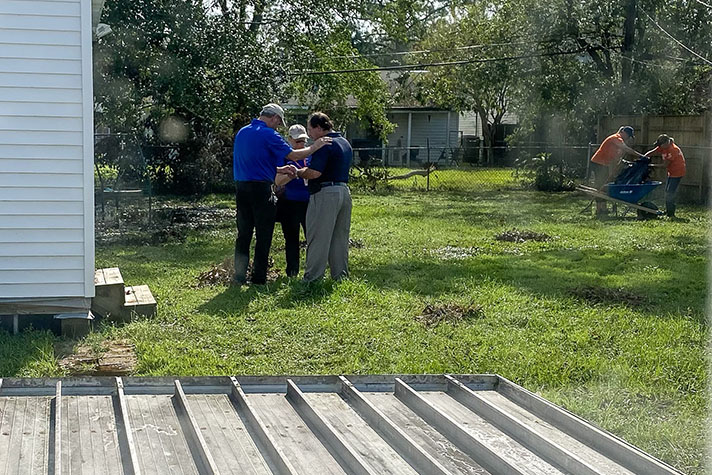 Sometimes an act of kindness can change everything.
For Officer Michael Alwert, he didn't expect much. He worked 12-hour shifts after his home was damaged in Hurricane Katrina, and did the same after Hurricane Ida—16 years later. Alwert thought he'd end up tarping the hole in his roof by himself like last time, he just had to find a few free hours.
But time wasn't a luxury he had. As a Category 4 hurricane, Ida killed dozens, destroyed homes and left millions without power, including the entire city of New Orleans, just 10 minutes north of Alwert's subdivision in Gretna, Louisiana. It was his 37th hurricane season on the clock—and almost his last, with just 11 months until retirement from the Jefferson Parish Sheriff's Office as division commander.
>> See photos from the Billy Graham Rapid Response Team's deployment to Hurricane Ida.
"You're busy serving the public, but your property in itself gets neglected because it's just your occupation," he explained. So, when his department offered to let officers sign up for help with their homes, Alwert did so.
But he never heard the name of the non-profit organizations involved.
A few days later, Alwert received a text message: "Do we have permission to go on your property?"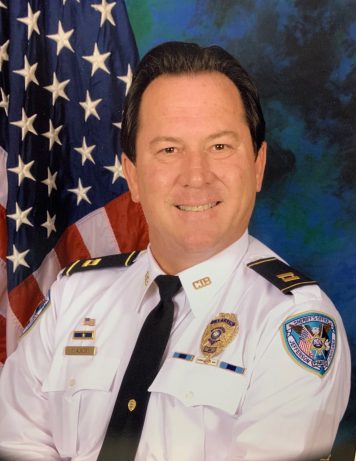 Already annoyed by innumerous scam calls, Alwert typed out "NO" in big, bold letters.
He didn't think anything more about the text, until a couple hours later when he received a follow-up text from Samaritan's Purse, inquiring about putting a roof on his home.
This time, Alwert mentioned to one of his lieutenants, Joseph, about the odd communication.
"I don't know who these scam artists are, but somebody from Samaritan's Purse is wanting to go on my property and put a blue tarp," Alwert said. His employee clarified that Samaritan's Purse is not a scam, but rather an organization that partners with Billy Graham Evangelistic Association chaplains in times of disaster.
"I felt like a real knucklehead at that point," Alwert said. "I am almost 60 years old, I knew very well about Billy Graham, but I didn't know the two organizations were related."
He immediately grabbed his phone to apologize to the person on the other line from Samaritan's Purse, and met them at his house shortly.
After arriving, five Samaritan's Purse volunteers began to work on the single-story home and debris-filled backyard, and Alwert struck up conversation with them.
"I was super impressed. They were all very religious," he commented.
Since getting divorced three years ago, Alwert found himself "very, very bitter" for how his ex-wife had affected his relationship with his children and financial situation.
"[The Samaritan's Purse volunteers] all expressed to me about being saved and Jesus Christ being the answer," recalled Alwert, who grew up in a legalistic household and had strayed from regularly attending church.
"I have to be honest, each and every person from Samaritan's Purse told me they were sinners. I thought they were such wonderful people."
"Even though I joined the Marine Corp and served my country right out of high school, and then I became a policeman and have been a policeman 38 years, I knew that I was doing good for others but there was something missing in my life," Alwert said. "There was a hole somewhere in my life that didn't make me feel complete."
'Do You Want to Be Saved?'
That's when Paul and Cindy Bernhart, crisis-trained chaplains with the Billy Graham Rapid Response Team, arrived and gave Alwert a pamphlet from Franklin Graham called, "Living in Christ & the Gospel of John."
When Paul asked Alwert if he was going to heaven, he initially said no and cracked a joke that he would be the guy operating the elevator between heaven and hell.
But Paul wasn't distracted—he wanted the officer to be certain where he would spend eternity.
That's exactly what Alwert wanted. Overcome with an indescribable feeling, he said, "It was as if a burden had been lifted off of my shoulders."
In his childhood backyard, Alwert talked with chaplains about the hole in his heart and his bitterness. They suggested that he search his heart and forgive his ex-wife and anyone else he was bitter toward, and let them know. And to ultimately to leave his problems in Jesus' hands.
They also shared that you don't have to earn God's favor or love if you have a personal one-on-one relationship with Jesus.
"It made sense to me," Alwert said, sharing that their clear explanations dispelled questions he'd had for years.
"I feel as though I was reborn on that day," Alwert recalled.
He ordered the town's famous Mo's pizza as lunch for the chaplains and Samaritan's Purse crew, who had left his yard spotless. They had stood in three to four inches of standing water, raking leaves and chainsawing through downed limbs in soil that Alwert compares to gumbo, a famous Louisiana-style stew. "It's almost to the point you can throw a fishing rod and go fish in the backyard," he said.
They gathered around to present him with a leather-bound Billy Graham Training Center Bible to help him understand more of God's will for his life.
"It just meant so much to me, the entire experience," said Alwert, who's determined to start reading the Gospel of John soon.
'Why Are You Crying?'
But after receiving Christ at 10:30 a.m., Alwert's day was far from over.
He returned to the office and told several of his co-workers about his good news—he was a Christian. Some mocked and laughed at him, but when Joseph, his lieutenant, asked about his day, Alwert was still honest.
"I told him that I had been saved in my backyard," Alwert said, his voice giving way to his emotions as he thought about the moment.
Joseph immediately broke down in tears.
"I tried to be strong and said, 'What's wrong? Why are you crying?'
"He told me they were tears of joy, that he was very proud of me, and he had been praying for years that someday I would be born again in Christ."
Alwert had no idea, and yet, Joseph's prayers were answered.
"It's almost like Jesus Christ had a plan," Alwert said. "That's how I know it's the right thing."
Are you certain where you'll spend eternity? Know today.