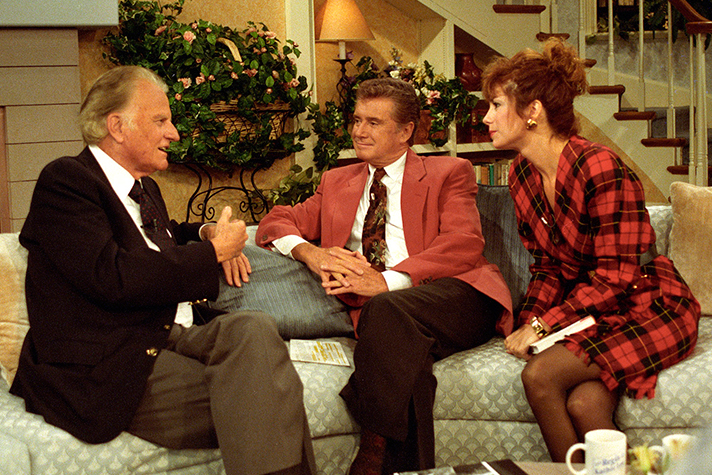 When Today show personality Kathie Lee Gifford was just 12 years old, she met Jesus. But she didn't meet Him in a church. She didn't even meet Him at home.
She met Him at the cinema.
After all, she wanted to be a singer and an actress—so He simply met her where she was.
The Restless Ones (1965)—the Billy Graham Evangelistic Association's first movie shown in a mainstream theater—was a story about the crossroads teenagers face, and the solution that is found only in Christ. After the film was shown, there was an altar call at the front of the theater for those who wanted to surrender their lives to Him.
Kathie Lee still has vivid memories of that night 50 years ago: "I could not get out of my seat fast enough. I just believed it. And I've never stopped believing, in all these years. (It was) the greatest decision I made in my life."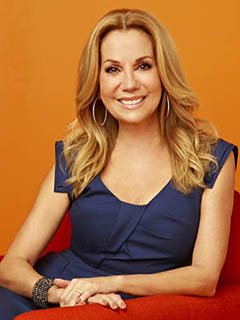 The decision to follow Christ was the foundation that carried her when she moved to Los Angeles to begin her career in show business. It also sustained her when she went through life struggles.
And most recently, it strengthened her when she lost her husband of nearly 30 years, Frank Gifford, on Aug. 9.
She explained that while she grieves his death, she rejoices because he is with his Savior and has his reward.
"When I found my husband (the morning he died), he had such a look of astonishment on his face: his eyes were wide open and his mouth almost had almost a smile on it. One of the EMTs, who arrived shortly after he died, told me, 'Mrs. Gifford, I hope it brings you comfort to know your husband never hit the ground.'
"That brings to mind that wonderful Scripture that says that to be absent from the body is to be present with the Lord. I believe that when my husband walked through the door of our sun porch, he saw Jesus and He literally took his breath away. Frank loved his life, his children and me. But he wouldn't come back for anything in the world. I have great joy in knowing he has an incorruptible body that will never age and never fall apart."
Kathie Lee explained that Frank grew in his faith exponentially during his last few years. A pivotal point in his spiritual life was when the two of them joined a tour group in the Holy Land two years ago.
"That trip transformed him. I never questioned that Frank was saved for eternity. But a lot of people just have a one-time experience with God and just stay there. They don't realize what an incredible adventure that walking with the Lord can be. He just has so much more planned for us," she said.
"That's what Frank understood through Bible study and through the church we started attending a few years ago. It was so exciting to see him grow as a Christian."
Billy Graham and the Giffords
At it turned out, Billy Graham's involvement in Kathie Lee's life extended far beyond The Restless Ones and her experience in the cinema. Years, later, she would meet him through a mutual friend, and he would befriend her and Frank.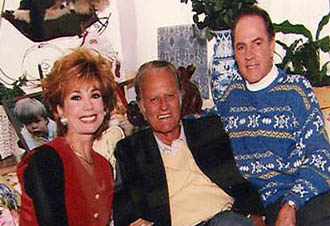 One of her favorite memories, she recalled, was the time Billy Graham visited her home to participate in the filming of a Christmas special in 1994. He was to sit in a chair by the Giffords' fireplace and read the Christmas story from Luke chapter two.
Upon his arrival, Kathie Lee asked him if there was anything he wanted.
"And then he said, 'Anything?' And I said, 'Of course. Anything.' Then he said, 'I'd like a Big Mac.' So Frank drove to our local McDonald's and picked up 40 Big Macs for Billy, for us, and the crew who would be there to film," laughed Kathie Lee.
"It is such a sweet memory."
The last time the Giffords saw Billy Graham was at his 95th birthday party.
"He just told me, 'I love you, Kathie Lee.' I still cry now, just thinking that it was the last time I'll probably see him on earth. I'm so glad to have had another chance to tell him how much I love him, and how much he's meant to my life and to my family," she said tearfully.
"And I'm grateful to God for not just allowing me to know Billy and to come to the Lord through him, but for the chance to become his friend."
Billy Graham's Legacy Continues Through Kathie Lee
Billy Graham just released his last book, Where I Am, as a legacy to those he leaves behind when God calls him home. And like the man that led her—and her immediate family members—to the Lord, Kathie Lee wants to leave a legacy.
But hers is not in the form of a book—it is in the hope she shares with those around her and in the way she has prepared her children for life.
"I'm so thankful that Cody (25) and Cassidy (22) love God and seek Him in their lives. The biggest obligation of Christians who have children is to make sure their children are given everything they need to go out into the world with the full armor of God," she said.
"After that, I never want to resist a chance to share Jesus with everyone I meet, who is open to it. I let the Holy Spirit lead. Usually, I don't have to say a word. Someone says something to me first, which invites me to share the Word. The trouble with our world is religion, when what we need is a relationship with living God."