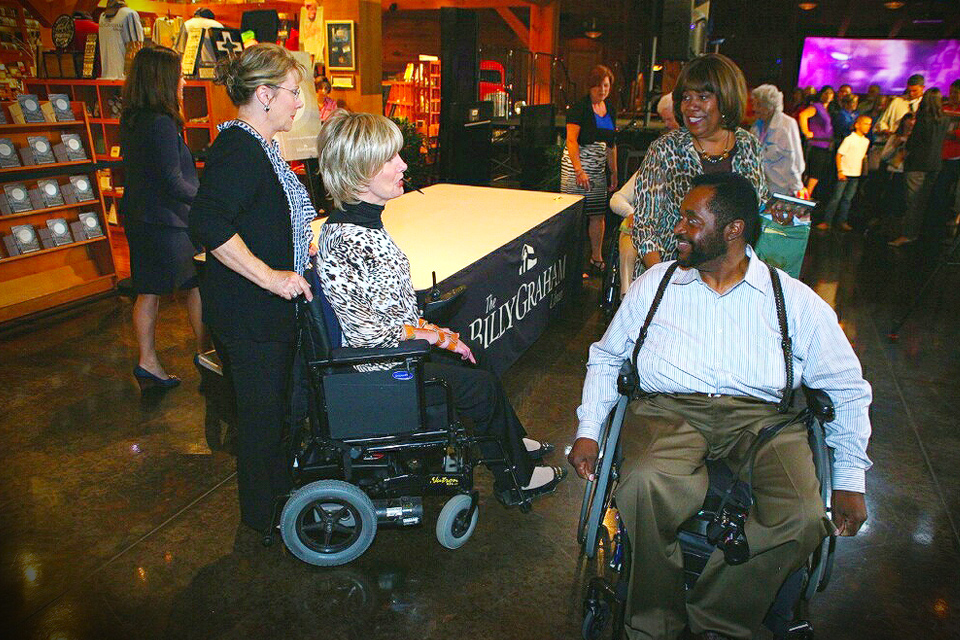 When Joni Eareckson Tada took the stage at the Billy Graham Library Monday afternoon in Charlotte, North Carolina, she told the crowd she couldn't pass up an opportunity to sing a hymn with so many believers.
"Let's see, what hymn shall we sing?" Joni asked the audience of hundreds, packed in beneath the cross-shaped entryway of the Library.
"Great is Thy Faithfulness!" Cliff Barrows called out from the front row.
"I think that's a great idea," Joni smiled. And she led the group—young and elderly, men and women, including quite a few people in wheelchairs—in the familiar, old hymn.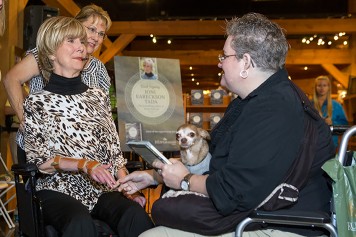 Despite the decades of difficulty Joni has faced since a diving accident left her paralyzed at age 17, she'll tell you unequivocally that the words of the hymn ring true; God has been faithful to her at every turn.
In the early days of her injury when depression, anger and suicide attempts cast a black cloud over her life, Joni turned to God.
"I was so sick and tired of the despair and the feelings of self pity, I cried out, 'God, if I can't die, show me how to live.' And I'm not kidding, the next morning I woke up a different person."
And even though she still wakes up dreading another day of quadriplegia, she asks Jesus to help her keep going, and He's never let her down.
"She's such an inspiration," said Dee Dee Rinehart, who drove up from Rock Hill, South Carolina, with her parents and sister to hear Joni speak. "She took a tragic situation and made it her platform to tell other people about Christ. She used it for His glory."
As an international disabilities advocate, Joni's ministry Joni and Friends serves disabled people in a plethora of ways, including the worldwide distribution of wheelchairs and Bibles.
Joni is also an artist, singer, radio host and author. Her latest book, Beside Bethesda: 31 Days Toward Deeper Healing, addresses the spiritual healing that can emerge from times of suffering.
"I'm convinced that when people are depressed and discouraged that God has not physically healed them or fixed their problems or changed their situation, (a spiritual change) doesn't take a long time," Joni said. "God can do a transformation overnight. He can do it in a short month."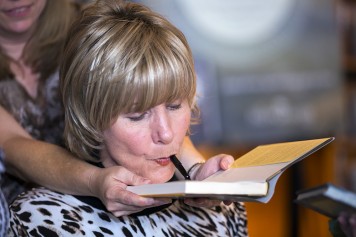 Joni's message seemed to resonate with many of the people who gathered to hear her on Monday.
James Gray from Salisbury, North Carolina, listened intently from his wheelchair just a few steps away from the stage where Joni sat in hers.
James was paralyzed more than three decades ago by a rare disease called Transverse myelitis. He was just 27 when it happened. He knew he wanted to meet Joni when he heard she'd be in Charlotte.
"I can identify with her," James said. "Just her ability to overcome her trial, her physical trial."
James and his friend LauVoun waited patiently to meet Joni. When it was their turn, James was all smiles as he rolled up to say hello. Joni used a marker held with her mouth to sign his book.
One after another, people walked and wheeled themselves up to Joni and came away grinning.
Always an evangelist, Joni has taken part in many Billy Graham Crusades around the world. On this day, in a place deemed an "ongoing Crusade," her final words to the crowd included an invitation to accept Christ.
"Rise today to a new, fresh level of trust and confidence in Him," she said. "Believe that His intentions for you are good. Look for God's hand in the hardship."
Are you searching for the kind of hope and peace Joni found?
Visit PeaceWithGod.net and find God's life-changing gift of love this moment.