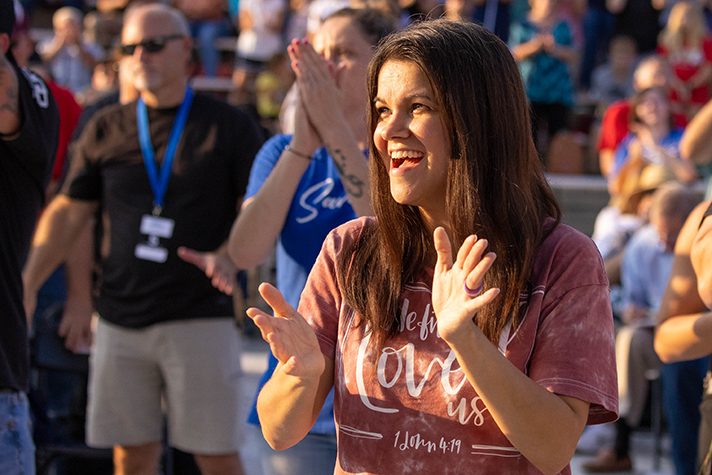 "It's celebration time," Dr. Mirta Martin, president of Fairmont State University (FSU), told the crowd gathered for the first night of the Mountain State Celebration with Will Graham.
After two years of anticipation, the three-day evangelistic event is taking place at the University's Duvall-Rosier Field this weekend.
On Friday, a multi-generational crowd poured into the football stadium, tucked in the West Virginia mountains. The Afters and Aaron Shust performed, filling the warm summer air with sounds of praise. 
>>See photos from night one of the Mountain State Celebration.
In the crowd, Leah Evans, one of Dr. Martin's 2021 FSU graduates attended Friday's Celebration with her friend Kimbree. 
"Community is so important when it comes to your faith," she said. "We need things like this Celebration." Evans, encouraged by the Christian leadership of Dr. Martin, is hopeful that events like this will reach college students. 
But they aren't the only ones who need Christ. Skip Vincent, who attended FSU in the '60s, described the spiritual climate of the area now as dark. "It's been hit hard by the drug culture," he explained. 
Friday night, Will Graham gave the crowd hope that deep, spiritual change is possible.
"My friends, we need to be changed from the inside out," he said. 
The evangelist pulled lessons from Genesis 32, when Jacob wrestled with God. Just as Abraham's son "put his trust in himself and not in God," many of us make the same mistake, Will Graham explained.
This wrestling has long been a part of Fairmont's spiritual history. 
A century ago, revival spread like wildfire. Now, drugs have infiltrated the community and believers are yearning for God to break through again. 
"Being a church-goer is not going to [save you]. Coming to this Celebration is not going to do it," Will Graham warned. "What matters is if you put your faith in His Son Jesus Christ." 
Local faith leaders have anticipated the evangelist's visit for a long time. They're praying this weekend's events spark revival again, and that the fire for Christ keeps burning. 
"There's a desperation for the Gospel," explained Celebration volunteer Sean Wightman. "This Celebration will be a catalyst to rekindle these flames." 
Another volunteer, Barbara Dunn, has attended Billy Graham Crusades, Franklin Graham Festivals and now a Will Graham Celebration. 
"There's nothing like seeing people transformed for God," she expressed.